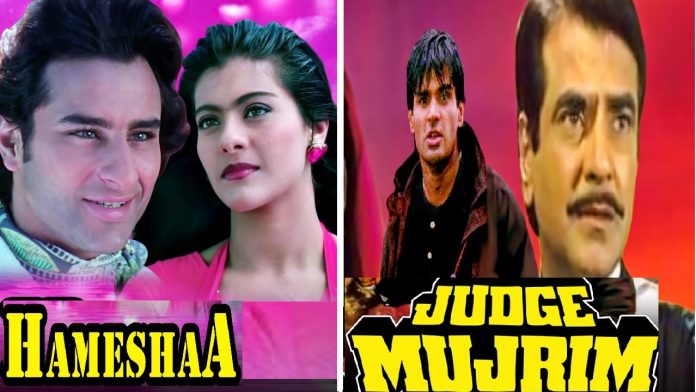 HAMESHAA
Sippy Films' Hameshaa (UA) is a reincarnation story. It narrates the tale of two lovers whose love story comes to a tragic end because of the machinations of the boy's best friend who is a prince. The prince, who loves the same girl, envies his friend because while his own love is unrequitted, that of the friend is reciprocated by the girl. His jealously prompts him to nip the love affair in the bud by killing his own friend so that he can marry the girl. But the girl, rather than reciprocating the prince's love, commits suicide. The two dead persons are reborn and destiny brings the prince (who has become middle-aged by then) and the two reborn persons (who look similar to what they looked in their previous lives) together. The girl tries to remind the guy of their previous lives even as the prince once again tries to woo her and win her over. The lovers, who could not unite in matrimony in their previous lives, finally unite in their new lives but only after exterminating the prince.
A reincarnation tale of this kind should have had romance that would have moved mountains, music that would have mesmerised the listener, and revelation of the past lives that would have drawn claps and applause from the audience. But unfortunately, the romance is half-baked, unexciting and tame, music is far from haunting, and the revelation of the past lives has been treated childishly, to say the least. Nothing has been established properly with the result that the incidents fail to involve the audience or move them. Screenplay is more an assemblage of scenes which have been seen earlier. In fact, there's no attempt whatsoever to give the audience anything new. Dialogues are ordinary. Tempo is slow at several places.
Saif Ali Khan does an average job. Aditya Pancholi is so-so except in dramatic scenes where he looks ill at ease. Kajol gives an impressive account of herself. Aroona Irani has been hopelessly wasted in an inconsequential role. Her character seems to have been defined to add an unnecessary eerie and suspense angle. Laxmikant Berde is hardly comic. Ishrat Ali's comedy is irritating. Kader Khan gets no scope. Tej Sapru is good in a minuscule role. Achyut Potdar and Satyen Kappu lend fairly good support. Milind Gunaji has a worthless role in a special appearance.
Sanjay Gupta's direction is as immature as his scripting. No care has been taken to knit a cohesive story or make the narration exciting or even tolerable. It often appears that the director was in a hurry to simply can scenes. When the romance in the lovers' first lives itself does not come across as intense, one can't imagine it to appeal in their rebirths. Although some songs — in particular, 'Rang tadi rang tadi', 'Neela duppatta' and 'Hamesha hamesha' — are well-tuned, Anu Malik's music does not have the haunting quality which was necessary for a reincarnation subject. Picturisations of 'Neela duppatta', 'Rang tadi' and a couple of other songs are very eye-pleasing. Kabir Lal's camerawork is very good. Action is routine. Background music should have been more effective. Mixing (Dolby sound) is appropriate. Production values are quite nice. Opticals and special effects are good.
On the whole, Hameshaa is a poor reincarnation drama with no hopes at the box-office.
Released on 11-9-'97 at Metro (matinee) and on 12-9-'97 at Maratha Mandir and 14 other cinemas of Bombay thru Sippy Films. Publicity: very good. Opening: dull. …….Also released all over. Opening was poor everywhere. 1st day Indore about 27,000/- (against a capacity of 1,55,000/-), 2nd day 20,000/- (capacity 1,42,000/-).
JUDGE MUJRIM
Shivshakti Production's Judge Mujrim (A) is the story of a very fair judge who is led to give a wrong judgement which, if carried out, would result in an innocent young man being hanged to death. The wrong judgement is the result of a vengeful plan of an underworld don whose brother has been sentenced to death by the honest judge. The don, in order to belittle the judge, traps him into believing that a murder seen by him (judge) has been committed by the young man when actually it is committed by his look-alike. As a result, the judge sentences the innocent man to death but he soon realises that he has been misled. He then goes all out to save the innocent man who also happens to be his sister's lover. For saving the man, the principled judge even adopts unlawful methods.
The story had the germs of a good suspense drama but the screenplay is quite shoddily written so that its impact is poor. The introduction of the look-alike in the story kills the excitement that could have come with the suspense angle. It looks rather too simplistic. Not only is the drama dull, even performances of most of the artistes don't rise beyond the average level. Minimum justice has been done to the characterisations. For instance, the heroine (judge's sister), who is a police inspector, gets to show her bravery only in the climax. For the rest, she looks like a dummy. The judge's wife is an advocate but she has practically no role worth her while.
Romance is absent and comedy is weak. Action scenes are average. Dialogues are ordinary.
Jeetendra does well as the judge. Sunil Shetty is good in action scenes but routine in dramatic ones. Mukesh Khanna is alright. Kiran Kumar's villainy is fair. Ashwini Bhave and Sujata Mehta have been wasted. Johny Lever, in a triple role, fails to make people laugh. Ashok Saraf, Surendra Pal and the others provide average support.
Jagdish A. Sharma's direction is as poor as the script. Bappi Lahiri's music is also barely passable. 'Hum tum donon mil gaye' is about the only hummable song. Picturisations of the songs are commonplace. Photography and other technical aspects are below the mark.
On the whole, Judge Mujrim is a dull fare but the low price it has fetched from distributors is quite a positive factor.
Released on 12-9-'97 at Ganga Palace and 18 other cinemas of Bombay thru Param-Anand Pictures. Publicity & opening: fair. …….Also released all over.
DASARI NARAYANA RAO SURRENDERS BEFORE MAGISTRATE
Director Dasari Narayana Rao on 9th September surrendered before the additional chief metropolitan magistrate in Madras trying economic offences, V. Periyakaruppiah, in a case for wilfully failing to file his income-tax return for the assessment year 1985-86. The income-tax department had registered a case against him under section 276C of the Income-Tax Act on 22nd March, 1989.
As Dasari did not appear in the court for the trial, the economic offences court had issued a non-bailable arrest warrant against him on February 6 last year.
BONUS FOR CINEMA STAFF ON 100 DAYS OF 'BORDER'
Vishwajyoti Films, Bhusawal, the C.P. Bear distributors of Border, have announced 15 days' salary as bonus to the staff of two cinemas — Rajkamal, Akola, and Rajlaxmi, Amravati — where the film will celebrate 100 days on 19th September. The respective cinema owners will also pay 15 days' salary as bonus to their staff members.
NO ELECTIONS FOR IMPDA
The 58th annual general meeting of the Indian Motion Picture Distributors' Association on 18th September will not be followed by elections to the executive committee as there are 11 members in the fray in the Ordinary class for 11 seats, and 3 in the fray in the Associate class for 3 seats. All the members will, therefore, be declared elected unopposed.
Dilip Dhanwani, Guru Shenoy, Manoj Khivasara, Pradeep Singh and Tekchand Anchal, who had filed their nominations, have all withdrawn. Of the sitting members, Gulshan Rai and Sharad Doshi have opted out of the elections this year. In their place will come Ramesh Sippy and Tolu Bajaj, the only two new members who've filed their nominations and not withdrawn them.
In the Associate class, since all the three sitting members are eligible for re-election and no new member has filed his nomination, the three will be declared re-elected.
The annual general meeting at Birla Kreeda Kendra, Chowpatty, Bombay, on 18th will be followed by a dinner party the same evening at S.S. Hall, Garware Club, Bombay.
Asia's Biggest Film City Inaugurated
Ramoji Film City, Asia's largest film city, was inaugurated in Hyderabad on 11th September. Owned by press baron and film producer and distributor Ramoji Rao, the Film City is the best in Asia and is equipped to handle a hundred film productions at a time.
It has all production and post-production facilities so that a producer can walk in with the script and walk out with the print.
The Film City, located on a 1,000-acre plot of land, has 40 studio floors, scores of locations, properties, set designing and construction facilities, state-of-the-art equipment for post-production work, a sophisticated processing laboratory, digital audio work-stations for dubbing and sound editing. The Film City also houses hotels, dormitories, bank, travel agency, communication and business infrastructure, a power station etc. It is professionally planned and also professionally managed.
Mukul Anand No More
Director Mukul Anand died of a heat attack in Pune on 7th September at 5.30 a.m. at the Army Hospital. He was 46 and had just returned from the USA after a long shooting schedule of his ambitious project, Dus. Mukul is survived by his wife, a daughter and a son.
A technical wizard, Mukul had directed a total of 11 Hindi films and one Gujarati film. Although none of his Hindi films was a major hit, every film was technically brilliant. Whether it was his maiden Hindi venture, Kanoon Kya Karega, or Amitabh Bachchan starrer Hum, his films had a distinct technical finish. Besides Hum, he directed Bachchan in Khuda Gawah and Agneepath. Amitabh bagged the National Award for his acting in Agneepath. Mukul's other films were Main Balwaan, Aitbaar, Insaaf (Vinod Khanna's comeback film), Sultanat (which introduced Juhi Chawla), Khoon Ka Karz, Maha-Sangram and Trimurti. The Gujarati film he directed and which was his very first attempt was Kanku Ni Keemat.
Mukul Anand was also an accomplished ad film maker and the Pepsi (Yehi hai right choice baby, aha!) ad was one of the many, many advertisement films made by him. His ad film company was called MAD — short for 'Mukul Anand Directs'.
He was very enterprising and had a positive approach to his work. Sincere in what he did, he never bothered about the results and concentrated on his work. Mukul was forward-looking and never cried over spilt milk.
Educated in an army college, he was a disciplinarian who was awake every morning at 6 o'clock. He was jolly by nature and always enthusiastic about his work.
Mukul's funeral was held in Bombay at midnight on 7th because even though his body arrived from Pune in good time, his daughter, who was at a boarding school of Mussoorie, reached Bombay only around midnight. But even that late an hour did not deter his hundreds of friends and fans from the film industry from attending the funeral. The chautha ceremony on 10th September was also largely attended.
The Jolly, Good Fellow Is Gone
News of Mukul's death came as a shock to me as it must have to everybody else. Mukul was so full of life that it is difficult to believe that he could have died so suddenly and silently.
I became friendly with Mukul when he was directing Main Balwaan for Pranlal Mehta. We struck an immediate rapport and I found him extremely warm as a person, zestful and energetic. He was always full of ideas and believed in what he did. He loved to joke and fool but was never malicious in his jokes.
I still remember when he was shooting Main Balwaan at Hotel Umaid Bhawan Palace in Jodhpur and I had gone to cover the shooting. Power-cuts were frequent in Jodhpur and there was one such power failure while the shooting was on, and I was on the set. Back in Bombay, Mukul was picturising a song for the same film on a set at Film City. I had visited the set and, as bad luck would have it, the power failed the moment I entered the set. Mukul immediately co-related the power failure of Jodhpur with the one that day and jokingly conveyed to Pranlal Mehta that my presence on his set always resulted in holding up the shooting due to power failure. Believe it or not, the third time I visited Mukul Anand's set at some studio in Bombay (I don't member the film's name), there was power failure again (and this, when power failures aren't common in Bombay) and Mukul and I burst out laughing. For a few years after that, electricity and power used to be one point of discussion between us whenever we met. Mukul used to invariably tease me about being the dushman of producers for holding up their shootings by 'causing' power failures and, in fact, he used to keep his fingers crossed when I was on his set.
Years passed by. Mukul moved on to bigger and bigger projects and became extremely busy. Our meetings became less frequent but whenever we met, he exuded the same warmth, the same affection. His infectious smile was intact, his jokes never ceased. I was happy that he hadn't changed.
Then came Hum, his first of the three films he made with Amitabh Bachchan in the lead. Mukul had shot Hum extensively in Mauritius and it was he and producer Romesh Sharma who had given me the list of places I should visit when I went to Mauritius for my honeymoon in 1991. In fact, Mukul had come to my house a few days before I left for Mauritius and had, in his own handwriting, listed down the places I should shop at, the beaches I should see and the hotel I should stay in and eat at. Hum was released in the same week as I got married and on my return from Mauritius, the controversy between Amitabh Bachchan and Film Information started. The controversy went on for a fairly long time and that's the time Mukul and I drifted apart. But even in the breaking of our friendship, there was no bitterness from either side. In that way, the breaking of our friendship was, so to say, graceful. He was angry with me, I presume, for not classifying Hum as a hit and superhit, and I resented a comment he made in Stardust vis-à-vis the Hum controversy.
The first time I saw Mukul after that was many months later, at Amitabh Bachchan's party at Go Bananas when he (Bachchan) bagged the National Award for the best actor for Agneepath. I must admit that both, Mukul and I, acted childish that evening when we came face-to-face but refused to shake hands or even acknowledge each other's presence. Obviously, I missed his jokes, his loud laughter and his backslapping that day.
Just as suddenly as we had drifted apart, Mukul and I became friends again. It was at some shooting of his that we exchanged pleasantries and it didn't take more than a minute to strike the same rapport. Although I found him jolly even then, I noticed that Mukul had become a serious businessman too. By then, he had started his ad film company, MAD, and he spoke to me about the turnover of the ad film world being much more than that of the feature film world. Our 'continuity joke' about power failure had been forgotten by both of us by then.
The last time I met Mukul was at his office at Worli, Bombay, where Neha-MAD had organised a party on 19th July to brief the press about his Prithvi. Mukul, energetic and zestful as ever, spoke to me about his ad films, about his company having diversified into event management and about his latest passion, Dus.
Mukul was full of ideas and plans that day as he was always. Little did I know then that that would be the last time I would be meeting Mukul.
Call it an uncanny coincidence or whatever but just a few hours before Mukul must have been taken to the Army Hospital in Pune on 6th/7th September after suffering a heart attack, there was a power failure on the road on which I live. No, I did not meet Mukul or laugh with him over the power failure of 6th night. But the following morning, I received the tragic news of Mukul's death in Pune.
His smile, his jokes, his laughter, his plans, his zest for life, his sincerity for his work — all came to my mind as memories. Mukul, a friend, became a memory on Sunday, the 7th of September. A memory that I will cherish forever.
– Komal Nahta
CCCA AGM, ELECTIONS ON SEPT. 24 IN JAIPUR
No Heat, No Excitement
Elections to the executive committee of the strongest trade association — the Central Circuit Cine Association — for 1997-98 will be held on 25th September in Jaipur. The annual general meeting will be held a day earlier.
There doesn't seem to be much heat this year on the election front. Although there are 22 nominations for 8 seats in the Distributors' section, and another 22 nominations for 8 seats in the Exhibitors' section, the possibility of last-minute withdrawals and adjustments is not ruled out. There is a likelihood that consensus candidates are selected in advance and the others may withdraw their nominations. As it is, no strong opposition group seems to have emerged to lock horns with the ruling group of Santosh Singh Jain. As C.P. Berar distributor Mohan Kasat beautifully summed up the scene, "It is ice-cold."
The valid nominations of the Distributors' section are as follows:
C.P. Berar Distributors (to elect 4) (valid nominations 9): Anil Rathi, B.N. (Laaloo) Kabra, Bharat Khajanchi, Dilip Mudliar, K.D. Sonar, Mohan Godha, Pramod Kumar Munot, Ramkishan Kasat and Vishnuprasad Agarwal.
C.P. Berar Exhibitors (to elect 4) (valid nominations 10): Azad Laddha, Amit Jaiswal, H.D. Bagga, Loonkaran Pareekh, Mahendra Jain, Milapchand Jain, Pramod Kumar Munot, S.K. Surana, Vijay Rathi and Vishnuprasad Agarwal.
C.I. Distributors (to elect 2) (valid nominations 5): Mohan Godha, Nandkishore Jalani, Santosh Singh Jain, Sunil Choudhary and Vinod Malhotra.
C.I. Exhibitors (to elect 2) (valid nominations 4): O.P. Goyal, Ramesh Sureka, Shiv Kumar Jaiswal and Uttam Nahar.
Rajasthan Distributors (to elect 2) (valid nominations 8): Chandrashekhar Choudhary, Kishanchand Jain, Mohan Godha, Nandkishore Jalani, Ramdhan Mamoria, Santosh Singh Jain, Sandeep Bhandari and Sunil Choudhary.
Rajasthan Exhibitors (to elect 2) (valid nominations 8): Chandrashekhar Choudhary, Kishanchand Jain, Liyakat Ali, Narendra Kumar Sharma, Rajendra Mamoria, Rameshchand Jain, Ramdhan Malhotra and Trilok Singh.
DO YOU KNOW?
* A little known fact about late director Mukul Anand is that he had started his directorial career with a Gujarati film, KANKU NI KEEMAT, which he directed for producer Romesh Sharma.
* The Nargis Dutt Memorial Foundation, set up by Sunil Dutt soon after the death of Nargis, has over the years donated medical equipments worth Rs. 7 crore to 18 centres in India, dealing with cancer patients. The Foundation also has centres in Los Angeles, Detroit, Chicago and several other cities of the USA, Canada and Europe, and they help raise funds for Indian medical centres.
YOU ASKED IT
What do you think of three big films being scheduled for release on Diwali?
– Besides DIL TO PAGAL HAI, ISHQ and GHULAM-E-MUSTHAFA, there is BHAI also being planned for Diwali release. Of course, it isn't the right thing to do but then nobody wants to sacrifice the festival period.
Does Gulshan Kumar's Super Cassettes not have the rights of any forthcoming film which has music by Nadeem Shravan?
– It does. The music of Boney Kapoor's Hindi remake of the Tamil film KAADHAL KOTTAI is scored by Nadeem Shravan, and its audio rights vest with Super Cassettes.
Why are films flopping one after the other? Have people stopped frequenting cinemas?
– Don't blame the people alone. If a film is good, there is no dearth of audience. When the recent releases themselves have been bad, how can you expect them to run?
3-E
Education-Entertainment-Enlightenment
150-Crore Insurance Cover For Amitabh Bachchan?
Amitab Bachchan is negotiating with the Life Insurance Corporation for a personal life insurance policy of Rs. 150 crore under the 'Key man insurance policy' scheme. This policy is quite popular these days and is meant for the person who heads a company and whose role in the day-to-day functioning of the company is indispensable. If the policy goes through, it will be the biggest LIC policy cover for any individual in the country. And yes, Abhishek, son of Amitabh Bachchan, will be the LIC agent for Amitabh Bachchan Corporation Ltd. which will have to pay Rs. 16 crore premium annually for 16 years. The payment of premium will be considered a company expenditure and will be tax deductible.
Killing Rumours…
The false news that Shah Rukh Khan had been shot dead by an unknown person literally spread like wild fire on 11th September. Newspaper offices were flooded with phone calls to verify the news. Film Information office itself must have answered over 800 calls from different cities, states and even countries! Actually, this was the third or fourth occasion that Shah Rukh Khan had been 'killed' in the past month or so. But never was the rumour of the actor's murder so strong. A day earlier, there were rumours that Amitabh Bachchan had been shot dead.
…And Grilling Rumours
The way in which the Gulshan Kumar murder investigations are being reported by the national press is shocking, to say the least. Even news of insignificant or negligible news value is blown out of proportion by several newspapers. Perhaps, the most wrongly used term in such reporting is 'grilled'. Newspaper reports day after day make a mention of stars, producers, playback singers, music directors etc. being grilled. But the fact is that not many of them have been grilled, they have only been interrogated. The dictionary meaning of 'grill' is 'subject to or undergo torture or great heat'; subject to severe questioning (esp. by police)'. The least the police can do is to issue a clarification that they are interrogation sessions and not grilling sessions that they are holding with various film people. Or is it that even the Bombay police is enjoying and deriving some kind of sadistic pleasure in the press reports about grilling of important personalities?
Plaza To Reopen
Finally, Plaza cinema at Dadar, Bombay, will reopen on Dassera — actually, a day earlier — with Deewana Mastana. The cinema, which was a target of the serial bomb blasts in Bombay in March '93, has remained closed for three-and-a-half years now. There were rumours during this period that the cinema would never reopen. But all those rumours will finally be put to rest once late V. Shantaram's Plaza reopens on 10th October.