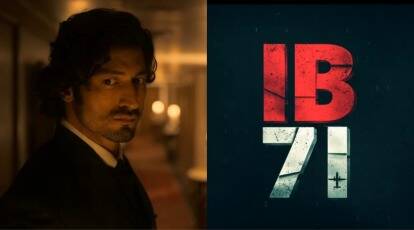 T-Series, Reliance Entertainment and Action Hero Films' IB 71 (UA) is a film based on true events of 1971 when Pakistan was all set to wage a war with India, but India's intelligence had not had an inkling, till the last moment, of the preparations by Pakistan. With very few days left, it fell upon IB officer Dev (Vidyut Jammwal) to come up with a plan to subvert Pakistan's evil designs.
Aditya Shastri has written a story which is based on true-life happenings. The story is very interesting as it underlines how the Indian Intelligence Bureau successfully rose to the occasion and nipped Pakistan's plan in the bud. However, the screenplay — by Storyhouse Films LLP (Sankalp, Arjun Varma, Vasudeva Reddy E., Arun Bhimavarapu, Gargee Singh and Abhimanyu Srivastava) — is poorly written. For one, it is very confusing. This is partly because the writers probably thought that the viewers are aware of every detail of the real-life incidents, which is far from true. Secondly, the drama is so devoid of excitement that the audience rarely get involved in it, instead watching it unfold, as mere spectators. Although it is a human drama, there is minimal feeling of engagement experienced by the viewers. A shocking point is that even though the drama revolves around India's safety and security, that too vis-à-vis Pakistan, it (drama) rarely, if ever, infuses patriotic feelings in the viewers. The performances by the supporting cast are quite dull, adding to the dilution of the impact of the already drab drama. Even otherwise, the writing is so devoid of the thrill element that the viewers hardly get a feeling that a mission of such magnitude is underway. Junaid Wasi and Sahar Quaze's dialogues are commonplace. What was needed in a drama of this kind was absolutely firebrand dialogues.
Vidyut Jammwal does well as Dev. But his action sequences lack that punch and edge, he is so well-known for. Anupam Kher is alright as N.S. Awasthi. Vishal Jethwa impresses only in a couple of scenes in the role of Kashim. Danny Sura is alright as Sikandar. Suvrat makes his presence felt as Sangram. Dalip Tahhil is okay in a brief role as Zulfikar Ali Bhutto. Ashwath Bhatt is sincere in the role of ISI chief Afzal Agha. Hobby Dhaliwal is average as Abdul Hamid Khan. Faizan Khan (as Ashfaq), Bijay Anand (as the flight captain), Mir Sarwar (as J & K police S.I.), Niharica Raizada (as the IB agent air-hostess), Mohammed Shahidur Rehman (as Tapan Majumdar), Shahnawaz Pradhan (as Pakistani president Yahya Khan), Kachoo Ahmed Khan (as J & K police SP Mansoor), Syed Zafar Ali (as Pakistani police SI Wakil Khan), Naresh Malik (as Maqbool Bhatt), Diwakar Dhyani (as East Pakistani senior officer), Midhat Khan and Aamir Yaseen (both as Kashmir constables), Purnendu Bhattacharya (as Indian defence secretary), Vimal Verma (as the defence minister), Suren Saini (as the Indian military general), Tarun Sharma (as the airport guy), Mohd. Sarwar Khan (as Mantoo), Farukh Saeed (as the ISI officer with the ISI chief), Ajay Kumar (as the Pakistani officer), Arun Baraskar and Sanjay Ayachit (both as Indian High Commission officers), all actors playing IB agents and real passengers on the flight, and the rest lend very ordinary support.
Sankalp's direction is weak. He has simply not been able to recreate the excitement, anxiety and thrill of the real-life drama — neither in the script (co-written by him) nor in the narration nor even in the performances of the actors. Vikram Montrose's music and Abhinav Shekhar's lyrics are merely functional. Prashanth R. Vihari's background music is poor. Gnana Shekar V.S.'s cinematography is okay. Action and stunt scenes (by Dr. K. Ravi Verma, Lee Whittaker, Yannick Michel Ben and Riyaz Habib) lack the breathtaking quality one associates with Vidyut Jammwal starrers. Production designing (Sriram Kannan Iyengar and Sujeet Subhash Sawant of Yantra Design's) is average. Sandeep Francis' editing is okay.
On the whole, IB 71 is a dull fare and, therefore, will go quite unnoticed at the box-office.
Released on 12-5-'23 at Inox (daily 4 shows) and other cinemas of Bombay thru PVR Pictures Ltd. Publicity: below the mark. Opening: dull. …….Also released all over. Opening was weak everywhere.