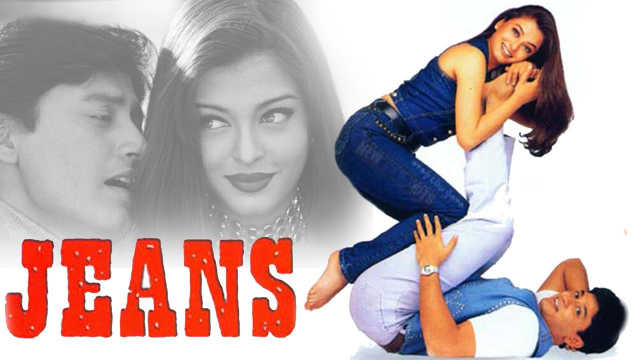 JEANS
(Dubbed)
Amritraj Solomon Communications P. Ltd.'s Jeans (dubbed from the Tamil film of the same name) is a love story. A girl falls in love with one of a pair of twins, but the father of the twins will hear nothing of getting his son married to her because he is adamant that his twin sons must be married to twin sisters only. The father, who himself has a twin brother, is fooled by the girl's grandmother into believing that the girl, too, has a twin. The girl, in keeping with her grandmother's wish, pretends, she has a twin sister. But finally, the truth is revealed, and the boys' father refuses to relent. Ultimately, the aunt of the two boys steps in to convince the father of the futility of his adamant stand.
The film may have a novel story-line but the director has neither been able to make it a comedy nor a tear-jerker, although he attempts to do both. As the drama progresses, it appears as if a David Dhawan kind of a subject was being given an L.V. Prasad kind of a treatment. The humour is too South Indian to be lapped up by the Hindi film audience. As for the emotions, they simply don't touch the heart and look too synthetic. Computer graphics (done by Pentafour) are brilliant but they will be appreciated only in cities. The track of the twin heroes is somewhat interesting but that of their father and his twin brother is too lengthy and boring.
Prashant is too fat but acts well in a double role. In dramatic scenes, he needs to improve. Aishwarya Rai would do well to give up her Miss World (and model) hangover because of which she is too stiff to be true. She looks pretty in some scenes in which her costumes (Neeta Lulla) are attractive. But her acting leaves a lot to be desired. Both, Prashant and Aishwarya, dance well. Nasser is good in a double role. Laxmi is quite natural. Radhika does a wonderful job. Senthil and Raju Sundaram do not appeal to the Hindi film audience. Janaki Sabesh is quite nice. S. Ve. Shekhar is so-so.
Shankar's direction is average. A.R. Rahman's music is very good. 'Hai re hai re hai rabba', 'Ajooba' and 'Columbus' songs are appealing. Song picturisations on foreign locations, including the wonders of the world, are breathtakingly beautiful. Photography is top class. Technically, brilliant. Production values are very good. Dubbing is okay.
On the whole, Jeans has a body beautiful (locations, photography) but not a matching soul (story, screenplay, emotions). It will, therefore, not appeal to the Hindi cine goers and, except in select cinemas in a handful of cities, it will fail to create any mark.
Released on 15-5-'98 at Metro and 6 other cinemas of Bombay thru Metro Films. Publicity: excellent. Opening: fair. …….Also released all over. Opening was poor at most of the places.
HITLER
B.M.B. Productions' Hitler is a tale of brotherhood, betrayal and the bad world. It is about an IPS officer who is posted as a jailor and who earns the nickname of Hitler because of his strictness. He has an educated but unemployed younger brother who almost worships him for his principles, an advocate-wife who has given up her practice, two younger sisters and a son. The jailor and the city's high-profile don are in conflict with each other because the former does not succumb to the pressures of the latter. To teach the jailor a lesson, the don frames his (jailor's) brother for a murder. While the jailor believes that his brother may have committed the crime, his wife wears the lawyer's gown again, to prove her brother-in-law innocent. But when the jailor also realises that his brother is not the murderer, he tries to convince the police commissioner about his brother's innocence. The commissioner's unrelenting attitude, thanks to the don's influence, forces the jailor to give in his resignation. Thereafter, he and his brother (who escapes from jail) alongwith a friend get the don arrested.
The revenge story is routine and there's not even an attempt to offer anything new, neither in content nor in presentation. The first half is dull and boring. The film becomes a bit interesting after interval. Dialogues are ordinary. Emotions fall flat.
Mithun Chakraborty does well. Manik Bedi acts freely. Raghuvaran does alright as a sophisticated don. Hemant Birje is fair. Shilpa Shirodkar acts ably. Dipti Bhatnagar is passable. Johny Lever is funny at places. Mohnish Bahl, Shiva, Satyen Kappu, Aroon Bakshi, Sanjeeva and the others lend adequate support.
Direction passes muster. The film does not have the support of good music. Two songs have a bit of appeal but that's about all. Song picturisations are routine. Photography is quite nice. Action scenes are not very thrilling.
On the whole, Hitler is an ordinary fare for small centres only. Its low price is about the only redeeming feature.
Released on 15-5-'98 at Alankar and 18 other cinemas of Bombay thru Dilsa Distributors Combine. Publicity: so-so. Opening: average. …….Also released all over.
LATEST POSITION
It was a normal week with an additional holiday for Buddha Poornima.
Duplicate has done well in most of the 'A' class centres. It should fetch commission in many circuits. 1st week Bombay 55,55,786 (90.89%) from 13 cinemas (8 on F.H.); Ahmedabad 10,63,323 from 6 cinemas (1 unrecd.), Baroda about 94%, Padra 1,95,288, Rajkot 1,74,535, Jamnagar 1,30,768 (1 in matinee unrecd.), Adipur 1,13,055; Kolhapur 1,80,000 (1 unrecd.), Solapur 1,61,744; Hubli 3,11,255, Belgaum 3,89,833 from 3 cinemas, Dharwad 1,46,831; Delhi 47,21,500 (75.94%) from 12 cinemas (1 on F.H.); Kanpur 4,92,002 from 2 cinemas, Lucknow 3,67,603, Agra 2,75,365, Allahabad 2,00,000, Meerut 1,76,262, Bareilly 1,34,292 (67.56%), Dehradun 1,75,000; Amritsar 52,156; Calcutta 20,22,553 from 12 cinemas; Nagpur 8,61,482 from 6 cinemas, Amravati (30 shows) 1,82,453 (93%), Akola 1,76,234, Bhilai 2,23,125, Yavatmal 1,82,422; Indore 4,06,038 from 2 cinemas (2 on F.H.), Bhopal 5,61,633 from 3 cinemas; Jaipur 12,55,375 from 4 cinemas, Bikaner 2,75,542; Hyderabad 37,40,023 from 14 cinemas, share 20,14,320; good in Mysore where it is expected to yield overflow; Vijayawada 3,07,050 (98%), Visakhapatnam 2,10,398 (98%).
Aunty No. 1 2nd week Bombay 14,83,014 (44.99%) from 8 cinemas (1 on F.H.); Ahmedabad 83,416 (1 unrecd.), Rajkot (matinee) 17,796, Jamnagar (matinee) 8,175 (1 in regular unrecd.); Solapur 42,933; Hubli 98,374, Belgaum 97,814; Delhi 15,91,074 from 10 cinemas (1 on F.H.); Kanpur 1,81,235 from 2 cinemas, Lucknow 1,45,860, Allahabad 71,800, Bareilly 65,329 (30.23%), Dehradun 51,295; Calcutta 2,76,927 from 3 cinemas; Nagpur 1,10,179 from 2 cinemas, Akola 49,868, total 1,56,483, Dhule 70,352, Durg 58,604 (1st 98,679), Jalgaon 76,404, Yavatmal (4 days) 10,679; Bhopal 1,43,494; Jaipur 2,44,204 from 2 cinemas, 1st week Jodhpur 1,99,000; 2nd week Hyderabad 3,35,751 from 3 cinemas.
Pyaar Kiya To Darna Kya 7th week Bombay 8,80,808 (49.38%) from 6 cinemas (6 on F.H.); Ahmedabad 98,451, Baroda (6 days) 78,744, Rajkot (mg. shows) 6,846; Kolhapur 63,000, Solapur (14 shows) 1,02,706, 1st week Barsi 62,369; 7th week Delhi 6,37,769 from 4 cinemas (2 on F.H.); Kanpur 1,04,282, Lucknow 2,30,841, Agra 82,500, Allahabad 56,000, Bareilly 50,000 (26.21%), Dehradun 69,000; Calcutta 1,73,196; Nagpur 97,909, Akola 70,394, total 7,99,394, share 5,88,946, Bhilai 50,762, 4th week Wardha 38,340, 7th Chandrapur 66,143, total 8,00,360, 1st week Sagar 93,144; 7th week Bhopal (6 days) 1,13,420; Jaipur 1,91,216; Hyderabad 4,79,061 from 3 cinemas (2 in noon).
Chhota Chetan (partly dubbed, revived, 3-D), 4th week Bombay (TF) 20,95,391 (98.28%) from 3 cinemas (1 on F.H.); Ahmedabad 1,62,073; 2nd week Kolhapur (TF, 6 days) 1,42,400, Solapur (TF) 1,29,390; 4th week Delhi 12,56,722 from 3 cinemas; 3rd week Kanpur 61,615, 4th Agra 67,000. Opened this week in Nizam (opening was very good in Hyderabad).
……….
RAMESH TAURANI BEREAVED
Parsram Shewakramani, father-in-law of Ramesh Taurani (Tips), expired on 11th May in Bombay.
SUBHASH GHAI TO LAUNCH HI-TECH STUDIO
Producer-director Subhash Ghai will soon launch a studio with post-production suites and a shooting floor in Bombay. The studio, located at plot no. A-18, New Link Road, Oshiwara, Andheri, is called Audeus and it is equipped with state-of-the-art equipments like Avid Media Composer 8000 with Film Option. Another plus point of the studio is its dubbing suite which boasts of Fairlights MFX3 Plus Digital Audio Work-station. Among the studio's other features are an 8-track recording facility on MO disk, a single dedicated keyboard which controls both, audio and the Beta recorder, a non-linear editing system which allows single track on 8-track editing features, a Beta projection on 10′ X 7′ screen via Barco projector, an online UPS with 1-hour battery back-up, and a sound transfer room equipped with 35mm, DA 98, DAT, CD, etc.
Apart from these, Audeus also features an air-conditioned shooting floor that can be instantly converted into three to four types of offices, bedrooms or conference rooms. The floor has a ceiling with concealed lights.
MANOJ KHIVASARA TO WED
Marriage of Bombay distributor and exhibitor Manoj Khivasara (Mahalaxmi Film Distributors, Bombay, and Mahalaxmi Theatre, Nasik) with Neelu will be solemnised on 22nd May in Nasik at Nasik Club on Nasik-Pune Road.
GRAND-DAUGHTER FOR KISHINCHAND JANIANI
Prem Janiani, son of Kishinchand Janiani of Prem Films, Jaipur, was blessed with a baby girl on 7th May.
CINEMA TO REOPEN
Geeta Palace Cinema (previously known as Madhuban) is due to reopen shortly in Bareilly. The cinema has a seating capacity of 704 and a nett capacity of Rs. 3,409.38 per show. Its capacity for 28 shows is Rs. 95,462.64.
YOU ASKED IT
What is your personal opinion about the film industry being granted industry status by the government?
– It is not clear how many benefits of industry will accrue to the film industry or how much the film industry will be able to advantageously use the industry status. Power tariff for cinemas and studios will go down and that may be a great saving. Frankly speaking, ever since the government granted film business the status of an industry, it has become a fashion with the film industry people to simply express joy and excitement over the issue without really knowing what's in store for the film industry.
What is the price at which Ramgopal Varma's Satya is being sold?
– The producers expect 1 to 1.25 crore per major circuit.
Is it true that Aamir Khan and Manisha Koirala have been paired in Indra Kumar and Ashok Thakeria's new film?
– Yes, they've been teamed together in Indra Kumar and Ashok Thakeria's new film, titled MANN.
Delhi HC Restrains Cable TV Operators From Telecasting Vinod Chopra's 'Kareeb'
Producer-director Vinod Chopra is leaving no stone unturned to protect his Kareeb from the menace of cable piracy. He recently filed a civil suit in the Delhi high court and has succeeded in obtaining, even before the film's release, an ex parte civil injunction which presents Indus In Media and Siti Cable Networks Ltd. from telecasting Kareeb in any form till 22nd July, 1998 (the next date of hearing).
This is, perhaps, the first time a producer has attempted to restrain cable TV operators from telecasting his film illegally. Cable TV operators usually show new films just days after their theatrical release although they do not hold the rights for them.
Golden Voice Talat Mahmood Is Dead
Aye mere dil kahin aur chal
Gham ki duniya se dil bhar gaya
Dhoondh le ab koi ghar naya
Renowned playback singer of the forties, fifties and sixties, Talat Mahmood's hit song from Daag rings true today after the death of the singer on 9th May at 8 a.m. at his residence in Bombay following a heart attack. He was 75.
Talat had been struck with Parkinson's disease some years ago and he was in hibernation for almost a decade. He is survived by his wife, son Khalid, who is a singer, and a daughter.
Trained in music in the Morris College of Music in Lucknow, Talat had a penchant for singing right from his adolescent days. He was picked up by HMV and he recorded private songs in Calcutta. One such number, Tasveer teri dil mera bahala na sakegi, written by Faiyyaz Hashmi and composed by Kamal Dasgupta, sold over one lakh copies in the late 1940s and turned Talat into a singing sensation.
Music director Anil Biswas gave Talat a break in Bollywood in Arzoo in 1951. Aye dil mujhe aisi jagah le chal, which he rendered for Dilip Kumar in Arzoo, marked the beginning of his long association with Biswas and Dilip Kumar. It also made him a sought-after name in Bollywood with music directors like Naushad, Sajjad Hussain, Shankar Jaikishen, S.D. Burman, Khayyam, Salil Choudhury and others recording songs in his voice. His speciality was love-lorn and melodious songs.
Tasveer banata hoon, tasveer nahin banti, Mera jeevan saathi bichhad gaya, Jaltein hain jiske liye, Itna na mujhse tu pyar badha, Shaam-e-gham ki kasam, Phir wohi shaam wohi gham, Aahaa rimjhim ke yeh pyare pyare geet liye, Rahi matwale, Man dheere dheere gaye re, Husnwalon ko dil na do, Shukriya aye tera pyar shukriya, Aisi chali hawa ki khushi dukh mein dhal gayee and Mitwa nahi aaye were some of his hit numbers. He also sang geets and ghazals with unparalleled skill. The beauty of his voice was the quivering silken touch.
Talat also acted in some films like Waaris, Tu Aur Main, Samapti, Dak Babu, Ek Gaon Ki Kahani, Malik and Sone Ki Chidiya. But he wasn't successful as an actor as he was as a singer.
Talat Mahmood's funeral was a private affair. Manna Dey and Naushad's son, Raju, were among the few outsiders who were present.
'Thai Saheb', 'Dil To Pagal Hai' Bag Swarn Kamal
Girish Kasaravalli's Thai Saheb (Kannada) has won the Swarn Kamal for the best film of 1997 in the 45th National Awards announced in Delhi on 9th May by jury chairperson B. Saroja Devi. Yash Chopra's Dil To Pagal Hai also bagged the Swarn Kamal for the best popular film providing wholesome entertainment.
J.P. Dutta's Border has won the Nargis Dutt Award for the best film on national integration. The Indira Gandhi award for the first film of a director has gone to A.K. Lohitdas for his Malayalam film Bhoothakannadi. Govind Nihalani's Hazaar Chaurasi Ki Maa has won the National Award for the best Hindi film.
The best director award went to Jayaraaj for his Malayalam film Kaliyattam. The best actor award was shared by Balachandra Menon (Samaantharangal) and Suresh Gopi (Kaliyattam), both Malayalam films. Even the best actress award was shared by the two heroines of Dahan (Bengali), Indrani Halder and Rituparna Sengupta. The best supporting actor award went to Prakash Raj for Iruvar (Tamil). Karisma Kapoor won the best supporting actress award for Dil To Pagal Hai. Javed Akhtar won the award for the best lyricist for his song Sandese aate hain in Border.
Winners in the regional films category were: Dahan (Bengali) by Rituparno Ghosh, Shesh Drusti (Oriya), Main Maa Punjab Di (Punjabi), written and directed by Balwant Dullat and produced by Devinder Walia, Mangamma (Malayalam), Terrorist (Tamil), Moongarina Minchu (Kannada) and Sindooram (Telugu).
Other award winners were: best screenplay – Rituparno Ghosh (Dahan, Bengali); best music – M.M. Keervani (Annamayya, Telugu); best cinematography – Santosh Sivan (Iruvar, Tamil); best editing – Sreekar Prasad (Terrorist, Tamil); best audiography – Sampath (Ennu Swantham Janakikutty, Malayalam); best art direction – Ramesh Desai (Thai Saheb, Kannada); best costume designer – Vaishali Kasaravalli (Thai Saheb, Kannada); best choreographer – Shiamak Davar (Dil To Pagal Hai); best male playback singer – Hariharan (Mere dushman mere bhai in Border); best female playback singer – Chitra (Payale chun mun in Virasat).
Ramaayanam (Telugu), directed by Guna Shekhar, won the best children's film award. Dhanraj won the best child actor award for his performance in Dhanna.
Jury's special award for the best actress went to Jayamala. Deepa Gahlot won the award for the best film critic.
DO YOU KNOW?
* Lata Mangeshkar had never rendered a song under the direction of composer A.R. Rahman until recently. She has now sung under him for three films — Boney Kapoor's PUKAAR, Nazir Ahmed's Jackie-Shah Rukh starrer, and Mani Ratnam's DIL SE.
* DTPH is the fourth film of Yash Chopra to bag the National Award for the best popular film providing wholesome entertainment. His three earlier award winners were CHANDNI, DARR and DDLJ. A great feat indeed!
* Javed Akhtar has won the National Award for his lyrics for the second consecutive year. He won it last year for SAAZ, and this year for BORDER.
* Following some differences between producer K.C. Bokadia and his financier, the deliveries of his HITLER this week could be effected only late. As a result, the film could not open on Friday in some circuits. In Bombay too, matinee shows of the film were cancelled on Friday. Bombay distributor Dilip Dhanwani had to reportedly pay more than his contracted amount for the delivery.
* Tips has decided to have a Friday release for its JAB PYAAR KISISE HOTA HAI all over. Even in U.P., C.P., C.I. and Orissa, the film will not open on Thursday, as is normal.
* While there's no system of advance booking in Jaipur (or, for that matter, anywhere in Rajasthan), distributor Sunderdas Sonkiya tried it with an English film, TITANIC. He opened plans for the film at Prem Prakash cinema, Jaipur, on Wednesday and the response to the advance booking was very good! The film has opened this week at Prem Prakash and Mayank.
* It is noteworthy that a Gujarati film, Amar Kumar Jadeja's BENI BAAR BAAR VARSE HUN AVYO, has been sold for Gujarat and Saurashtra on announcement itself. Its audio rights have been sold. …..The theme song for the film was recorded on 13th May at Ajivasan Sound live — that is, tracks and the voices playing simultaneously. The unusually long song has a duration of 24 minutes.
* Distributors of Bihar are seriously contemplating taking deliveries of films on Fridays and releasing them in their circuit on Sundays. This idea is the result of exorbitant film prices, poor fate of recent releases, and the invariable delay in the arrival of prints in Bihar.
* The Kannada remake of the Tamil super-hit KAATHAL KOTTAI, titled YARE NEENU CHALUVE, is dong very well in Karnataka and is poised to be a hit. It has been produced by Rockline Venkatesh and directed by D. Rajendra Babu.

MIX MASALA
TIT FOR TAT?
At the national conference on 'Challenges before Indian Cinema' on 10th May at The Leela Kempinski, Maharashtra's deputy chief minister Gopinath Munde referred, in his speech, to star-MP Vinod Khanna as "Vinod Kumar". Later, Dilip Kumar, in his speech, inadvertently addressed Gopinath Munde as "home minister". A case of tit for tat? Well, that wasn't all. FICCI chairman K.K. Modi addressed I & B minister Sushma Swaraj as "Shri" instead of "Smt."!
IN & OUT OF BOMBAY
Mr. Ashok Tahirani of Ashoka Enterprises, Indore, is in town (634-2335) and will return to Indore on 17th May.
Producer and director Rakesh Roshan will leave for Australia to scout locations for KAHO NAA…PYAR HAI, on 20th May and will return after 10-12 days.
Mr. Balkrishna Shroff of Shringar Films, Bombay, will be back from Singapore on 18th May.
Mr. Ravi Machhar of Abhinay Cinema, Aurangabad, left Bombay for Bangalore today (16th May) and will be back tomorrow.
INDUSTRY STATUS FOR FILM INDUSTRY AT LAST
It was like a typical Hindi film. The best part came in the climax. Before that, the national conference on 'Challenges before Indian Cinema' had its highs and lows. But its climax was absolutely unexpected and unpredictable. Perhaps, it was because of that that the conference, organised jointly by the Federation of Indian Chamber of Commerce & Industries (FICCI) and the Film Federation of India (FFI) on 10th May at The Leela Kempinski Hotel, was such a grand hit.
The climax comprised the new BJP government's I & B minister, Sushma Swaraj, granting industry status to film business. Amidst a standing ovation, Sushma Swaraj announced that she and her government had accorded the status of industry to the film business.
The film industry had been fighting for this status since years. In fact, so concerted had the fight become in the last few years that FFI president Santosh Singh Jain said, after the industry was granted recognition as an industry, that May 10 should be celebrated as the film industry's Liberation Day. However, FFI general secretary K.D. Shorey felt, it was too premature to celebrate the industry status. According to Shorey, "The day even 10 producers can get finance from banks due to the industry status, will be the day for celebration."
Although it may take some time before the actual benefits of an industry accrue to the film business, once that starts, it may be possible for film producers to borrow money from banks and financial institutions. What's more, the power tariff of cinema houses may be brought down at par with the tariff of other industries. Besides these, a whole lot of other advantages will also accrue to the industry once the modalities are worked out. But there may also be some disadvantages attached to the industry status.
Sushma made it clear that the decision to grant industry status was not a momentous one or to win any applause, but that it was a well-thought of decision because it was needed for the betterment of cinema and for promoting good films. She informed that she had discussed the matter with finance minister Yashwant Sinha before attending the conference, and the modalities would be worked out soon and a notification, issued.
Sushma Swaraj, who had come well prepared for the conference, in a very business-like talk, dealt with every point raised in the earlier sessions of the conference. She said that the industry would be put on the concurrent list, and an amendment bill would be placed in Parliament in the next session for that. That would help the government tackle the thorny issues of the industry, she added.
On the demand for forming an export council for promotion of films abroad, she readily agreed to form a Film Export Council, considering it a necessary step to increase the export earnings from films, which had grown from a meagre Rs. 15 crore to Rs. 150 crore in the last five years, just on the industry's own efforts.
NO ABOLITION OF CENSOR BOARD
Sushma refused to scrap the Censor Board as demanded by many members of the industry. However, she put forth her own idea of a green channel and another red channel of censorship, if the industry agreed to have self-censorship as it was doing in the case of film posters. She explained, "If the producer considers his film fit for universal screening and feels, it does not violate any censor guidelines, he can go through the green channel, which means, he can release the film without going to the Censor Board. In other cases, he can pass through the red channel, which means that he would have to obtain a certificate from the Central Board of Film Certification. But she warned that if anything objectionable was found in the films cleared through the green channel, stringent punishment would be imposed on the producer. She asked the members of the industry to think over it and discuss the matter with her.
On her own, the I & B minister also mooted the idea of forming a development council for films, under her own ministry. The council, she added, would also have leaders of the film industry as members. The council will discuss industry problems on a quarterly basis and thus, the industry would not have to run after the ministers, but would rather be invited by the ministers themselves, she explained. In this way, efforts would be made to solve the industry's problems as soon as possible. She also said, she wanted to form a group of key advisors from the film world, and the advisors so selected would have to be 'spotless' people.
Earlier, welcoming the minister, FICCI president K.K. Modi repeated FICCI's decision to accept filmmaking as an industry and to take the film industry in its fold.
He urged the government to change those policies which were not beneficial for the industry and remove all the impediments in the growth of the film industry. He said, finance was the life-blood of business, and the doors to get finance from banks and financial institutions should be opened for the film industry by recognising it as an industry just like FICCI had recognised it. He lamented the gross violation of intellectual property rights by indiscreet cable TV operators, as well as the other problems of the industry which needed urgent attention.
Shabana Azmi, tracing the history and development of the film industry in brief, right from the days of Dadasaheb Phalke, said that Indian cinema was the only cinema in the world which had not been affected by Hollywood films because "Indians love Indian films wherever they are". She emphasised that the National Film Development Corporation had been established with the idea of promoting good films and it had done a lot of good work but it was changing track under some compulsion and that it should redefine its role now to make a fruitful contribution in the development of the film industry. She condemned the flogging of Hindi cinema by people from different walks of life, politicians included, without any rhyme or reason, just to get some publicity. Shabana urged the government to look into the problems of the industry urgently and sympathetically. She also emphasised the need for some soul-searching by the industry people.
HINDI: INDUSTRY'S GREATEST CONTRIBUTION
Shatrughan Sinha, in his forceful address, said that the major need of the industry was finance (and not lectures from ministers) for the promotion of the film industry, and even the fate of good films hung in mid-air for want of finance. He said, the film industry's greatest contribution to the country was the Hindi language which had not only helped in national integration but had also attracted people of the other parts on the world to India. He urged the government to check piracy of films and also asked Indians not to copy films and music of other countries.
The representative of South Indian films, Gangadharan, presented a shawl to the I & B minister.
Inaugurating the conference in the morning, thespian Dilip Kumar lamented the conditions of the film industry due to cancerous taxation and lack of clean financial resources. He said, multi-taxation had killed about 25 great film institutions like Bombay Talkies, Prabhat Theatres and New Theatres and today's filmmakers were suffering because of non-availability of finance from banks and financial institutions.
FICCI & FILM INDUSTRY
In his welcome address in the morning, FICCI president K.K. Modi first recognised filmmaking as an industry and the film industry as a partner of FICCI. Concluding his address, he announced that during FICCI's annual awards function from this year onwards, a special award would be given to a person in visual media, for creativity.
Maharashtra's deputy chief minister, Gopinath Munde, announced that if the Union government created a kitty of Rs. 1,000 crore for financing films, the government of Maharashtra would contribute Rs. 100 crore in it as its share. Regarding tax concessions, he invited a viable proposal from the film industry.
In his keynote address, former chairman of the National Film Development Corporation, D.V.S. Raju, said that with this national conference, the film industry had opened a new chapter in its history. He pointed out the need to get financial support from banks and financial institutions, saying that till now, the film industry was depending on the resources generated internally for producing 850-900 films every year in 14 languages to cater to millions of audience through a network of about 12,000 cinemas. Finance was also needed to construct more theatres, he added. He pleaded for the abolition of entertainment tax or at least for bringing it down to normal sales tax level and for stopping illegal screening of films on cable.
Raju commented that AIR's royalty being paid to Indian film songs was not only the lowest but also discriminatory because an English song was paid Rs. 10 whereas Hindi, Bengali, Tamil and other Indian songs were paid only Rs. 2 per song. He wanted it increased to Rs. 25 per song.
Shyam Benegal blamed the present system of film financing as being responsible for pushing cinema into today's pathetic situation. Professionalism and creativity in filmmaking had had to take a second place to ensure the security of investment against risks, he added.
PUNITIVE TAXES
"Film industry is taxed in a manner that suggests that these are punitive in nature, designed, perhaps inadvertently, to discourage cinema rather than encourage the industry," said Benegal and asked the government to be rational. He also said, filmmakers saw censorship as a needless sources of aggravation, unnecessary and undeserved, while the Censor Board looked at the filmmaker as some kind of a subversive, intent on polluting the cultural landscape. "A cat-and-mouse game is played between the censors and the filmmakers and that had made censorship infructuous and meaningless," he concluded.
Vinod Khanna, now a member of Parliament too, in his volatile speech, pleaded to the government not to give a step-motherly treatment to films. He emphasised on the role played by the film industry in national integration. He pointed out some ways to get finance and develop the film world. He also emphasised the need for self-retrospection by the film industry.
EXTORTION MONEY, NOT ENTERTAINMENT TAX
Presenting a vote of thanks, FFI president Santosh Singh Jain hoped "the new government will not lack the necessary political will to study and understand the perpetual problems of the film industry and take suitable steps to solve them." Jain pointed out that inadequate market was the greatest hurdle in the development of even regional films and thus more theatres were needed to be constructed in most parts of the country. Jain called entertainment tax a malady which was the mother of all ills, and termed it 'extortion money' rather than entertainment tax.
The first session of the conference was devoted to 'Industry status for film industry'. P.G. Mankad, secretary, I & B, chaired it. Co-chairman Amit Khanna said that some states had granted a partial industry status to films, but not the government of India. Recognition as an industry was just the first step towards an organised growth of film entertainment business. Institutional finance on reasonable terms would go a long way in relieving the film industry which provides direct employment to 10 lakh people and indirect to 20 lakh others, he said.
Khanna suggested that a methodology be developed to value the intellectual property rights so that producers could offer these assets as collateral security for raising money from banks etc. He asked the government to involve industry professionals in all decisions which affected the smooth functioning of the film industry and to put the industry on its concurrent list. He also suggested that a Film & TV Promotion Council be established by the government.
SERIOUS BUSINESS
Subhash Ghai pointed to the insecure position of filmmakers who are affected more by loose perceptions and biased government officials. Until and unless the filmmakers were made secure, to expect good films from them would be futile, he explained. Film business was a serious business and it needed industry status for its survival, he added.
Arijit Dutta, an exhibitor of Calcutta, was critical of the government for using the film industry as the proverbial golden goose. In a well-worded speech, he said, the industry deserved to be given the status of other industries.
Mankad assured that he would put the industry's viewpoint before the government.
P.R. Dasgupta, secretary, education, ministry of Human Resource Development, chaired the second session, on 'Intellectual property rights and Indian film industry'. Speaking as co-chairperson, K.D. Shorey threw light on the Copyright Act and said, despite the Indian Copyright Act being one of the most comprehensive and fair pieces of legislation, copyright holders were suffering because of the utter apathy, indifference and, sometimes, the callous attitude of the executive, both, in the states and at the centre, and the enforcement agencies. He insisted that it was the duty of the state to ensure with diligence the protection of the arts and inventions. During the last 10 years, some 800-odd cases were made against pirates but even a minimum punishment had not been granted in a single case, the lamented.
Mrs. P.V. Valsala G. Kutty, registrar of copyrights, presented a paper on copyrights.
P.R. Dasgupta agreed with K.D. Shorey and assured help in the best possible manner.
The third session was devoted to 'Taxation issues related to the film industry'. Former I & B secretary P. Murari chaired the session. Yash Chopra, dwelling on section 80HHC of the Income-Tax Act, said that with the introduction of the section in 1983 with the object of giving incentives to exporters of films, 100% exemption on export earnings was allowed. As a result, there was a remarkable jump in software exports from about Rs. 20 crore per annum to Rs. 150 crore per annum. However, suddenly, the I-T department changed its stand and held that export of software was not entitled to deduction under the section as films were not 'goods' or 'merchandise'. The entire film fraternity had become the victim of a rather fanciful interpretation of the said section by a couple of assessing officers in the I-T department, he sighed.
Yash Chopra requested for a complete abolition of countervailing duty on import of raw stock and the unreasonable restrictions imposed on film producers for film shootings abroad.
HIGHLY DISCRIMINATORY
South's L. Suresh informed that section 285B of the I-T Act, which makes it compulsory for the producer to file a statement containing particulars of payments of over Rs. 5,000 in the aggregate made by him or due from him to each such person as was engaged by him in the production, within 30 days of the completion of the film, was only for the film trade. It was highly discriminatory and should be removed, he added.
Sv. Rm. Ramanathan from South presented the entertainment tax structure in the various states and appealed to the government to abolish entertainment tax.
The chief commissioner of income-tax, B. Mishra, assured that he would look into the matter and do the needful.
INSURANCE FACILITIES
In the final session on 'Institutional financing for film industry', chaired by V. Subramaniam, executive director, Reserve Bank of India, and co-chaired by K.G. Dossani, problems in bank financing for films were discussed. Dossani pointed out that there was no National Film Policy till today though a working group on National Film Policy had made various recommendations in 1980. He said, banks treated film production as a low-priority and high-risk activity. Film industry needed concessional finance from institutions, for which appropriate surety in the form of pledges of Intellectual Property Rights could be provided. He said, insurance facilities must be made available, covering risk, as was being done in the cases of other industries.
K. Kannan, deputy chairman, Indian Banks Association, put forward the banks' difficulties in providing finance for films.
Chairman Subramaniam informed that the Reserve Bank had not put any restrictions on banks for providing finance for films. When a suggestion was made that a committee should be formed to study film financing, he readily agreed.
FFI treasurer N.N. Sippy proposed the vote of thanks. FICCI general secretary Dr. Amit Mitra conducted the programme very efficiently.
Mixed Reactions To Industry Status
B.R. CHOPRA
I am more than happy with what we have achieved so far. The whole demand for the industry status was to gain respectability as far as film finance is concerned. Now that this demand is granted, we must show, by our future doing, that we deserve it.
BHARAT SHAH

I think, the move will only benefit five or six people in the industry. The change will remain only symbolic in nature as it will fail to achieve anything practically. The banks will only grant finance to those producers who can provide some kind of security. Very few producers will be able to do that. Hence some may bribe a bank official to get a loan approved. However, when the banks will be unable to recover such loans, they will become stricter and the whole scenario will revert to what it is today.
RAMESH SIPPY (Bombay distributor)

It is definitely a move in the positive direction, but how much it will achieve remains to be seen. We should be happy if we are able to derive even 10% of the total benefits expected out of this measure.
SAAWAN KUMAR TAK

It is difficult to say that the change will be for the better. In my opinion, the exercise will only help four-five people at the top. For the rest, it will not make any difference whatsoever. Of course, some producers will go on to bribe the bank managers to get loans approved and, as a result, the industry will earn a bad reputation. In a nutshell, the move will make the rich richer while the poor will remain as they are.
U.A. THADANI
All are very happy. Something will surely come out of it.
3-E
Education-Entertainment-Enlightenment
Figures Frighten Him; His Figures Frighten All
It does look like Dilip Kumar was not briefed properly before he delivered the opening speech at the National Conference on 'Challenges before Indian Cinema'. How else could one explain the faux pas he committed during his speech? Dilip Kumar claimed that out of every Rs. 100 collected by a film at the ticket window, only about Rs. 4 or 5 comes to the producer! Such an erroneous remark leads one to wonder whether he meant that the rest of the earnings go to fill the government's coffers? We do not think so. Maybe, he meant that the exhibitors/distributors take away a very large part of a film's earnings as compared to the producers. But even if Dilip Kumar thinks so, what was the necessity to bring up this issue at the conference with the government. After all, the issue (of sharing a film's earnings) is an internal one. Why drag the government into it? And Mr. Dilip Kumar should know that if the distributor keeps his share, it is because he has already given the producer an MG royalty amount even before the film has been released. It would have been wiser for Dilip Kumar if he had taken his self-confessed fear for figures more seriously and stayed away from playing with them. For, at the same conference, he revealed that Mathematics was his weakest subject and he used to score just 4 marks in a paper of 100!
Rather Funny
Distributors in Amravati are governed by a different Income-Tax Act, it seems. Although the income-tax rules provide that amortisation of MG royalty and cost of prints and publicity is allowed if the film is released at least six months prior to the year-ending, in reality, the Amravati income-tax office does not allow the amortisation if a film has not realised its cost, even if it is released 6 months prior to the year-end. In such a case (when a film does not recover its MG royalty, cost of prints and publicity), the I-T department allows each print cost to be allowed only if that print (the cost of which is claimed) has been screened for a stipulated number of weeks, which is too high. There's no such provision in the Income-Tax Act or the Rules, and it is only the Amravati distributors who have to maintain a record of the print utilisation. Distributor Pramod Munot has won in the appeal against the department, before the CIT (A) as well as the Appellate Tribunal. But the department has now appealed to the high court.
'Double Role' Party
The Hindi dubbed version of Jeans was premiered at Metro Cinema, Bombay, on 14th May. The film's all-India rights holders, Metro Films, also organised a grand party at the Taj Mahal Hotel after its premiere. Now, call it a coincidence or whatever, the wedding anniversary of Tolu Bajaj (who is one of the major partners in Metro Films) fell on the same day. In fact, he was married 23 years ago at the very venue of the Jeans party — that is, the Ball Room of Taj Mahal! And no, the party on 14th May, 1998 was not at all a planned coincidence. In keeping with the film's 'double roles' flavour — it has double roles of hero Prashant as well as of Nasser — the premiere party had a double significance.