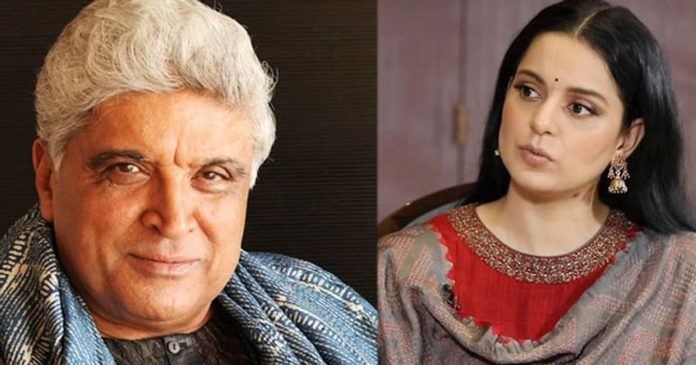 The sessions court at Dindoshi in Bombay today (5th April) dismissed the revision application filed by Kangana Ranaut, challenging the proceedings before the metropolitan magistrate court at Andheri (Bombay) in a criminal defamation complaint filed by well-known writer-lyricist-poet Javed Akhtar. The matter, which was also heard yesterday (4th April) was reserved for order on 10th April after hearing both the sides.
Kangana had challenged the issuance of process, the legality and validity of the order dated February 1, 2021, passed by the metropolitan magistrate. She had also sought the cancellation of the bailable warrant issued against her by the court. The actress had, on March 25, approached the magistrate court with an application to cancel the bailable warrant issued in her name. In response, the court cancelled the warrant after she furnished a cash bail of Rs. 20,000 and surety worth Rs. 15,000.
Kangana's advocate, Rizwan Siddiquee, argued without success that since the magistrate had not recorded the statements of the witnesses on oath, he had vitiated the procedure. He said, for this reason, the summoning order of February 1, 2021 ought to be set aside.
However, Javed Akhtar's advocate, Jay K. Bharadwaj, submitted that section 200 Cr. PC called for examination of the complainant on oath and of the witnesses only if there were any present. He, therefore, opposed Kangana's plea and submitted that neither the issuance of process nor the order warranted interference. In fact, Bharadwaj argued that by summoning Kangana, the court had actually given her an opportunity to respond to the complaint. What the actress instead did was to grab the opportunity to tweet about the summons, which was not in good taste, added Bharadwaj.
For the uninitiated, Javed Akhtar had filed a defamation complaint against Kangana Ranaut after she said in an interview to Republic TV that he (Akhtar) was part of a gang in Bollywood, which threatened newcomers like her. The interview was aired soon after Sushant Singh Rajput committed suicide in June last year. Javed claimed that Ranaut had made absolutely false and baseless statements and had fabricated an incident, thereby injuring his reputation. He, therefore, sought action against her for criminal defamation.