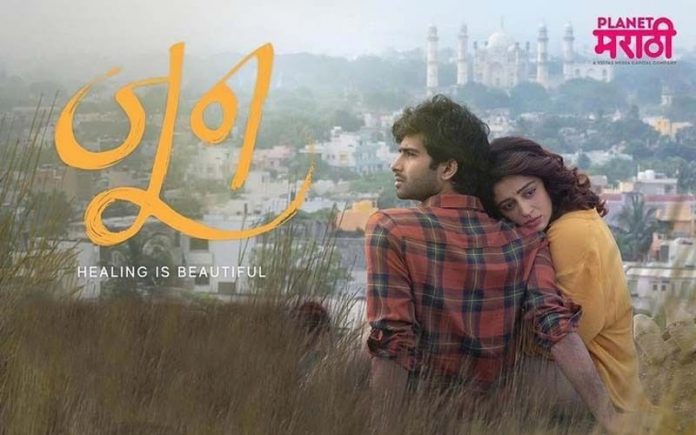 Planet Marathi, Radiant Pictures and Blue Drop's June (Marathi; A) is an unusual juxtapositioning of stories of different characters which have similar problems, and their healing processes.
Neha (Neha Pendse Bayas) has separated from her husband, Abhijeet. From Pune, she drives to Aurangabad and starts to live in the flat in which her husband spent his childhood. There, she meets Neel (Siddharth Menon) who is struggling with his own demons. Neel stays in the same housing society as Neha. He has failed in his first-year engineering examination because of which he has returned from Pune to spend a year with his parents in Aurangabad. However, his father (Kiran Karmarkar) will have the neighbours in the housing society believe that he has returned for a short while as he was feeling homesick. Neel loves a girl, Nicky (Resham Shrivardhan), or does he? He has a bosom pal, Pritesh (Saurabh Pachauri) who is shy of girls. Neha is a very modern lady who smokes and drinks openly, something which doesn't go down well with the conservative middle-class morality of the society where she lives in Aurangabad.
How Neha, Neel and Pritesh end up helping one another in solving their problems is what the crux of the story is all about.
Nikhil Mahajan has penned a very mature story and screenplay about different characters which are extremely believable and identifiable. If Neha could be the girl next door in modern times, Neel could be your friendly neighbour, and Nicky could be someone you know. The story is not just unusual but it is also forward-looking and modern. Likewise, the screenplay is not just decently paced but also involving and engrossing. The drama, of course, is more class-appealing but it will suck the class audiences in once it starts and will keep them entertained right till the end, with hardly a dull moment. The unusual story and screenplay are, of course, the plus points of the script but besides that, the writing is so smooth that it becomes the biggest asset of the film — of course, mainly for the city-based audiences because of the class nature of the drama. Nikhil Mahajan's dialogues are very real and, therefore, touch the heart at many a place.
Neha Pendse Bayas delivers an honest performance, straight from the heart. She lives the character of Neha and expresses the anguish of a separated woman to the hilt. Not once does she go overboard in her performance. Siddharth Menon is first-rate in the role of Neel. His performance, like that of Neha Pendse Bayas, is so easy-going that it doesn't look like he is acting. Jitendra Joshi is wonderful in a tiny role as Abhijeet. He looks handsome and leaves a mark in the small role too. Resham Shrivardhan is absolutely natural and leaves a fine mark as Nicky. Saurabh Pachauri is endearing in the role of Pritesh. Jagdish Kannam tugs at the heart strings as Moreshwar. Kiran Karmarkar stands his own as Neel's father. Sneha Raikar is good as Neel's mother. Meinal Vedvikhyat Sinha and Chayan Trivedi make their marks as Nicky's parents. Nilesh Divekar is lovely as Jaiswal. Prajakta Sonawane and Yogesh Itarkar make their presence felt as Moreshwar's parents. Nandu Bhure (as Pritesh's father), Sanskruti Balgude (as Sarah), Shyam Rajput (as neighbour Rajendra Saraf) and the rest lend very able support.
Vaibhav Khisti and Suhrud Godbole do a swell job of the direction. They narrate the class-appealing story in such a smooth manner that the film becomes both, entertaining and eye-opening. Shalmali's music is fair. Lyrics (Jitendra Joshi and Nikhil Mahajan) are weighty. Rahul Tiwari's background music is appealing. Quais Waseeq's cinematography is lovely. Nitin Ganpat Borkar's art direction is nice. Editing (Nikhil Mahajan and Hrishikesh Petwe) is sharp.
On the whole, June is a well-written, well-enacted and well-narrated film which will win critical acclaim. Had it been released theatrically, it would've done well in cinemas frequented by the classes.
Released on 30-6-'21 on OTT platform Planet Marathi.