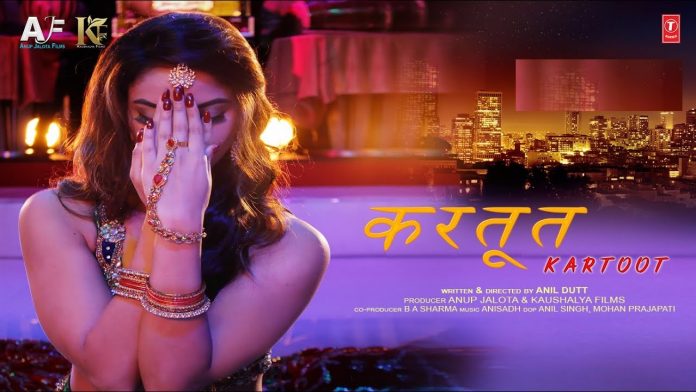 Released last week in Bombay and U.P., Anup Jalota Films and Kaushalya Films' Kartoot (UA) is the story of a rich city boy who gets married to a poor girl from a village. Everything seems to be going fine in their married life till one day, their lives turn upside down. What has led to the change? Who is responsible for the havoc being wreaked? Will the guilty be punished? Will the victim get justice?
Anil Dutt has written a story and screenplay, which are as old as the hills. Incidents are clichéd. Hence the drama does not have any entertainment value whatsoever. Even Dutt's dialogues are commonplace.
Madalsa Sharma plays poor girl Nigar and does an average job. Sahil Kohli enacts the role of rich boy Samir but he barely passes muster. Piyush Ranade is so-so as Abhishek Pandey. Himani Shivpuri is alright as Samir's aunt. Shubhangi Latkar lends ordinary support as Nigar's mother, Farida. Utkarsha Naik, Dhiraj Rai and Anup Jalota do as required, providing routine support.
Anil Dutt's direction is poor. Anisadh's music is dull. Lyrics (Irshad Khan Sikandar and Kameshvar Shukla) are commonplace. Jojo Khan's choreography hardly deserves mention. Background music (by Chander Makwana and Ayan Ali Abbas) is dull. Camerawork (Anil Singh and Mohan Prajapati) is average. D. Sadhani's production designing is nothing to shout about. Umashankar Mishra's editing is loose.
On the whole, Kartoot is a flop show right from the word 'go'.