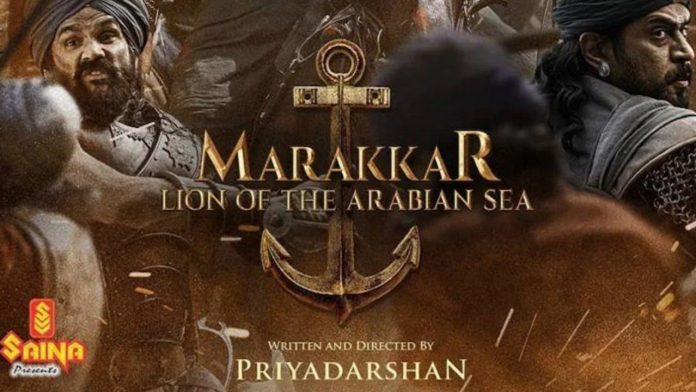 Aashirvad Cinemas and Confident Group's Marakkar: Lion Of The Arabian Sea (dubbed from Malayalam film Marakkar: Arabikadalinte Simham; UA) is a period film set in the 16th century. It tells the story of Kunjali Marakkar IV (Mohanlal), the naval chief of the Zamorin of Calicut, and his organisation which carried out India's first naval defence against European forces.
The story (by Priyadarshan) is dated too far back in history. Even otherwise, it lacks appeal for the Hindi film-going audience. The screenplay, written by Priyadarshan and Ani I.V. Sasi, is interesting in parts only. It often gets very boring because of two main reasons — its slow pace and its 16th century backdrop. Since the drama is very lengthy, it also gets monotonous. Dialogues (Priyadarshan and Ani I.V. Sasi) are okay.
Mohanlal does a wonderful job in the title role. Arjun Sarja is good as Anandan. Sunil Shetty gets limited scope as Chandroth Panicker. He does well. Prabhu is fair in the role of Thangudu. Manju Warrier has her moments as Subaida. Keerthy Suresh is alright as Aarcha. Mukesh (as Dharmoth Panicker), Siddique (as Pattu Marakkar), Nedumudi Venu (as Samoothiri), Pranav Mohanlal (as Mammali), Ashok Selvan (as Achuthan), Kalyani Priyadarshan (as Aisha), Fazil (as Kutti Ali Marakkar), Suhasini Maniratnam (as Khadeejumma), Innocent (as Namath Kurup) and the others provide decent support.
Priyadarshan's direction is quite nice. But he has not been able to save the narration from becoming tedious for the viewers. Music (Ronnie Raphael) has too much of a regional flavour. Lyrics (Nawab Arzoo, Shafi Kollam and Ishtiaq Feroz) are so-so. Song picturisations are rich and eye-filling. Background music (by Rahul Raj, Ankit Suri and Lyell Evans Roeder) is impactful. Tirru's cinematography is top-class. Sabu Cyril's production designing and Cyril Kuruvilla's art direction are superb. Visual effects are wonderful. M.S. Aiyyappan Nair's editing should've been tighter. Dubbing is of a good standard.
On the whole, Marakkar: Lion Of The Arabian Sea has bleak chances in the Hindi film world.
Released on 3-12-'21 at Movie Star Goregaon (daily 1 show) and other cinemas of Bombay thru Max Movies. Publicity & opening: poor. …….Also released all over.