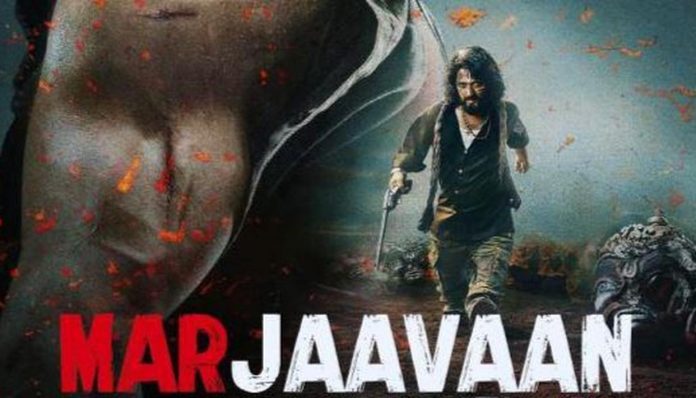 T-Series and Emmay Entertainment's Marjaavaan (UA) is the love story of an underworld don's protege.
Raghu (Sidharth Malhotra) has been brought up by underworld don Narayan Anna (Nassar) who, despite having picked him from a gutter as a child, treats him as his own son. Anna's son, Vishnu (Ritesh Deshmukh), is a midget and he resents the fact that his father treats Raghu as his own son. Vishnu is jealous of Raghu if only because his father reposes so much faith in him (Raghu).
Zoya (Tara Sutaria) enters Raghu's life like a ray of sunshine. Although they are as different from each other as cheese from chalk, the two soon decide to marry one another. But Vishnu plays the proverbial spoke in the wheel.
Why does Vishnu come in the way of Raghu's marriage with Zoya? Do Raghu and Zoya ultimately get married? Whom does Anna side with? Do Raghu and Vishnu resolve their differences? If so, how? If not, what finally happens to each of them?
Milap Milan Zaveri has written a story that targets the masses and the single-screen audiences. It hardly offers anything new but it is replete with sentiments to appease the Muslims and sometimes the Hindus too. His screenplay is also quite clichéd but again, it has masala for the masses and front-benchers. Since the characters are from the underworld, the drama is full of action. However, since Sidharth Malhotra does not have the image of an action hero, the impact is diluted to an extent. No doubt, the screenplay has some scenes which would draw applause from the masses but having said that, it must be added that overall, the drama is predictable and also not as impactful as it ought to have been. It would not be incorrect to say that while the action, stunts and mass-oriented scenes would appeal to the single-screen cinema audiences, the predictability of the plot and the routineness of the drama would not really go down well with the classes, family audiences and those frequenting the high-end multiplexes. Climax would appeal to the target audience but it is very commonplace. Milap Milan Zaveri's dialogues are mass-oriented.
Sidharth Malhotra does a good job as Raghu. He has worked on his physique but the fact remains that he has his limitations because of his image of a non-action hero. Ritesh Deshmukh is good in the role of Vishnu. But his character should've had much more mass appeal. Since the audience likes to watch Ritesh Deshmukh in comic roles, his character should have been comical too. Tara Sutaria is quite alright as Zoya. Rakul Preet Singh is fair in a special appearance as Arzoo. Nassar does fairly well as Narayan Anna. Ravi Kishan creates an impression as the police inspector. Shaad Randhawa makes his presence felt as Mazhar. Uday Nene (as Raghu's friend, Gopi) and Godaan Kumar (as Raghu's friend, Shafi) are natural. Alina Qazi has her moments as Payal. Master Om Kanojia (as Time Pass) is alright. Anant Jog gets very limited scope in the role of Gaitonde. As Gaitonde's son, Amit Mehra leaves a mark. Nora Fatehi stands out in a song-dance. Swati Seth (as Zoya's friend), Virender Singh Ghuman (as Rakka), Surinder Thakur and Akash Akki Nath (both as Vishnu's sidekicks), Wilson Tiger (as Anna's sidekick), Puja, Krithika Iyer and Nalin Swami (all three as Zoya's friends) and the rest are adequate.
Milap Milan Zaveri's direction is good and it caters to the masses. Music (Tanishk Bagchi, Meet Bros. and Payal Dev) is appealing. The remixed songs, of course, are very good. The title track is very melodious while the other songs are also tuneful. Lyrics (Rashmi Virag, Tanishk Bagchi, A.M. Turaz, Manoj Muntashir, Kumaar, Kunaal Verma and Mumtaz Aziz Naza) are weighty. The picturisation of the 'Ek toh kam zindagani' song on Nora Fatehi (by Adil Shaikh) is superb. Other song picturisations (Adil Shaikh and Muddasar Khan) are also nice. Sanjoy Chowdhary's background music is very impactful. Nigam Bomzan's cinematography is of a fine standard. Amin Khatib's action and stunts will appeal to the masses and single-screen cinema audiences. Vijay Dhondiram Ghodke's art direction, and Priya Suhas' production designing are good. Maahir Zaveri's editing is quite crisp.
On the whole, Marjaavaan is a routine action-love story meant mainly for the masses but since Sidharth Malhotra doesn't have the image of an action hero, it will have limitations in commercial terms. At the box-office, it will do fair business.
Released on 15-11-'19 at Regal (daily 2 shows) and other cinemas of Bombay thru PEN Marudhar Cine Entertainment. Publicity: good. Opening: quite good. …….Also released all over. Opening was fairly nice everywhere.