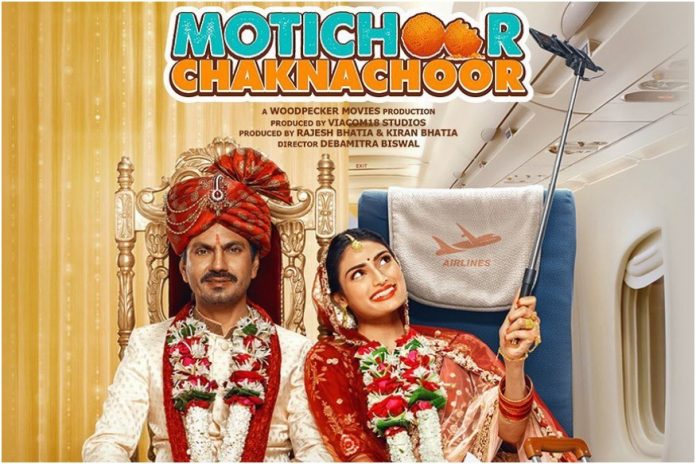 Viacom18 Studios and Woodpecker Movies' Motichoor Chaknachoor (UA) is a love story with a difference.
Pushpendra (Nawazuddin Siddiqui) works in Dubai while his family stays in Bhopal in India. Ani (Athiya Shetty) lives with her family — mother (Navni Parihar), father (Vivek Mishra) and maternal aunt (Karuna Pandey). Pushpendra and Ani are neighbours. Pushpendra has come home and since he is past the marriageable age, his family is busy in finalising a suitable girl for him. Ani is clear that she would marry a boy who can take her abroad.
Pushpendra's mother (Vibha Chhibber) wants a fat amount as dowry and she even calls off her son's marriage to a fat girl (Rachana Pakai) because her family refuses to give dowry. Ani's aunt tells her to try wooing Pushpendra so that she can marry him and settle abroad. Ani succeeds — and the two get married. While Ani's aim in marrying Pushpendra is simply to go to Dubai, Pushpendra thinks, she actually loves him.
Their hurried marriage comes as a rude shock to Pushpendra's dowry-hungry mother. What happens thereafter? Do Pushpendra's mother and other family members accept Ani as his wife? What is the reaction of Ani's parents? Does Ani go to Dubai with Pushpendra?
Debamitra Biswal has penned an interesting love story with a good deal of family drama thrown in. But it is also a fact that the story-line is thin and moves on a single track. Although there are a few sub-plots, they are like addendas and, therefore, the story seems to be moving on a single track. Sohaib Hasan's screenplay is laced with a lot of humour and fun, especially in the first half. It, therefore, keeps the audience smiling and even laughing at places. However, the fact remains that the drama is so uni-dimensional that it appears like a television serial. The post-interval portion takes a somewhat serious turn. A couple of twists and turns in the second half seem hurried as they haven't been established beforehand.
While the comedy is both, interesting and entertaining, the emotions aren't well-pronounced and hence they don't touch the heart as much as they should have. The climax has been written to tickle the funny bone but it fails to do so because it appears childish after a point of time. Bhupendra Singh's dialogues are very well-thought of and add to the fun quotient. The dialect of Bhopal is very entertaining.
Nawazuddin Siddiqui lives the role of Pushpendra. He acts with such effortless ease that it's a delight to watch him. He is supremely convincing in the role. Athiya Shetty does fairly well as Ani. Vibha Chhibber is excellent as Pushpendra's mother. Navni Parihar is rather endearing in the role of Ani's mother. Vivek Mishra (as Ani's father) and Sanjeev Vats (as Pushpendra's father) lend able support. Karuna Pandey is absolutely first-rate as Ani's maternal aunt. Her dialogue delivery, body language and facial expressions are all superb. Abhishek Rawat shines as Pushpendra's younger brother. He evokes a lot of laughter with his superlative performance. Sapna Sand is terrific as Pushpendra's paternal aunt. Her acting is just too natural. Bhumika Dubey (as Pushpendra's sister, Hema) leaves a mark. Usha Nagar (as Pushpendra's grandmother), Rachana Pakai (as the fat girl) and the others provide fair support.
Debamitra Biswal's direction is good. Notwithstanding the fact that the film has a thin story-line, her narration is appealing. Music (by Bharat-Hitarth, Ramji Gulati, Arjuna Harjai, Amjad Nadeem Aamir and Siddharth Amit Bhavsar) is fair and it goes decently with the film's mood. But it is also a fact that not a single song has become popular. Lyrics (Bharat Menaria, Kumaar and Siddharth Amit Bhavsar) are appropriate. Choreography (by Raju Khan and Uma-Gaiti) is okay. Abhijit Vaghani's background music is very appealing. Suhas Gujarathi's camerawork is of a good standard. Tariq Umar Khan's production designing is appealing. Praveen Kathikuloth's editing is sharp.
On the whole, Motichoor Chaknachoor may be an entertaining fare but it is too uni-dimensional to make any mark at the box-office. Lack of promotion and, therefore, lack of awareness among the public, about the existence and release of the film will also adversely affect its box-office chances. It may actually turn out to be a debacle.
Released on 15-11-'19 at Inox (daily 2 shows) and other cinemas of Bombay by Viacom18 Motion Pictures. Publicity & opening: poor. …….Also released all over. Opening was poor everywhere.