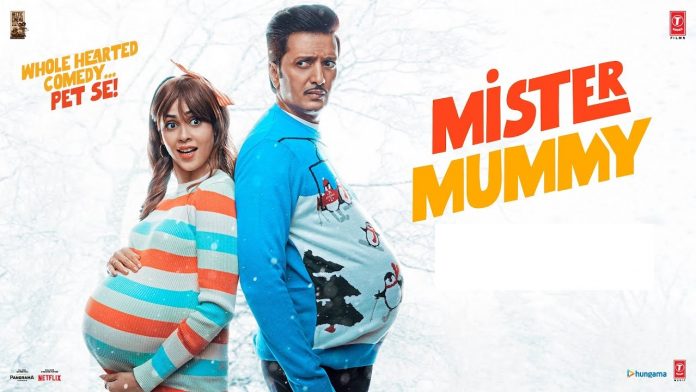 T-Series Films, Hectic Cinema Pvt. Ltd. and Bound Script Pictures Ltd.'s Mister Mummy (UA) is about a man who gets pregnant when his wife gets pregnant with their first child.
Amol (Ritesh Deshmukh) and Guglu (Genelia Deshmukh) have been married for 20 years but don't have any children. One day, Guglu gets pregnant. Amol is cross when she reveals to him about her pregnancy, because he hates kids. Angry, Guglu goes to her maternal home. Here, Amol also shows signs of pregnancy. In fact, Dr. Satsangi (Mahesh Manjrekar) confirms that Amol is pregnant. What happens thereafter? Does Guglu deliver a kid or does the kid come from Amol's womb?
Ananya Sharma has written a ridiculous story and screenplay, which will find very few takers. The entire concept of showing a man's tummy growing in size because he is pregnant seems repulsive. Actually seeing a pregnant man is even more cringe-worthy. As a result, what was meant to be a comedy turns out to be irritating — and horrifyingly so! Ananya Sharma's dialogues are ordinary.
Ritesh Deshmukh is unimpressive as Amol. Genelia Deshmukh is average in the role of Guglu. Her make-up is bad. Mahesh Manjrekar tries hard to create comedy but, like the humour, he too falls flat on his face. Rakesh Bedi is so-so as Guglu's father. Ila Arun lends routine support in the role of Amol's mother. Others barely pass muster.
Shaad Ali's direction lacks conviction. He is unable to sustain the audience's interest for long. Sneha Khanvalkar's music and Kumaar's lyrics are both ordinary. Kruti Mahesh's choreography deserves no separate mention. Roy's background music is hardly impactful. Sunita Radia's cinematography is nice. Action and stunt scenes (choreographed by Kevin Smith) lack fire. Sharmishtha Roy's production designing is alright. Vaishnavi Krishnan's editing is reasonably sharp.
On the whole, Mister Mummy will be rejected right at the concept level itself. It will face audience condemnation and will even be ridiculed.
Released on 18-11-'22 at Inox (daily 1 show) and other cinemas of Bombay thru PVR Pictures Ltd. Publicity & opening: very poor. …….Also released all over.