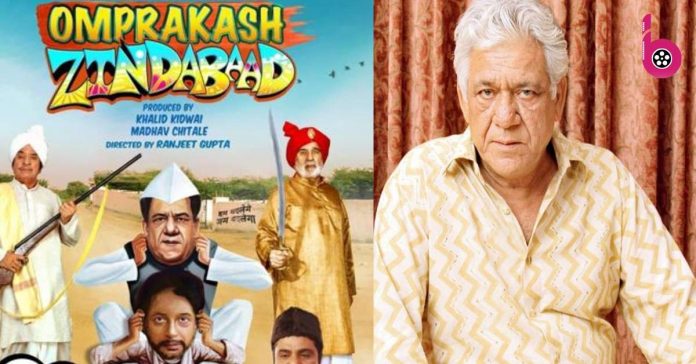 Atlantic Adventure Ltd.'s Omprakash Zindabad (A) is a satire about how government schemes to help people in distress are misused by unscrupulous people to make money.
The government has introduced a scheme under which a woman raped entitles her and her husband to a compensation of Rs. 50,000. Compounder Omprakash (Om Puri) convinces a poor commoner, Rambhaj (Abhay Joshi), to intentionally have his wife, Sarbatiya (Seema Azmi), raped so that he can claim the compensation money. Since Sarbatiya is a no-nonsense woman, Rambhaj sends her to her parental home and brings a prostitiue, Dilli Rani (Shweta Bharadwaj), home for Raja Saheb (Kulbhushan Kharbanda) to rape her. Raja Saheb and Dilli Rani are all part of the game plan and hence have been promised a share in the compensation money to be received. How the plan keeps changing and what happens ultimately to Rambhaj is what the film is all about.
Vishal Vijay Kumar has written an interesting story which is quite engaging. Of course, it would've been more suitable for a TV serial but the fact is that it has been intelligently written. His screenplay is filled with satirical and comical anecdotes which keep the audience in good spirits. Some scenes evoke laughter too. Vishal Vijay Kumar's dialogues are very witty.
Om Puri does an excellent job as compounder Omprakash. Abhay Joshi is effective as Rambhaj. Kulbhushan Kharbanda is first-rate in the role of Raja Saheb, an erstwhile king who has fallen on bad times. Jagdeep makes his presence felt in a brief role as Maharaja Saheb. Seema Azmi stands out brilliantly as Sarbatiya, wife of Rambhaj. Shweta Bharadwaj leaves a fine mark as Dilli Rani. Zakir Husain has his moments as MLA Shishupal. Sayeeda Jaffery is excellent as Rani Saheba. Ishtiyaq is brilliant as the stammering reporter. Prasoon Bajpai lends fine support as Raja Saheb's servant, Chintamani. Ram Sethi leaves a mark as Pradhan ji. Khalid Kidwai is good as Daroga ji. Kamlesh Kumar Pande does a natural job as Satish Mishra, PA of MLA Shishupal. Rajkumar Kanojia (as Jhamman) and Soniya Mishra (as Jhamman's wife) are adequate. Khushboo Kamal (as reporter Khushboo Kamal) and Raj Solani (as the doctor) provide able support.
Director Ranjeet Gupta has handled the subject with the sensitivity it required. His narrative style complements the script well. Music (Siddhant Madhav, Vipin Patwa, Repul Sharma and Dev Sikdar) is fair. The theme song (Siddhant Madhav) is the best composition. The item song is mass-appealing. Vishal Vijay Kumar's lyrics are in synch with the mood of the film. Sujit Kumar's choreography in the item song-dance is good. Repul-George's background music is impactful. Naren Gedia's camerawork is quite nice. Action (Kaushal-Moses) is fair. Anjan Gajurail's sets are realistic. Dilip Deo's editing is quite sharp.
On the whole, despite Omprakash Zindabad being a well-made satire, its box-office prospects are bleak because of three main reasons: lack of promotion and, therefore, absence of awareness among the public, poor face value, and lack of footfalls in cinemas because of fear of the coronavirus.
Released on 18-12-'20 at Gossip (daily 1 show) and other cinemas of Bombay thru Panorama Studios. Publicity & opening: dull. …….Also released all over. Opening was poor everywhere.