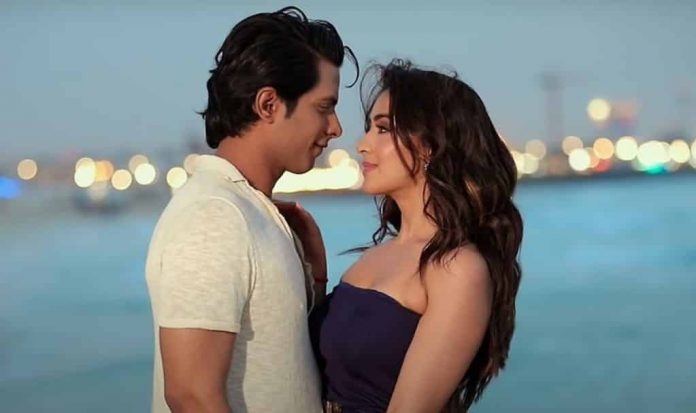 Lucky Nadiadwala Morani Productons and D & T Production Pvt. Ltd.'s Sayonee (UA) is a love-cum-action drama.
Raj Randhawa's (Tanmay Singh) beloved, Mahi (Muskan Sethi), goes to Russia for studying botany. But she is kidnapped there. Raj reaches Russia in search of her and gets to know that she had been murdered by her abductors. He now swears revenge. In Russia, he meets Arsan (Rahul Roy) and stripper Anya (Lena) who help him reach Mahi's abductors and killers. Does he successfully seek revenge?
The film is designed as a routine revenge drama with twists and turns. Stories of this kind have been seen dime a dozen and, therefore, afford no novelty. Writers D & T, Nitin K. Gupta, Eshwari Yash, Vishal O. Sharma and Twinkle Agarwal have resorted to the clichéd to take the drama forward. If their story is as routine as routine can be, their screenplay is hackneyed and absolutely predictable. It is oftentimes implausible too. Dialogues, penned by the team, with additional dialogues by Jassi Singh, are so-so.
Tanmay Singh makes a fair debut. He acts decently but there's nothing that stands out. Debutante Muskan Sethi is okay as Mahi. Rahul Roy goes through the role of Arsan mechanically. Yograj Singh and Upasna Singh (as parents of Raj) lend average support. Lena is quite good as Anya. Katia (as Alina) is alright. Other Russian actors do as desired.
Nitin Kumar Gupta and Abhay Singhal's direction is ordinary. They have made a typical masala film with seemingly measured ingredients. Music (Amaan-Amanta, Rangon and Joy-Anjan) is alright. The remixed version of 'Sayonee' song (Joy-Anjan) is the best number. Lyrics (Mukesh Sachdeva, Rahi Alaukik, Amaan-Amanta, Sohail Haider and Eshwari Yash) are appropriate. Choreography (Ravi Akhade, Shruti Sinha and Jayesh Pradhan) is commonplace. T. Satish Chakravarthy's background music is average. Johny Lala and Andrey Eremenko's cinematography (with additional cinematography by Sayan V. Roy) is excellent and so are the locations. Akruti Sinha's sets are rich. Action scenes (by Sasha and Yuri) are quite thrilling but having said that, it must be added that Raj single-handedly taking on the most powerful underworld don of Russia in his heavily-guarded mansion and then escaping from a Russian jail with armed jailors look quite ridiculous and unpalatable. Equally ridiculous is Raj beating police officers black and blue right in the police station in Russia. Abhay Singhal's editing is alright.
On the whole, Sayonee is an extremely ordinary fare. Given the lack of face value, it will face rejection at the box-office.
Released on 18-12-'20 at Maratha Mandir (daily 1 show) and other cinemas of Bombay thru White Lion Entertainment. Publicity & opening: poor. …….Also released all over. Opening was weak everywhere.