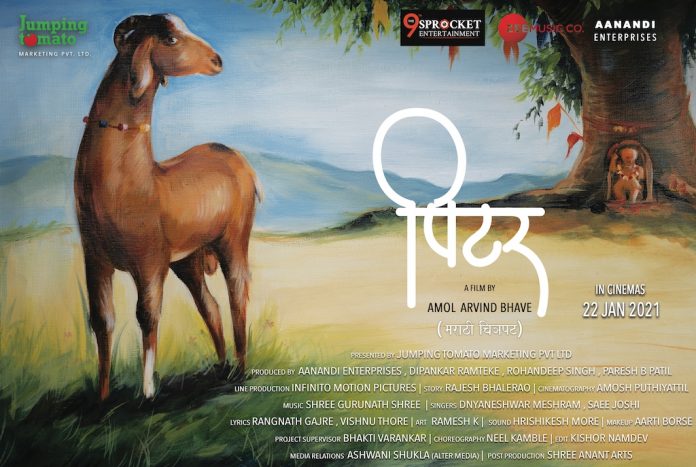 Anandi Enterprises and Infinito Motion Pictures Pvt. Ltd.'s Peter (Marathi) is the story of superstitions. Dhanya (Prem Borhade) lives in the village with his father, Sopan (Shrishar Siddheshwar), mother, Paru (Manisha Bhor), and grandfather. His paternal uncle, Babaji (Amol Pansare), and aunt, Leela (Vineetaa Sabcheti), live in the city. Although they have been married for several years, Babaji and Leela don't have a child. When Babaji and Leela come to the village, the grandfather takes both of them to a baba who is considered to be the virtual God of the village. He asks the couple to feed the entire village goat meet by offering a goat as sacrifice.
Unable to find a full-grown goat, Sopan and Babaji bring a lamb and decide to take care of it till it grows up for being killed. Dhanya looks after the lamb and christens it Peter. By the time the lamb grows up, Dhanya becomes so attached to it that he is traumatised when Peter is killed. However, Paru discovers something which shocks her. What is it that comes to her notice? Does she alert her family? What happens thereafter?
Rajesh Bhalerao's story is average and doesn't really involve the viewers too much. Films based on superstitious beliefs have been made in the past too and so, there isn't much novelty value. The screenplay, penned by Amol Bhave, Kishor Namdev and Yogesh Mote, is also ordinary. There aren't many heartwarming or light moments. Resultantly, the audience does not experience much of a high while watching the drama unfold. The dialogues, also written by Amol Bhave, Kishor Namdev and Yogesh Mote, are routine.
Prem Borhade does a very fine job as Dhanya. Shrishar Siddheshwar is alright as Sopan. Manisha Bhor is excellent as Paru. Amol Pansare lends ordinary support as Babaji. Vineetaa Sabcheti is okay as Leela. Suresh Dhage, Malhari Thikekar, Sharad Rajguru, Prameya Wable, Ramesh Kamble, Amol Bhave, Vijay Borhade, Umesh Pandhare, Kunal Shelkande, Vrushabh Pardhi and Aditya Bhalchim provide fair support.
Amol Arvind Bhave's direction is okay. Shree Gurunath Shree's music is functional. Lyrics (Rangnath Gajre and Vishnu Thore) pass muster. Neel Kamble's choreography hardly deserves mention. Background music is average. Amosh Puthiyattil's camerawork is nice. Ramesh Kamble's art direction is ordinary. Editing (Kishor Namdev) is of a fair standard.
On the whole, Peter is an ordinary fare.
Released on 22-1-'21 at Inox (daily 1 show) and other cinemas of Bombay thru Jumping Tomato Marketing Pvt. Ltd. Publicity: poor. Opening: dull.