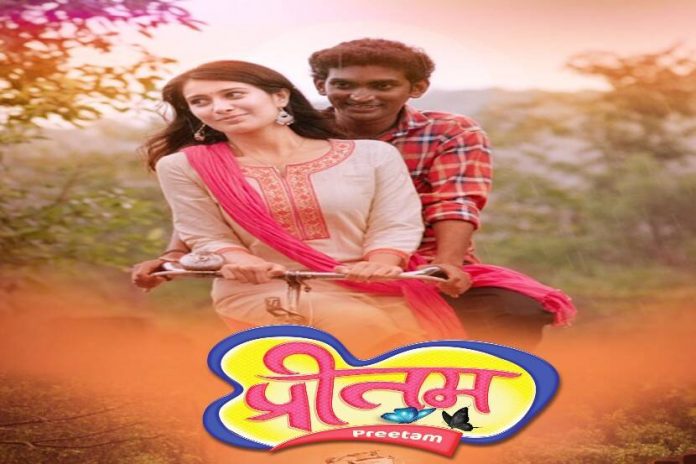 Wizards Productions' Preetam (Marathi; UA) is the story of Preetam (Pranav Raorane) who is dark-skinned. He lives in the village and sells milk for a livelihood. He also takes part in dramas. His father (Ananda Karekar) is a drunkard. One day, a lady, Madhavi (Aabha Velankar), comes to the village. She is the school principal. She has a daughter, Suvarna (Nakshatra Medhekar). Preetam falls in love with Suvarna but is unable to express his love to her. Preetam's friends — Paresh (Vishwajeet Palav), Fatakya (Sameer Khandekar) and Ranvir (Ajit Devle) — also fall in love with Suvarna. However, Preetam tells his three friends that Suvarna loves him. When principal Madhavi is transferred to another village, Preetam runs away with Suvarna so that his friends do not get to know that he had been lying. The villagers bring Preetam and Suvarna back. A panchayat meeting is held. What happens then?
Elango Odai has written a routine story which does not boast of novelty. Since there is no freshness in the story, it does not involve the viewers much. Ganesh Pandit's screenplay is predictable and, therefore, not too exciting. It is replete with clichéd scenes. In other words, the drama is of the kind which does not involve the audience. Dialogues (Ganesh Pandit) are so-so.
Pranav Raorane has acted well but he is not hero material. Nakshatra Medhekar is alright as Suvarna. Upendra Limaye performs ably as Raman. As Preetam's three friends, Vishwajeet Palav, Sameer Khandekar and Ajit Devle provide decent support. Aabha Velankar is alright as principal Madhavi. Ananda Karekar lends fair support in the role of Preetam's father. Shivraj Walvekar (as the sarpanch), Nayan Jadhav and the others are adequate.
Sijo Rocky's direction is ordinary. Viswajith C.T.'s music and Guru Thakur's lyrics are okay. Sujit Kumar's choreography is functional. Vijay Gavande's background music is average. Camerawork (Om Narayan) is alright. Jayant Jathar's editing leaves something to be desired.
On the whole, Preetam will not get the audience's love because it is too ordinary to be true.
Released on 19-2-'21 at Jai Hind Mukta A2 (daily 1 show) and other cinemas of Bombay thru Sunshine Studios. Publicity & opening: poor.