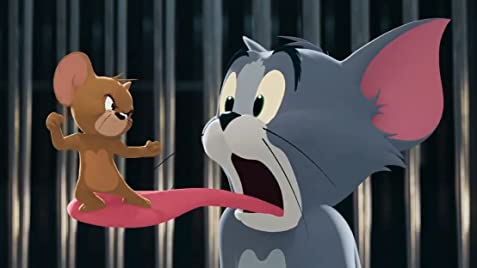 Warner Animation Group, The Story Company and Turner Entertainment Co.'s Tom And Jerry (dubbed from the Hollywood film of the same name) is a live-action and computer-animated comedy about the story of cat Tom and mouse Jerry and their eternal rivalry. Both are rendered homeless and, therefore, decide to bury the hatchet before going their separate ways. Jerry soon makes the largest hotel of Manhattan, The Royal Gate Hotel, his home. The big fat wedding of Ben (Colin Jost) and Preeta (Pallavi Sharda) is being planned at the hotel and so the hotel manager, Dubros (Rob Delaney), gives Kayla (Chloë Grace Moretz), a young, new recruit, the task of managing the wedding and getting rid of the troublesome Jerry.
Kayla hires Tom to keep Jerry in check, thereby reigniting their rivalry. However, the slapstick battle between Tom and Jerry threatens to destroy Kayla's career, the wedding itself, and possibly even the hotel as the cat-and-mouse chase causes widespread mayhem. But soon, this problem pales into insignificance when an even bigger problem arises. The three may now have to put their differences aside when they uncover a diabolical conspiracy that involves the hotel's deputy manager, Terence (Michael Peña).
Kevin Costello has written an interesting story and screenplay based on the characters created by William Hanna and Joseph Barbera. However, despite the drama being interesting and entertaining, the almost aversion of the Indian audiences to animation films in general will come in the way of their enjoyment of the drama.
The voice acting by the various artistes for Tom and Jerry is very good. Even the dialogues are interesting and full of humour. Chloë Grace Moretz is fantastic as Kayla. Rob Delaney lives the role of the hotel manager. Michael Peña shines as Terence. Collin Jost is effective as Ben. Pallavi Sharda leaves a mark as Preeta. Ken Jeong as chef and baker Jackie lends able support. Others are all good.
Tim Story's direction is first-rate. Christopher Lennertz's background music is appropriate. Alan Stewart's cinematography is very nice. James Hambidge's production designing is of a good standard. Peter S. Elliot's editing is crisp. Animation is exceptionally good. Dubbing is superb.
On the whole, Tom And Jerry is a well-made entertainer but its box-office prospects are bleak because of the general tendency of the Hindi-speaking and Indian audiences to not patronise animation films and also due to the lack of footfalls in cinemas during this period due to the coronavirus scare.
Released on 19-2-'21 at Maratha Mandir (daily 3 shows) and other cinemas of Bombay by Warner Bros. Pictures (India) Pvt. Ltd. Publicity & opening: dull. …….Also released all over. Opening was weak everywhere.