Click https://bit.ly/komal342 if the above video does not autoplay.
T-Series and Maddock Films' Shiddat (UA) is the story of passionate love. Jaggi (Sunny Kaushal) is very impressed by Gautam's (Mohit Raina) philosophy of love which he gets to hear when he gatecrashes the latter's wedding with Ira (Diana Penty). A few years later, Jaggi falls in love with Kartika (Radhika Madan). However, he is sad to know that a few months later, Kartika is to get married to Karan in London.
Kartika dismisses Jaggi's love as something he would get over. She, therefore, tells him that if he is unable to forget her, he should meet her in London before her wedding date. Saying this, she promises to cancel her wedding with Karan when he reaches London. Since Jaggi is madly in love with Kartika, he tries to reach London to profess his love to her. But because he can't make it through the legal route, he uses the illegal one and lands in France where he and other illegal immigrants like him are caught by the authorities. As luck would have it, he meets Gautam in France as the latter is working in the Indian high commission office. It is Gautam's job to deport all Indian illegal immigrants. Does Gautam deport Jaggi? Or does Jaggi convince Gautam to help him meet with Kartika.
The story has several twists and turns but it basically reminds of Shah Rukh Khan and Rani Mukerji starrer Chalte Chalte. The screenplay, written by Shridhar Raghavan and Dheeraj Kedarnath Rattan, has some heartwarming moments but it also has some weak links. The heartwarming moments are those in which Jaggi and Kartika speak about their love for each other, and those in which Gautam and Ira realise, after differences, that all is not lost between them. However, the weak points of the screenplay are Gautam indulging Jaggi in spite of being a conscientious officer in the Indian high commission office; Kartika telling her friend, Sheena (Vidhatri Bandi), that she had never told Jaggi to come to London (when the fact is that she had told him exactly that; in Hindi films, the audience does not like it when the hero/heroine speak lies); Kartika giving her father (Atul Kumar) a piece of her mind; and the ending. These negative points in the screenplay greatly dilute the impact of the high points. Perhaps, that's the reason why the audience neither experiences a sense of great joy when it's time for Jaggi and Kartika to unite nor feels miserable when the chances of the two meeting are very less or nil. Likewise, for the relationship between Gautam and wife Ira. The dialogues, penned by Dheeraj Kedarnath Rattan, Pooja Ladha Surti and Shridhar Raghavan, are excellent at places and fair at others.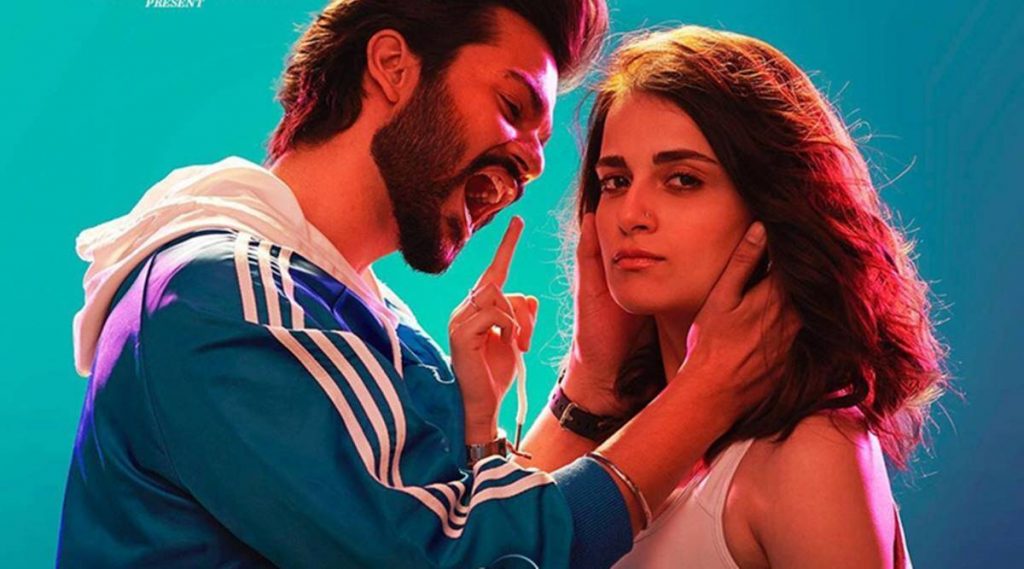 Sunny Kaushal does a fine job as Jaggi. He is able to express his limitless love for Kartika ably. Radhika Madan is excellent, especially in emotional scenes. Mohit Raina is simply splendid as Gautam. He expresses his emotions wonderfully through his facial expressions and eyes. This actor has a bright future ahead of him, thanks to his immense talent. Diana Penty is reasonably nice as Ira. Vidhatri Bandi lends average support as Kartika's friend, Sheena. Atul Kumar is okay as Kartika's father. Gaurav Amlani (as Pinki), Gandharv Dewan (as Rane), Chirag Malhotra (as Bilal), Hoomayun (as Nazir), Nazneen Madan (as Kartika's mother), Diljohn (as Kersie Marfatia), Floraine Anderson (as Natalie), Rajendra Shisatkat (as coach Damle) and the others are adequate. Others pass muster.
Kunal Deshmukh's direction is fair. What was required for a love story of this kind was extremely sensitive direction, but that is lacking. Music is quite good. 'Barbaadiyan', 'Jug jug jeeve' (both composed by Sachin-Jigar), 'Humdum' (by Gourov Dasgupta), 'Chitta kukkar' and the title track (both composed by Manan Bhardwaj) are decent numbers. Lyrics (Kausar Munir, Priya Saraiya, Kunwar Juneja, Manan Bhardwaj and traditional) are effective. Song picturisations ('Barbaadiyan' and 'Chitta kukkar' by Vijay Ganguly; 'Humdum' by Ruel Dausan Varindani and Sneha Kapoor) are fair. Sachin-Jigar's background music is alright. Amlendu Chaudhary's cinematography is first-rate. The aerial shots, especially, of the foreign locales are breathtaking. Aejaz Gulab's action and stunt scenes are okay. Production designing (Shiuli Thukral) and art direction (Subhash Jadhav and Mayur Ghag) are okay. A. Sreekar Prasad's editing is sharp.
On the whole, Shiddat remains an average fare because of the drawbacks in the screenplay. Had it been released in the cinemas, it would not have done anything remarkable.
Released on 1-10-'21 on Disney+ Hotstar.