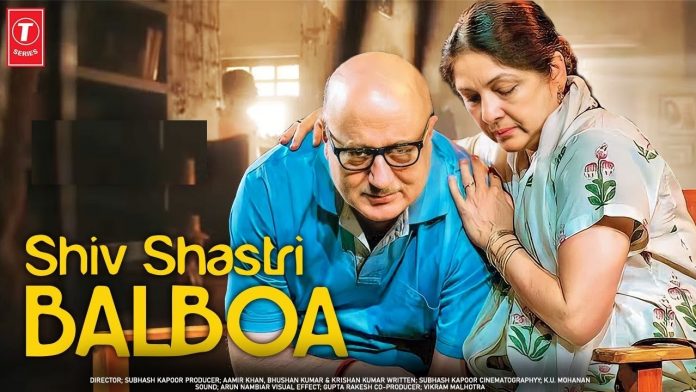 Tarun Rathi, UFI Motion Pictures and Anupam Kher Studios' Shiv Shastri Balboa (UA) is the story of a retired bank officer who is a fan of Rocky Balboa.
Shiv Shastri (Anupam Kher) is a diehard fan of Hollywood film character Rocky Balboa. Besides working in a bank, he runs an outfit which trains boxers. After retirement, he is all set to go to the US to settle down there with son Rahul (Jugal Hansraj), daughter-in-law Alka (Hritu Deepak) and grandsons Arjun (Sid Sharma) and Adivath (Aarav Desai). Just before departing for the US, he is interviewed on TV host Rajat Sharma's show for his fondness for Rocky Balboa and his boxing training institute. Rajat Sharma asks Shiv Shastri to send him from the USA a video of himself on the famous 72 stone steps of the Philadelphia Museum of Arts in Philadelphia.
Once in the US, Shiv Shastri realises that Rahul and Alka are too busy to take him to Philadelphia. He sets out on his own as he has by now befriended Elsa (Neena Gupta), an Indian housemaid, who has been trapped by her Indian employers. Elsa decides to run away from her employers and return to India. Shiv Shastri takes it upon himself to put her on a flight from New York to India and, on his way back to his son, stop by at Philadelphia to shoot the video. But the journey of Shiv Shastri and Elsa to New York is more adventurous than they had bargained for.
Ajayan Venugopalan has written a story and screenplay about two Indians who feel lost in their own individual ways in a foreign land. However, he strays so much that the crux of the drama gets scattered. Although the story in the beginning is about Shiv Shastri and his interview with Rajat Sharma, it takes a backseat when Elsa sneaks out of her employers' home. Again, the journey of Shiv Shastri and Elsa to New York is so long-drawn that the audience completely loses interest after a point of time. Elsa's employers paying her money and also withdrawing the criminal case they had filed against her appears weird because it's not clear why anybody would withdraw a court case AND pay money. What this human drama completely lacks are emotions. In other words, Ajayan's story and screenplay had ample room for tear-jerking emotions but they are conspicuous by their absence. Comedy scenes (like Shiv Shastri and Elsa landing in a striptease club, teetotaller Shiv Shastri consuming beer, Shiv Shastri and Elsa holding out as parents of an Indian who had come to their rescue, etc.) fail to evoke laughter at most of the times. Also, the interview of Shiv Shastri becomes a minor part of the entire film in the final tally when it was the only focal point at the start. Ajayan Venugopalan's dialogues are fair.
Anupam Kher does a supremely sincere job in the title role. Neena Gupta is remarkable as Elsa. Jugal Hansraj is very good as Rahul. Hritu Deepak (as Alka) is nice in a role that gives her limited scope. Sharib Hashmi leaves a mark as Cinnamon Singh but his track is unnecessarily lengthy. Nargis Fakhri is fairly impressive as Siya. Sid Sharma (as Arjun) and Aarav Desai (as Adivath) are adequate. Suvarna Varghese (as Revathi), Anil Joseph (as Sanjeev), Anahita Singh (as Manjari), Rhea Yadav (as Maya), Anand Rao (as Raja Reddy), Josh Pickel (as the bully kid), Vasant Patel (as the travel agent), Dana Jill Maley (as the bartender at the strip club), Alison Corriere (as the stripper girl), Alexandra (as the second stripper girl), Raj Jaiswal (as Bintu), Vyjayanthi Vadrevu (as Bintu's girlfriend), Marianne Goodell (as Siya's mother), Sean Lynch (as Siya's step-father), Mahita Pendota (as young Maya), Myra Desai (as young Manjari), Nalneesh Neel (as Arjun), Siddharth Bhardwaj (as coach Rakesh), Keith Singh (as Jitender Kumar), Supriya Priyadarshan (as Supriya) and Joyeeta Mitra (as the TV reporter) lend nice support.
Ajayan Venugopalan's direction is quite nice but he takes too long to come to the point. Aloknanda Dasgupta and Utkarsh Dhotekar's music is ordinary. Lyrics (Rajeshwari Dasgupta Ghosh, Siddhesh Pornima Patole and Shera Sraa) are average. Aloknanda Dasgupta's background music is so-so. Joshua Ausley's camerawork is okay. Jessica Ellis' production designing is alright. Praveen Prabhakar's editing ought to have been sharper.
On the whole, Shiv Shastri Balboa has a few good moments but its chances at the box-office are very bleak.
Released on 10-2-'23 at Inox (daily 2 shows) and other cinemas of Bombay thru UFO Cine Media Network. Publicity: so-so. Opening: poor. …….Also released all over. Opening was weak everywhere.