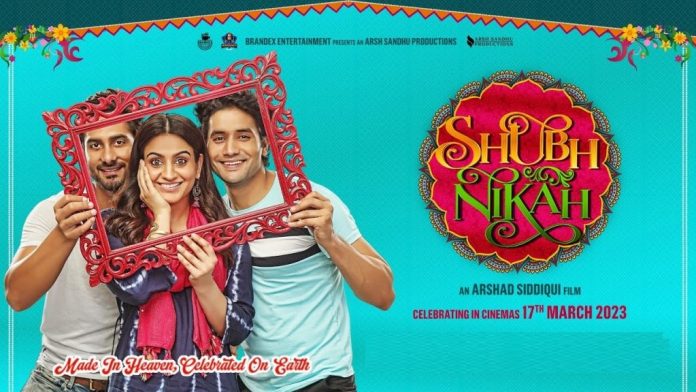 Brandex Entertainment and Arsh Sandhu Productions' Shubh Nikah (UA) is the love story of a Hindu boy and a Muslim girl.
Munnalal Mishra (Rohit Vikram) is a Hindu boy who falls in love with Zoya (Aksha Pardasany), a Muslim girl. At first, both the families object to this relationship but when the love birds convince their respective families that the other is willing to convert, they agree. The families once again develop cold feet when, because of the impending conversion, trouble-makers try to start communal riots. What happens thereafter?
Arshad Siddiqui has written a story which doesn't have much relevance in today's times. His screenplay abounds in comedy in the first half, which is interesting at times. But the lack of comedy in the post-interval portion makes the drama boring. It wouldn't be wrong to say that the drama becomes routine post-interval. The indecisiveness of the families also appears to be a bit weird. Arshad Siddiqui's dialogues are routine.
Rohit Vikram is alright as Munnalal Mishra. Aksha Pardasany does well as Zoya. Arsh Sandhu fails to impress as Zoya's friend, Sabir Khan. Govind Namdeo performs ably in a brief role as Munnalal's father, Shyamlal. Ehsan Khan is so-so in the role of Zoya's father. Pankaj Berry makes his presence felt in a tiny role as maulvi Sufiyan Rabani. Deepraj Rana leaves a mark as police inspector Arjun Singh. Others lend average support.
Arshad Siddiqui's direction is average. Liyakat Ajmeri's music is dull. Lyrics (Husna Khan, Liyakat Ajmeri and Yash Eshwari) are barely functional. Firoz Khan's choreography is average. Sunil Singh's background music ought to have been better. Camerawork (by Ravi Bhat) is ordinary. Hanif Shaikh's action and stunt scenes just about pass muster. Devdas Bhandare's sets are okay. Hardik Singh Reen's editing, especially after interval, leaves something to be desired.
On the whole, Shubh Nikah is a non-starter which, therefore, will prove to be a damp squib at the box-office.
Released on 17-3-'23 at Maratha Mandir (daily 1 show) and other cinemas of Bombay thru Aum Exhibitors. Publicity & opening: poor. …….Also released all over.