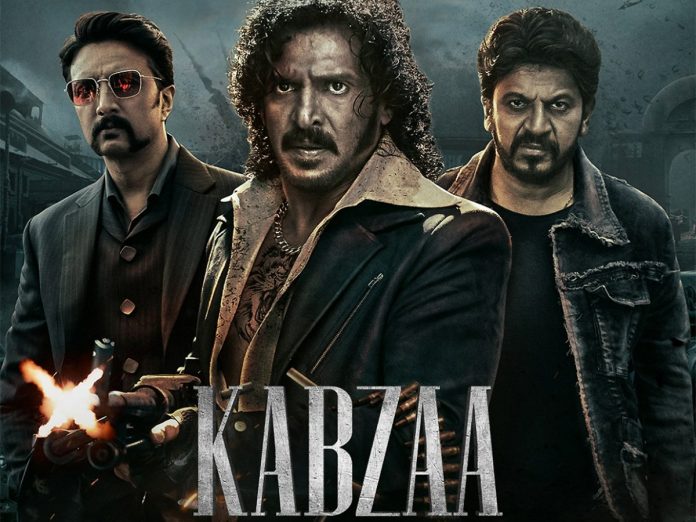 Sri Siddeshwara Enterprises, Anand Pandit Motion Pictures, Cinekorn Entertainment and Invenio Origin's Kabzaa (dubbed from the Kannada film of the same name; UA) is a period action film.
Arakeshwara (Upendra) stakes claim on the underworld after he avenges the murder of brother Sankeshwara (Sunil Puranik) by eliminating a dreaded gangster. After avenging his brother's murder, Arakeshwara gets sucked into the world of crime, from where it is difficult to come out. Trouble ensues when Arakeshwara has to deal with a ruthless police officer, Bhargava Bakshi (Kiccha Sudeepa).
Chandra Mouli and R. Chandru have written a fictional period drama which abounds in gruesome violence. The story offers nothing new as one has seen countless good-versus-evil films. Their screenplay is too verbose to be true. The violence is so raw that it makes the audience cringe in disbelief. The drama quite often moves on a predictable path. Even that may be a point to overlook but the lack of involvement which the audience feels while watching the drama unfold is cause for concern. The viewers watch the drama without a sense of participation. Why, although Arakeshwara sets out to avenge his brother's killing, the audience's sympathy doesn't go to him after a point of time because the film becomes like one big drama of murders and more murders involving Arakeshwara and others. Even the romantic track and the family angle take back seats so that the action fare is the only thing that remains with the viewers after the film comes to an end. Dialogues, penned by Arvind Bhattacharya, belong to an era gone by and even though the film is a period drama, they irritate the viewers.
Upendra is okay as Arakeshwara. For the Hindi film audience, his ordinary looks will be a minus point. Shiva Rajkumar is alright as Siddhantha. Kiccha Sudeepa gets very limited scope in the role of police officer Bhargava Bakshi. Shriya Saran doesn't get much scope except to look pretty. Her acting in the pre-climax is alright. Murali Sharma is fair as Veer Bahadur. Kota Srinivasa Rao performs ably. Nawab Shah leaves a mark as Bangera. Posani Murali Krishna has his moments as Krishna Veer Gundappa. Tahaa Shah is impressive as Sardar. Sunil Puranik has his moments as Sankeshwara. Lakshman leaves a mark as Khaleed. Sudhamma (as Tulasidevi), B. Suresh (as Vardharaj), Lakki Lakshman (as Ghanshyam Pandey), Danish Akhtar (as Bali), Pramod Shetty (as Jambe), Kabir Duhan Singh (as Yeera Reddy), John Kokken (as Malik), Honna Valli (as Thata), Shobha Raghavendra (as Ajji), Ninasam Ashwath (as Masood), Anoop (as Target), Shashidhar Gowda (as Rudra Nag Chaddha), Dattu, Sandeep Malani, Dev Gill (as DSP Vikram), Pruthvi Raj (as DSP Sandeep), Chiranjeevi R. Chandru (as little Arakeshwara), Jnan N. (as little Sankeshwara), Tanya Hope (as the bar dancer) and the others lend the necessary support.
R. Chandru's direction is poor. Ravi Basrur's music is fair but none of the songs is popular. Lyrics (Shabbir Ahmed, Deepak Bharti) are dull. Song picturisations (by Chinni Prakash, Shekar, Kalai and Murali) are reasonably good. Ravi Basrur's background music is too overbearing to really have the desired impact. Arjun Shetty's cinematography is good but some scenes, shot in minimal lighting, are jarring to the eyes. Action scenes (by Dr. Ravi Verma, Vijay, Chethan D'Souza, Vinod, Vikram Mor and Thriller Manju) are so gruesome that they have a disturbing effect rather than a thrilling impact on the audience. Production designing (by Yamuna Chandrashekar) and art direction (by Shivakumar) are rich. Mahesh S. Reddy's editing needed to be sharper. Dubbing is proper.
On the whole, Kabzaa is so crude and violent that it will not even find favour with the masses. Of course, the classes and family audience will stay away from the film which will prove to be a debacle at the ticket windows.
Released on 17-3-'23 at Inox (daily 2 shows) and other cinemas of Bombay by Anand Pandit Motion Pictures. Publicity: dull. Opening: poor. …….Also released all over. Opening was weak everywhere.