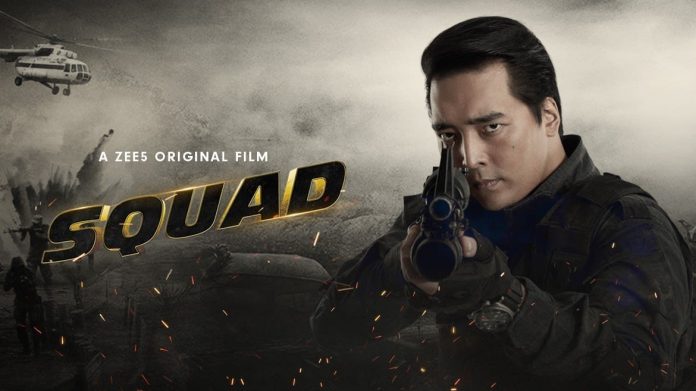 Zee Studios and Indian Media Entertainment Network's Squad (UA) is an action thriller. It is the story of a mission carried out by a group of commandos, headed by Bhim (Rinzing Denzongpa), to rescue a six-year-old girl, Mimi (Dishita Jain).
The story, written by Nilesh Zaheeda Sahay, offers no novelty and moves at an excruciatingly slow pace, testing the viewers' patience. The screenplay, penned by Nilesh Zaheeda Sahay and Shobha Nihalani, is weak because although the film is a thriller, it lacks thrilling moments of any kind. The drama moves on a single track and, therefore, gets boring quite early on. Besides, the screenplay, because of the manner in which it unfolds, often keeps the audience in the dark about the intentions of the characters — that too, without any justifiable reason and to no effect. This irritates the audience even more. For instance, the viewers are unable to understand the connection between the kidnapping of the six-year-old girl and her blood group. Nilesh Zaheeda Sahay's dialogues are more theatrical than realistic.
When it comes to performances, many of the actors have fixed expressions on their faces. Rinzing Denzongpa does his stunts well but he forgets to change his expressions according to the demands of the scenes. He makes an ordinary debut as Bhim. Malvika Raaj is lively in her debut role. She does a fair job as Aria. Pooja Batra is stiff as Nandini Rajput. Mohan Kapur is earnest in the role of Abhay Bhatnagar. Dishita Jain, as Mimi, is cute but she has been made to mouth lines as if she were a 16-year-old! Amit Gaur leaves a mark as Amit. Tanisha Dhillon fails to impress as Addy. Ashish Tyagi makes his presence felt as Girish. Rohan Arora (as Nakul) lends lovely support. Abdulla Osman (as Romeo), Afreen Dabistani (as Jia) and the others are okay.
Nilesh Sahay's direction, limited as it is by his weak script, is below the mark. His narrative style fails to involve the viewers. For one, his scenes are lengthy, and secondly, there is excessive action. Music (Amjad Nadeem Aamir and Sonal Pradhan) is not of the popular kind. The lyrics (Amjad Nadeem and Sonal Pradhan) are not easy on the lips. Dharam Bhatt's background music is dull. Cinematography (by Will Humphris and Anshuman Singh Thakur) is very good. Foreign locations are eye-filling. Keir Beck's action and stunt scenes co-ordination and Nilesh Sahay's action direction often lack thrill. Production designing (by David Santan Sores) and art direction (Maxim) are ordinary. Debjan Bose's editing leaves a lot to be desired.
On the whole, Squad is too dull and dry to be a thriller. As such, it will not find appreciation.
Released on 12-11-'21 on Zee5.