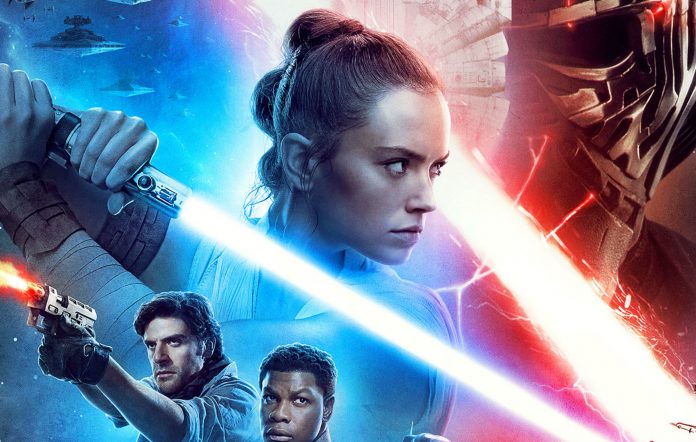 Lucasfilm Ltd. and Bad Robot Productions' Star Wars: Vijaypath (dubbed from Hollywood film Star Wars: The Rise Of Skywalker; UA) is the third of the Stars Wars sequel trilogy, after The Force Awakens and The Last Jedi. It is the final episode in the nine-part Skywalker saga.
The surviving Resistance confronts the First Order once again.
Derek Connolly, Colin Trevorrow, Chris Terrio and J.J. Abrams have written a story which is quite routine and unexciting. The screenplay, penned by Chris Terrio and J.J. Abrams, has so many turns and twists that they get confusing and also irritating.
Carrie Fisher, as Leia Organa, acts ably. Mark Hamill is good as Luke Skywalker. Adam Driver does a very fine job in the role of Kylo Ren. As Rey, Daisy Ridley is nice. John Boyega (as Finn) is adequate. Oscar Isaac lends fair support in the role of Poe Dameron. Anthony Daniels, Naomi Ackie, Domhnall Gleeson, Richard E. Grant, Lupita Nyong'o, Keri Russell, and the others do as desired.
J.J. Abrams' direction is proper but he has not been able to make an exciting enough fare, worthy of the Star Wars brand. John Williams' background music is impactful. Dan Mindel's camerawork is fantastic. Production designing (by Rick Carter and Kevin Jenkins) is of a fine standard. Editing (Maryann Brandon and Stefan Grube) could've been sharper. Dubbing is nice.
On the whole, Star Wars: Vijaypath is a very ordinary fare.
Released on 20-12-'19 at 24 Karat Jogeshwari (3D; in daily 3 shows) and other cinemas of Bombay thru UTV Software Communications Ltd. Publicity & opening: dull. …….Also released all over. Opening was not even ordinary. ……The original English version, also released simultaneously, will fare slightly better.