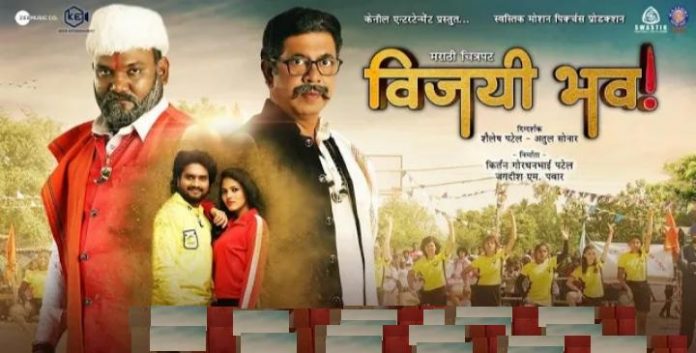 Swastik Motion Pictures and Kenil Entertainment's Vijayi Bhav! (Marathi) is the story of love and enmity. Raghu (Jagdish Chauhan) and Kamini (Pooja Jaiswal) are in love but the latter's father, Madhavrao (Vinayak Ketkar), does not allow her to marry him because he hates Raghu's father, Nana Patil (Jagdish Pawar). Frankly, Nana Patil is a bad element and wants to defeat Madhavrao's team in the local kabaddi match so that he can become the village sarpanch. The village has a tradition of choosing the owner of the winning team in a kabaddi match as the sarpanch. To win the match, Nana Patil involves the tempo, in which Madhavrao's team is travelling, in an accident so that all the team members are injured.
Does Nana Patil's team defeat Madhavrao's team? Do Raghu and Kamini get married?
Jagdish Pawar's story is not at all convincing or even interesting. Atul Sonar has penned a half-baked screenplay which rests on a flimsy story idea (about the village sarpanch being elected based on a kabaddi match). Nana Patil's change of heart looks contrived. The drama lacks in emotions and has minimal comedy. As a result, the drama fails to appeal. Mukund Mahale and Atul Sonar's dialogues pass muster.
Vinayak Ketkar does a good job as Madhavrao. Jagdish Pawar also performs well in the role of Nana Patil. Pooja Jaiswal acts ably as Kamini. Jagdish Chauhan is dull in a role which gives him limited scope although he is the hero, Raghu. Sonali Dalvi is so-so as Damini, cousin of Kamini. Vikram Mehta is okay as Madhavrao's brother, Laxman.
Shailesh Patel and Atul Sonar's direction is routine. The narration fails to involve the audience. Kabeer Shakya's music is weak. Lyrics (Virendra Ratne) are ordinary. Song picturisations (by Vikrant Dev, Noddy Rasal, Ram Devan and Deepak Turi) are below the mark. Swapnil Nangi's background music is dull. Lalji Beldar's camerawork is alright. Action and stunt scenes (Parwez and Sahbuddin) are devoid of thrill. Chetan Chudasama's sets are average. Dharmesh Chanchadiya's editing leaves something to be desired.
On the whole, Vijayi Bhav! is a flop show.
Released on 20-5-'22 at Glamour (daily 1 show) and other cinemas of Bombay thru Sunshine Studios. Publicity & opening: poor.