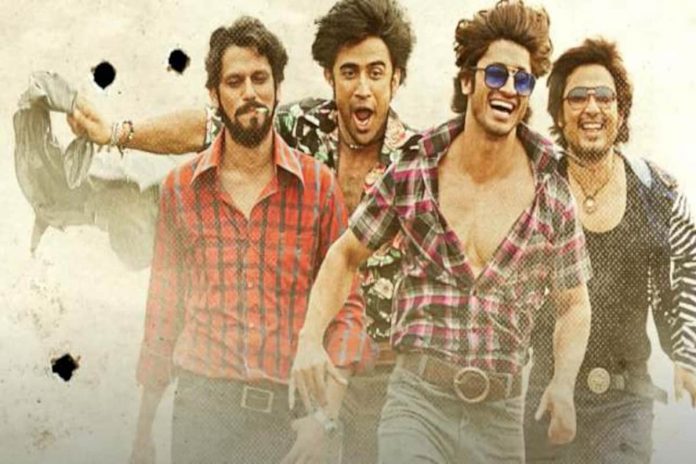 Azure Entertainment's Yaara is the story of a gang of four childhood friends — Phagun (Vidyut Jammwal), Mitwa (Amit Sadh), Rizwan (Vijay Varma) and Bahadur (Kenny Basumatary). The gang is known as the Chaukadi Gang. They smuggle and supply illicit liquor and indulge in a whole range of other illegal activities. One day, law catches up with them and they all are arrested and lodged in different jails of India for varying time periods. Mitwa escapes with the least jail sentence. Years later, Mitwa is chased by the law as well as by Shakeel and Durrani, for whom he used to work. Although the other three friends (who've been close to each other) have not heard from Mitwa since years and despite the fact that all three of them are now leading respectable lives, they decide to save him for old time's sake, even if that means returning to the murky world of crime. Are they successful?
The film, based on French film Les Lyonnais (A Gang Story), is set in the time period from 1970s to 1990s. The story about a gang of four bosom pals offers nothing new as it is oft-repeated. Tigmanshu Dhulia embellishes the routine gang war story with a screenplay which is hackneyed. If the action drama is predictable at many places, the romantic track between Phagun and Sukanya (Shruti Haasan), a rebellious girl from an affluent family, who wants to change the world and social order, hardly touches the heart as it is not well-developed. The twist towards the end is designed to come as a shock to the viewers but the rest of the drama is so boring that even the last twist fails to have much of an impact. Even otherwise, the screenplay is loaded with unnecessary scenes like the police inspector reminding Mitwa about how they had met years ago, and revealing to Phagun why he wants to arrest Mitwa. There was no need for the law man to reveal either his identity or his plans to ordinary citizens who are/were criminals. Actually, the screenplay is so ordinary that there are hardly any scenes which create an impact. Tigmanshu Dhulia's dialogues are so-so.
Vidyut Jammwal is average as Phagun. He goes through his role with the same expressions. Even his action scenes are not of the death-defying kind, which the audience loves. Amit Sadh, as Mitwa, does an average job. Vijay Varma fails to impress in the role of Rizwan. Kenny Basumatary is below the mark as Bahadur. Shruti Haasan is ordinary as Sukanya but she looks beautiful. Sanjay Mishra is good in a brief role. Mohd. Ali Shah (as Sardarji Jasjeet) is okay. Ankur Vikal hardly makes a mark as Fakira. Shreya Narayan lends fair support as Tanu. But she gets minimal scope. Anurag Pandey (in a friendly appearance) is alright in the role of Madan, the abusive husband of Tanu. Hemant Mohar gives good expressions as the evil man who kills Chand Lohar. Shaurya Khare is okay as Shakeel. Dayashankar Pandey does a fair job in a brief role as Himanshu. Rajeev Gupta makes his presence felt in a tiny role in a friendly appearance. Ramji Bal is so-so. Mohammed Akbar (as Tony) and Azam Qadri (as Titu) lend routine support. The child actors are adequate.
Tigmanshu Dhulia's direction is routine. There isn't much novelty in his presentation. Music (Siddharth Pandit, Ankit Tiwari, Gourov-Roshin and Shaan) is quite nice. The songs are not popular but some of them are well-tuned. The first romantic song (picturised on Phagun and Sukanya) is an instance in point. Lyrics (Manoj Muntashir, Rev Shergill, Sunil Sirvaiya and Prashant Ingole) are decent enough. Song picturisations (by Rajeev Surti and Tigmanshu Dhulia) are alright. Clinton Cerejo's background score is fairly nice. Rishi Punjabi's camerawork is of a fair standard. Action scenes (by Kaushal Moses and Sunil Rodrigues) are well-composed but not as exciting as they ought to have been. Shwetab Verma's production designing and Pankaj Pol and Sniggdha's art direction are ordinary. Editing (Geeta Singh) could've been sharper.
On the whole, Yaara is a dull fare.
Released on 30-7-'20 on Zee5.