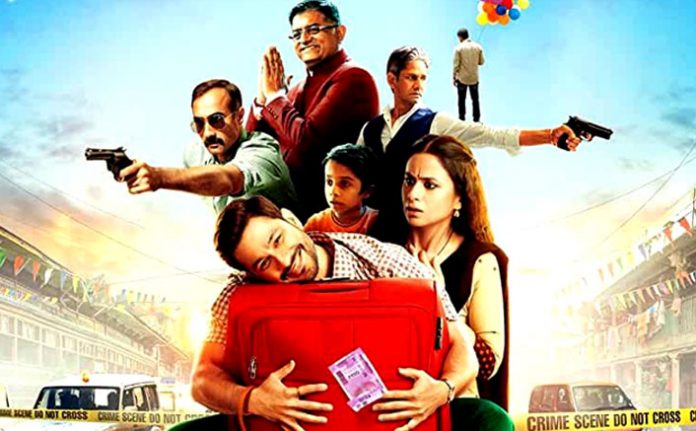 Fox Star Studios and Soda Films' Lootcase (UA) is a comedy thriller. A common man, Nandan Kumar (Kunal Kemmu), who works in a printing press, finds an unattended suitcase with Rs. 10 crore in it. He takes it home but hides the fact that he has hit upon a jackpot, from his wife, Lata (Rasika Duggal). The suitcase also has an important file in it. The file contains all the illegal dealings and accounts between MLA Patil (Gajraj Rao) and politician Tripathi. Patil puts police inspector Kolte (Ranvir Shorey) on the job to trace the suitcase with the cash and the file. Tracking Kolte are Bala Rathor's (Vijay Raaz) stooges because Bala Rathor wants to teach Patil's stooge, Omar (Sumit Nijhawan), a lesson for killing Jameel (Digvijay). Who ultimately gets the suitcase is what the crux of the film is all about.
Kapil Sawant and Rajesh Krishnan have penned an interesting story about the journey of the red suitcase. The duo's screenplay is also very entertaining as it keeps the audience smiling and often laughing. However, the cinematic liberties are a bit too much too digest. Bala Rathor, sitting in his home, gets to know the moves of his adversaries everytime but it is not explained how. Also, the scene in which Omar forgets to switch off his cell phone while talking to Bala, as a result of which Bala can overhear the entire conversation between MLA Patil (who is with Omar) with Omar and his (Patil's) other men, looks a bit far-fetched. The biggest minus point is that the story-line is thin and, therefore, the entire drama revolves around the suitcase. In other words, the screenplay often gives the impression that one is viewing a TV serial instead of a film. But having said that, the uni-dimensional story and screenplay have been very imaginatively written, and they provide the audience a lot of comedy and thrills. Well-knit into the screenplay are the personal story of Nandan and his wife, as also the stories of MLA Patil, underworld don Bala Rathor, and corrupt police inspector Kolte. All in all, the drama moves at a fast pace and keeps the interest of the audiences alive, entertaining them on the way. Kapil Sawant's dialogues are excellent and evoke laughter at a number of places.
Kunal Kemmu is fantastic in the role of Nandan Kumar. It's a delight to see him live the role of a lower middle-class man who has hit upon a jackpot and doesn't know how to handle the situation. His facial expressions, his body language, his performance — all deserve distinction marks. Rasika Duggal is splendid as his wife, Lata. Her acting is phenomenal. Gajraj Rao shines in the role of MLA Patil. His sarcastic comment, about his remarks always being misinterpreted, invariably brings a smile to the face. Vijay Raaz is first-rate as Bala Rathor. His usage of scientific names for animals is a novel style of generating laughter. Ranvir Shorey is pretty effective as police inspector Kolte. Manuj Sharma has his moments as Faizu. Sumit Nijhawan leaves a mark as Omar. Shashi Ranjan is alright as Omar's brother-in-law, Abdul. Nilesh Devekar (as Bala's deputy, Rajan) and Aakash Dabade (as Bala's deputy, Graduate) lend fine support. Sachin Naik leaves a fantastic mark as the inquisitive autorickshaw driver. Deepak Mishra and Dinesh Lamba (as the two murderers of Jameel) make their presence felt. Digvijay is good as Jameel. Master Aryan Prajapati leaves a wonderful mark as Aayush, son of Nandan Kumar and Lata. Atul Todankar (as MLA Patil's PA) lends fine support. Ghanshyam Garg acts ably as Ramlalji, neighbour of Nandan Kumar. Vijay Nikam (as Vasant seth), boss of Nandan Kumar, is fantastic. Hemant Soni (as Mukesh bhai) and Sada Yadav (as Balu) are lovely. Siddhesh Purkar (as Damodar), Deepesh Sharma (as Sudhir), Sonu Ronjhiya (as Vignesh), Tariq Ahmed Khan (as Mushtaq), Preeti Sharma (as the real estate salesgirl), Ankush Deshmukh (as the bank cashier), Jitendra Vashisht (as the bank teller), Narottam Bain (as the bank watchman), Ishaan Rai (as the sketch artist), Raj Shekhar Chandra, Anand Alkunte, Sanjay Vichare (all three as police constables), and the others provide very good support. Ninad Kamat's narration is nice.
Although the film seems like a TV serial because of the script, it must be said that Rajesh Krishnan's direction is lovely. He has been able to keep the audience's interest alive right from the word 'go'. Music (Amar Mangrulkar and Rohan-Vinayak) is functional but the songs, especially the 'Muft ka chandan' number, has melody. Lyrics (Kapil Sawant and Shreyas Jain) are appropriate. Adil Shaikh's choreography goes with the film's mood. Sameer Uddin's background music is pretty impactful. Sanu John Varughese's cinematography is very good. Action scenes are effectively choreographed by Manohar Verma. Rateesh U.K.'s production designing is of standard. Anand Subaya's editing is sharp.
On the whole, Lootcase is a nice entertainer but it is more like a television serial than a film. Its dialogues, drama and performances are its high-points and make it good for home-viewing. Lack of awareness due to poor promotion will cost its business dear.
Released on 31-7-'20 on Disney+ Hotstar.