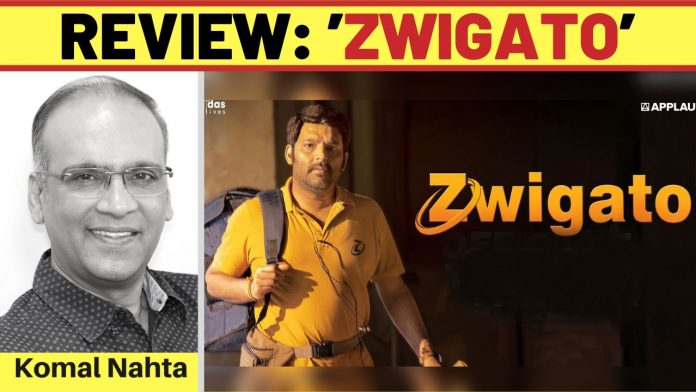 Click https://bit.ly/komal538 if the above video does not autoplay.
Applause Entertainment and Nandita Das Initiatives' Zwigato is the story of a delivery man.
Manas (Kapil Sharma) delivers food for a company, Zwigato. His life is tough as the rules of the company are not at all pro-employees. Still, he has no option but to continue with the food delivery company because he has a family to feed. Living with him are wife Pratima (Shahana Goswami), daughter Purbi (Yuvika Brahma), son Kartik (Prajwal Sahoo), and ailing mother (Shantilata Padhy). One day, Pratima tells Manas that she, too, would like to take up a job to supplement the family income. Much against Manas' wishes, Pratima registers her name and is lucky to be selected for a job.
Nandita Das and Samir Patil have penned a rather boring story about the lacklustre life of a delivery man. Since their screenplay has no worthwhile highs or lows, the drama is flat and, therefore, fails to involve the audience. After all, it is common sense that without a dramatic story, people won't be interested in watching the life story of a delivery man. There is not a single scene which could make the viewers sit up and marvel at the thought or the writing. Even the conflict is so predictable that the excitement quotient for the viewers is almost completely missing. There is no climax worth the name. Resultantly, the film ends rather abruptly. Nandita Das and Samir Patil's dialogues are routine.
Kapil Sharma does an ordinary job as Manas. Casting Kapil in this kind of a role was not the wisest thing to do. It is a wonder why Kapil Sharma even agreed to be a part of such a film which can't be expected to add anything to his CV. Shahana Goswami is alright in a role that hardly gives her any scope. Yuvika Brahma is pretty natural as Purbi. Prajwal Sahoo is okay as Kartik. Ashwin Ray Mohapatra entertains as the petrol pump attendant. Sayani Gupta makes her presence felt in a tiny role as Zwigato's regional head. Swanand Kirkire (as Govind Raj) and Gul Panag (as herself) leave their marks in friendly appearances. Debabrata Pattanayak (as the Zwigato receptionist), Shantilata Padhy (as Manas' ailing mother), Samar Singh Grewal (voice acting only; as the Zwigato Sathi voice), Debtosh Darjee (as the Zwigato official), and the others are adequate.
Nandita Das' direction is dull. Her narration befits a docu-drama. The film actually looks like a docu-drama on delivery men. Hitesh Sonik's music, and Devanshu and Geet's lyrics are functional. Sagar Desai's background music is ordinary. Ranjan Palit's camerawork is okay. Rita Ghosh's production designing is fair. Jabeen Merchant's editing should've been tighter.
On the whole, Zwigato is a non-starter. It will go largely unnoticed.
Released on 17-3-'23 at Inox (daily 2 shows) and other cinemas of Bombay thru Viacom18 Studios. Publicity: fair. Opening: very poor. …….Also released all over. Opening was terribly weak everywhere.