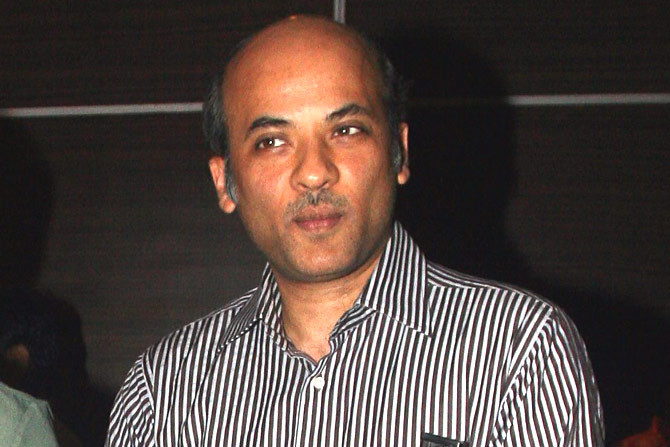 (From our issue dated 10th September, 1994)
INFORMATION EXCLUSIVE
"HUM AAPKE HAIN KOUN..! is a tribute to all
the joint families of the country"
– SOORAJ BARJATYA
GAUTAM MUTHA & KOMAL NAHTA
Getting Sooraj to talk was no easy task. The guy is unbelievably shy and runs away from interviews. Any other director in his place would have loved to hog the limelight but then, Sooraj is a cut above the rest. He has very politely turned down every request for interviews, whether from newspapers, magazines or even STAR TV. Seeing this shy guy, one wondered whether this was showbiz or shybiz. But the shy Barjatya did make an exception for Film Information when he spoke at length to us in his first and only interview after the release of Hum Aapke Hain Koun..!.
How do you feel when you are refer­ red to as "genius", "the topmost director of Hindi screen" or "the new Raj Kapoor"?
No, I am none of these. I am not a genius. I don't have the training of sub­ject and scripting. And I've worshipped Raj Kapoor Sahab. He is my favourite. I've admired his films, I've fallen back on them whenever I've run out of ideas or not got something right. I am honest when I say, I don't deserve all these titles.
But you must be aware that after HUM AAPKE HAIN KOUN..!, people talk about you in superlatives only. You must be getting the feedback.
Yes, I do get the feedback. But HAHK..! is not me alone. It is Rajshris, it is team-work. We all are workers and the work is all departmentalised.
How was HAHK..! born? Were you not scared of rehashing Rajshri's own film, NADIYA KE PAAR?
My father (Rajkumar Barjatya) was supremely confident of the subject. It was his idea to rehash Nadiya Ke Paar. I wanted to make something new, but I just couldn't get a proper subject. I tried very hard but it wasn't coming. It is after a lot of my efforts that my father told me to take up a subject which had already been accepted and to give it my own treatment. Nadiya Ke Paar did not find universal acceptance because its language was Awadhi. Even after it was decided to make HAHK..! on the lines of Nadiya Ke Paar, I had to time and again go running to my father for instructions. I would often get stuck in the scripting, and it is my father who helped me with it. I used to tell him, there's no drama in the subject, and he used to tell me, the drama will come in the end. He asked me to go deeper into the subject and said, the deep­er I'd go, the more I'd enjoy making the film. The maximum credit for the success of HAHK..! should, therefore, go to my father. It is his dream which I have given shape to. Once the script and music were ready, we had a complete narration for my uncles, Kamal Babu and Ajit Babu, as also for the ladies of the family. They all approved of the subject and only then did the film get going.
Were you so confident about the film's performance?
I was positive that it would succeed but I did not imagine, it would be a runaway hit. In that sense, I was apprehensive. Here again, my father had cent per cent confidence in HAHK..!. I must tell you that after seeing Maine Pyar Kiya, he had told me, "You've made an epic." And just after hearing the final script of HAHK..! and even before its shooting could begin, he told me, "This film is going to be a road-roller." That is why, I say, all credit should go to him. HAHK..! is his genius. I may be writing, but he tells me what to write.
How did you incorporate so many songs in the film? Was it planned with so many songs?
It was planned that way. Scenes were written and then changed to songs. The ladies among the audience have all liked the songs and haven't complained either about the songs or the film's length. Men and youngsters, though, did feel that there were a couple of extra songs and also ex­perienced a bit of tiredness in the film because of that.
Are you sad that you've had to cut two songs?
No, I'm not sad. I knew the lags in my film. I knew even before the film was re­leased that we would have to cut a couple of songs. As a director, I have no right to bore the audience. At one stage (before the film's release), we even thought of deleting the passing-the-pillow game, but we realised, by doing so, we were rob­bing the film of its important ingredient.
Everybody in the industry would like to sign you to direct a film. Are you open to outside offers?
A lot of people have asked me to make films for them. "Only for me," they say. But to all of them, I humbly say "No".
What inspires you the most?
Anything that touches me, inspires me. Any form of goodness, especially, in­spires me. I am not in the habit of taking a walk or anything of the sort to draw ins­piration. Basically, I am driven by characterisations more than happenings. Even in the making of the film, we did not write sequences and come to the end. Instead, we used to name a feeling and then move backwards. That gave way to all the seq­uences. Every character was painted be­fore starting shooting.
You don't seem to have many friends in the industry. Are you a loner or do you have friends outside the industry?
I am basically a reserved person.
But it is believed that a creative per­son must interact with people.
I interact with my family and close relatives. I am an observer. I prefer to ob­serve, to watch rather than talk. I am a quiet person. It's not rare to find a quiet creative man. I've seen Mani Ratnam only once, and I noticed, he's a very quiet man.
Are you a romanticist at heart? Your romantic scenes in both your films gave that impression.
(Blushes a deep red) Maybe… Yeah! I am a romanticist at heart.
Even after proving yourself the sec­ond time, in HAHK..!, how do you manage to maintain a low profile? You are shy of giving interviews, you run away from the cameras of satellite channels. In short, you are not filmi.
Our upbringing has not been like that. We've always treated filmmaking as a profession, as something which you en­joy doing. I am not even fond of attending parties because how many ever par­ties you may attend, it is finally the narration of the script which matters. Besides, the more you increase your circle of fri­ends, the more you will have to live up to their expectations. I've spent a lot of my time learning under the Rajshri school and it has been a very enriching experience. As for being filmi, I don't really get carried away by success. I believe that success is a gift, a blessing. You just thank God for it.
Which did you enjoy making more – MAINE PYAR KIYA or HUM AAPKE HAIN KOUN..!?
Well, both the films were great experiences. But when I was making MPK, I didn't know what it was to be a successful director. The responsibility was great­er in HAHK..!. In that sense, I would say, HAHK..! was more calculated, while MPK was more natural.
Did you always dream of becoming a director or was it a decision taken after you finished your studies?
I had always wanted to be a director. I had made up my mind ever since I was 10-12 years old. My reason for it was that my father should get the result he always aimed for but somehow missed. I wanted to make a film he dreamt of. I used to feel terrible as a kid, when my dad would have to give explanations, why his film did not do as well as he had expected it to do.
As regards my studies, I was never a bright student. I failed in Accountancy five times in college before I finally gave up my studies! I am not even a graduate.
From where did you pick up the art of detailing and perfecting a thing?
It's been our trait right from the beginning. You have to rise to your best, otherwise the guilt troubles you. There has hardly been any success without effort.
There is no denying the fact that Madhuri has done a marvellous job in your film. Yet there are many in the in­dustry who feel, a new girl was ideally suited for the role. What was your logic in taking Madhuri?
We also thought of taking a new girl but we realised, if we did that, we would be burdening a flowering girl with a baby towards the end of the film. In fact, the last three reels were the most important. I knew, if I could do justice to those three reels, all my other drawbacks in the film, whatever they may be, would be pardon­ed. Here, I must tell you, Madhuri is one of the finest persons to work with. She does not have starry airs at all. This I noti­ced when I worked with her on the sets. I had seen her at work in our own Abodh where I was an assistant director, and I had yearned to make a film with her, since then. When I told her, I wanted to sign Jay Borade as the dance director, she never questioned me even once in spite of the fact that her favourite choreographer is Saroj Khan. Jay and I had sat for a year on the choreography before starting the shooting.
How much do you involve your crew in the film's making?
100%. I narrated the script of HAHK..! to every artiste, howsoever small his role, in complete detail and with all the songs sung in full, by me. Likewise, I gave 4-hour narrations to every dress designer, every technician, every assistant.
Did you ever lose your temper on the sets?
Not really, except for a couple of times when I got angry on the sets. I used to often fire Salman Khan during the shooting of both my films. I guess, you shout at only those whom you feel close to. I think, you cannot be a good director if you are short-tempered. An artiste is the most insecure person when he is on the sets, you've got to treat him with understanding. There is no greater joy for a dir­ector than to see a scene work on the screen. When you see that, you feel, you've created magic. For that, you require the best of everyone.
Had it not been for your father and uncles, would you have experimented in the film's release pattern?
No, I don't have the guts as yet to ex­periment. I don't have much knowledge of exploitation. Anyway, as I said earlier, our work is all divided.
What do you expect when the num­ber of prints are increased?
I don't know. I know one thing though – that the repeat audience is coming in. And I say, "God bless all the ladies and all the girls in the world." Because they've loved my film which must have made my late grandfather, Tarachand-ji, happy. He had heard the entire final script and had told me, it was worth the wait. He made me change the climax. Originally, we had thought that the hero would tell the hero­ine (his beloved) to marry his brother. But my grandfather said, it would not be acc­epted. So we changed the climax to that extent.
An epic first, then a road-roller. What next?
Nothing! Just a break for 2-3 months. Reading, traveling and all that. I'll just let ideas flow. I want to know what the young generation wants.
So many people have described HUM AAPKE HAIN KOUN..! in so many different ways. How would you describe it?
It is a tribute to all the joint families of the country. Because there's no bond of togetherness as in a joint family – togetherness of brothers, sisters, parents, cha­chas, chachis, grand-parents…. It is everybody's story.
DO YOU KNOW?
* Tekchand K. Anchal (Arti Films, Bombay) will be contesting the IMP­DA elections (from the Ordinary class) for the seventh time this year. Barring once, when he withdrew from the contest, Tekchand has always lost the elections. The highest number of votes he has secured is 35. But that does not deter Tekchand from con­testing again and resolving to contest every year till the time "I win".
* Sachin Bhaumick was impressed en­ough with the story penned by Bombay distributor Dilip Dhanwani (Dil­sa Enterprises) to agree to write the screenplay for the latter's production venture. Dilip is making the film in partnership with Babubhai Latiwala of Bombino Video.
* Sanjay Khan's TV serial, THE GREAT MARATHA, has been bought by Channel IV of London for a record price. Three major TV sta­tions of America are negotiating for the serial. There is also an offer from China for a Chinese dubbed version.
* HUM AAPKE HAIN KOUN..! has created a theatre record by collecting 1,30,071/- in 1st week at Prabha, Bar­eilly, in spite of anti-reservation stir and rains.
* HAHK..! is attracting unusual audi­ence to the cinemas. At Manjushree, Kanpur, about 30 blind persons 'saw' the film. At Maheshwari, Hyderabad, several disabled people came to see the film in their wheelchairs. In­cidentally, the film has drawn all 140 shows full at Maheshwari, Hydera­bad, yielding a distributor's share of 11,77,370/- in 5 weeks! And this, des­pite no pre-release publicity of the film.
* HUM AAPKE HAIN KOUN..! has created a city record by collecting 92,602/- in 5th week at Chitra, Amra­vati, despite heavy rains and floods. Total for 5 weeks: 5,32,852/-. Distri­butor's share: 3,49,174/-, city record.
* Not a single poster of HAHK..! has been put up in Rajkot, but notwithstanding this fact, the film is doing wonders at Galaxy cinema.
* VIJAYPATH has created a record by collecting 1,86,866/- in 4 weeks at Anupam, Jamnagar. 1st week: 82,704/-, 2nd week: 35,320/-, 3rd week: 46,600/-, 4th week: 22,242/-.
YOU ASKED IT
How does tax exemption help a super-hit film?
– By increasing its repeat value tre­mendously.
Which film has yielded the highest share from a single cinema?
– SHOLAY holds the distinction of yielding the highest share from a single cinema – about 35 lakh from Minerva, Bombay in more than 5 years (in regu­lar shows for about 3 years and then in matinee). HUM AAPKE HAIN KO­UN..!, which has already yielded a share of over 12 lakh, in just 5 weeks from Liberty, Bombay, is set to break the re­cord of SHOLAY in another 8-10 weeks.
Is there a future for English films made with Hindi film artistes and with Indian backdrop and traditions?
– It doesn't seem likely that such films can make a mark – in India or Overseas.
'SARDAR' TAX-FREE IN MAHARASHTRA
Ketan Mehta's Sardar has been granted perpetual tax exemption in Maharash­tra. It is due for release on 31st October at Nehru Centre auditorium, Bombay. This is the first time that a film will be released for the public at Nehru Centre. It will be released at Metro (matinee) and other cinemas of Bombay on 4th November.
SANJAY'S BAIL APPLICATION TO BE HEARD AGAIN
The interim bail application of Sanjay Dutt will be again heard by the two-member bench of the Supreme Court, which heard it earlier. This is in view of the order of the five-member constitution bench of SC, delivered on 9th September, in which the applicability of section 5(2) of the TADA Act was explained.
BABY BOY FOR KOMAL NAHTA
Sangeeta, wife of Komal Nahta, delivered a baby boy in Jaipur on 6th Sep­tember. The new-born is late Shri Ram­raj-ji Nahta's grandson and the couple's first child.
'KRANTIVEER' TAX-FREE IN MAHARASHTRA, DELHI
Mehul Kumar and Dinesh Gandhi's Krantiveer has been granted exemption from payment of entertainment tax in Maharashtra and Delhi for a period of one year. Written by K.K. Singh, the film stars Nana Patekar, Dimple Kapadia, Atul Agnihotri, Mamta Kulkarni, Paresh Rawal and Danny.
GULSHAN RAI RE-ELECTED IFEA PRESIDENT
Gulshan Rai was unanimously re-elec­ted president of the Indian Film Exporters Association at the first meeting of its newly elected council of management on 7th September. The other office-bearers are: Sunder F. Rai (vice president), Chandra­kant Mehta (hon. treasurer) and Manohar Bhatia (hon. secretary).
Earlier, at the 30th annual general meeting held on 3rd September, apart from the abovementioned office-bearers, Rajinder Singh Hora, Amar Asrani, T.P. Advani, Mohan Chhabria, Shiv Laung­ani, J.K. Mittal, S.C. Mittal and Hira­chand Dand were declared elected.
Gordhan Chhabria and Arjun Lulla have been co-opted to the council of management.
CINEMAS CLOSED IN CALCUTTA
Cinemas in West Bengal came to a grinding halt on 5th September following a murderous attack on a cinema hall own­er of Calcutta on 4th.
A majority of cinema halls in Calcutta and elsewhere in West Bengal remained closed on September 4 in response to a day's strike call given by the Bengal Mot­ion Picture Employees Association. They were protesting against non-payment of salaries by cinema owners.
The production, distribution and exhi­bition sectors in Calcutta went on an in­definite strike from September 5 on a call given by Eastern India Motion Picture Association till the government ensured the security of the cinema hall owners and film buffs and met the Association's demand that the halls be made commercially viable by abolishing entertainment tax. However, some 10 cinemas remained open as a section of the cine employees demonstrated against the EIMPA's indefi­nite strike call. The government is reportedly losing Rs. 12 lakh every day by way of entertainment tax.
'KHUDDAR' SILVER JUBILEE
Ratan International's Khuddar enter­ed silver jubilee week on 9th September. The film stars Govinda, Karisma Kapoor, Shakti Kapoor and Kader Khan. Produ­cer: N.R. Pachisia. Director: Iqbal Durr­ani. Music: Anu Malik.
'LAADLA' SILVER JUBILEE
Neha Arts' Laadla is celebrating silver jubilee this week. Produced by Nitin Manmohan and directed by Raj Kanwar, it stars Anil Kapoor, Sridevi, Raveena Tandon, Farida Jalal, Anupam Kher and Aroona Irani. Music: Anand Milind.
FWA TO HONOUR MANOJ KUMAR
The Film Writers' Association will honour Manoj Kumar for his meritorious and dedicated services in the development of the art of film writing. A trophy will be presented to him at the annual general meeting of the FWA on 25th Sep­tember at Bharat Seva Sadan Trust Hall, near Ranjit Studios, Dadar (E), Bombay.
FMC WITHDRAWS SUBHASH GHAI'S EXPULSION
At the meeting of the Film Makers Combine, held on 6th September, the FMC withdrew its decision to expel Sub­hash Ghai. It may be recalled that the Film Producers' Guild, of which Ghai is a member, had taken strong objection to the latter's expulsion from the FMC and had reportedly even threatened to break away from the FMC. At the meeting of 6th, the Guild expressed its resentment over what it described as biased decisions against filmmakers like Subhash Ghai.
MODI FILMS INTERNATIONAL TO DISTRIBUTE
DISNEY FILMS IN INDIA
Buena Vista International has entered into an agreement with Modi Films Inter­national, a division of HMA Udyog Limi­ted, for the distribution of all Walt Disney, Touchstone and Hollywood Pictures films throughout India, it was announced by Mark Zoradi, president of Buena Vista International, and by Lalit K. Modi, presi­dent of the Modi Group. The first film to be distributed under the new arrangement will be Walt Disney Pictures' Academy award-winning animated musical feature, Aladdin, which will be released at the end of the year, simultaneously in Eng­lish, Hindi, Tamil and Telugu. This will be the first time ever a Disney film will be released in a dubbed format in India, and the first time an American film has been dubbed into three local languages.
LATA SERVES LEGAL NOTICES ON SUPER CASSETTES, VENUS
Lata Mangeshkar, through her advo­cate, Rajendra Bohra, has served legal notices on Super Cassettes and Venus, seeking immediate withdrawal of some audio cassettes from the audio market for making unauthorised use of her photograph on the wrappers (inlay cards).
It is alleged that the cover versions used her photograph prominently on the inlay cards while the singers were Van­dana Bajpai and Bela Salunkhe (T-Series) and Anupama Deshpande (Venus).
The notice also recalls a similar mar­keting strategy adopted by T-Series in 1988 and their subsequent undertaking in writ­ing to withdraw the cassettes from the market.
The notice seeks damages and criminal action against Super Cassettes as also search and seizure warrants of the cassettes from the dealers as well as the music company.
IPI'S EFFORTS TO SAVE MUSIC AND KILL PIRACY
The Indian Phonographic Industry introduced Nicholas Garnett, director general, International Federation of Pho­nographic Industry, to the press in Bom­bay on September 7. Mr. Garnett told about his experience in curbing audio pir­acy all over the world and especially in the East. He said that with the strict im­plementation of the Copyright Act, piracy had gone down considerably in some countries of the East, like Malaysia and Singapore, and from 85 per cent to 15 per cent in Italy. India ranked third in the world in audio piracy, China and Mexico being the top two countries. The Compact disc piracy in China is the most disturbing as 85 per cent discs are fake, he in­formed.
President of the Indian Phonographic Industry (IPI), V.J. Lazarus, said that at present, the IPI is launching an aggressive campaign to combat piracy and is targeting 12 major cities, including Bombay and Delhi, which between themselves account for upto 35 per cent (value-wise) of the total Indian music market. The present size of the Indian music market is Rs. 720 crore and with a 40 per cent pir­acy rate, there are 96 million pirated ver­sions floating in the market. Every four out of 10 cassettes sold are fake. In the next six years, at the current rate of 40 per cent piracy, the music industry is going to lose Rs. 1,000 crore, he cautioned.
Mr. Lazarus revealed that to curb pir­acy, the IPI had invested about Rs. 35 lakh in the last seven months and, in Bombay and Calcutta, seized cassettes and equipment worth Rs. 3 crore. Out of 68 persons arrested, bail was denied to some. Only two persons have been con­victed and sent to jail as yet.
The Indian Phonographic Industry, which has 50 members, including Time, Venus, Tips, Magnasound, CBS-Sony and HMV, is affiliated to the international Federation of the Phonographic Indus­tries and is doing its best to 'save music and kill piracy'.
RAMRAJ NAHTA'S PREDICTION COMES TRUE…. AND HOW!
Your late editor, Shri Ramraj-ji Nahta, had given the title of 'Ency­clopaedia on Filmmaking' to young Sooraj R. Barjatya after seeing the first copy of Maine Pyar Kiya in a pre-release trial show at the Rajshri's pre­view theatre. He had been floored by the boy's capabilities and perseverance and had predicted a very, very bright future for him. Had he been alive to see Sooraj's second offering, Hum Aapke Hain Koun..!, he would have been thrilled beyond words – and for more reasons than one. The film would have confirmed that the title bestowed by him on the young maker was the most apt title for him. It would also have gladdened his heart because he was very close to Shri Rajkumar Barjatya, father of Sooraj. And last but not the least, Ramraj-ji, who was a Rajasthani and who used to love cus­toms and traditions in a Rajasthani marriage, would have enjoyed every frame of the movie marvel called Hum Aapke Hain Koun..! because it presents those customs and traditions so beautifully.
IMPPA AGM, ELECTIONS
The annual general meeting and elections of the Indian Motion Pic­ture Producers' Association (IMPPA) will be held on 29th September at ISKCON, Juhu, Bombay.
3-E
Education-Entertainment-Enlightenment
No Fanfare
Without any fanfare whatsoever, Yash Chopra's son, Adit­ya Chopra, commenced the shooting of his first directorial venture, Dilwale Dulhania Le Jayenge, on 8th September at Filmistan Studios. Aditya did not have any celebration even when he recorded a song for the film last month. There was a pooja then and another pooja on Janmashtami day. At the first day of shooting, papa directed the first shot for son Aditya. Kajol and Farida Jalal were participating in the stint which will go on upto 15th September. Dilwale Dulhania Le Jay­enge stars Shah Rukh Khan in the male lead and co-stars Amrish Puri and Anupam Kher.
Chair Man
While on debut-making director Aditya Chopra, his friend and partner in Bombay distribution, Anil Thadani, gifted him a director's chair on the first day of shooting of Dilwale Dul­hania Le Jayenge. The red chair has the film's name and the word 'Director' inscribed at the back.
Shraadh Release
Producers and distributors usually avoid releasing films during shraadh. But this time, two major releases – Main Khiladi To Anari and Andaz Apna Apna – are slated for release during shraadh, on 23rd September. To circumvent the inauspicious period, both the films will reportedly be released at least in one centre on 19th, that is, before the shraadh period begins. Stuntman may also be released on 23rd.
From The Poetess' Pen
The 'Haathon mein aa gaya jo kal rumaal aapka' song of K.C. Bokadia's Aao Pyar Karen is becoming a veritable craze. Although the credit for the lyrics has been given to Shyam Raj, the mukhda is written by a poetess. Famous poet Ramrik Manhar had taken the poetess to Bokadia, who heard the mukhda from her and liked it so much that he asked Shyam Raj to build upon it and write the whole song. The rest is history. Incidentally, not only the rumaal song, the other songs of the film are also gaining in popularity day by day (music: Aadesh Srivastava).
Fo(u)rthcoming Films
Sanjay Kapoor is working in four films currently, and at least two of them, Prem and Kartavya, are almost complete. The other two, Raja and Beqabu, are also making brisk prog­ress and should see release early next year. Bombay, Delhi-U.P. and Nizam distributor Tolu Bajaj has all the four films for distribution in one or the other territories. If not more, Tolu Bajaj may at least be as concerned for newcomer Sanjay Kap­oor's future as brother Boney Kapoor is.
Bokadia's Film Complex
Although K.C. Bokadia has decided to call it quits from direction, his production factory will be very much working. Besides one film with Sunny Deol and Ravi Raja, he has re­portedly finalised plans to start another too with Sunny. The second one will be directed by Priyadarshan. He is also likely to start a film with Mehul Kumar, and another with Ravindra Peepat who has directed Aao Pyar Karen for him. By the way, Bokadia will be constructing a huge film complex in Jaipur. The complex will house a studio, recording and dub­bing rooms, laboratory and other things, all under one roof.
Life-Infusing Words
That Amitabh Bachchan is a sensation in Egypt, too, was proved during his 1991 tour to that country. But a little-known fact about that tour came to light recently. While in Egypt, Amitabh was presented with a necklace by one of his myriad teenage fans. Unluckily, however, the girl who gifted him the necklace, fell seriously ill later and had her parents in panic. They got in touch with Amitabh telephonically through the Indian embassy in Cairo and told him of their daughter's ill­ness. The few pleasant and encouraging words from Amitabh had a soothing and magical effect on the girl and she recovered miraculously.
This anecdote was narrated by the Indian ambassador to Egypt, Arundhati Ghosh, to newsmen in Cairo this week, while talking to them during the world population meet.