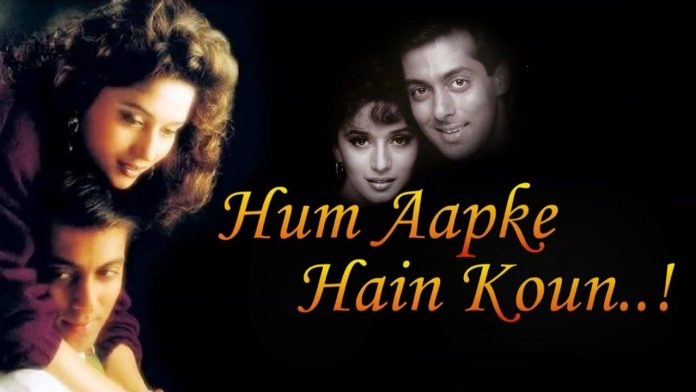 (From our issue dated 15th April, 1995)
A function to celebrate the silver jubilee of HAHK..! at Sringar Cinema, Hubli was organised by the management this week.
LATEST POSITION
BOMBAY has created magic at the box-office all over India. The film as also the (positive) hangover it leaves on the viewer's mind are being discussed. Its record-breaking collections have matched the tremendous appreciation from classes as well as masses. Heavy crowds have been reported in cinemas in every nook and corner of the country. There is a mad scramble for tickets everywhere. Muslims have also accepted the film with open arms. All fears of its fate at smaller centres and its repeat-value have proved to be unfounded. …The week was bountiful for the box-office due to extra holidays (Mahavir Jayanti, demise of Morarji Desai).
Bombay (dubbed) proves a blockbuster all over. Class AA. 1st week Bombay 7,29,828 (100%) from 2 cinemas (2 on F.H.), opens today (15th) at New Excelsior and 7 other cinemas of Bombay city and suburbs; Ahmedabad (6 days) 5,07,087 from 3 cinemas, Surat 73,711 (1 unrecd.), Baroda 2,04,900 (100%), record, Rajkot 1,39,916, Jamnagar 1,31,000; Pune 5,59,216 from 2 cinemas, Solapur 2,07,692 (100%), Nasik 1,18,216 (100%), record; Delhi 33,41,363 (99.08%) from 12 cinemas; Kanpur 3,10,145 (100%), Lucknow 1,59,796 (100%), Gorakhpur 1,55,724 (100%), Saharanpur (26 shows) 87,657, Ghaziabad 1,22,302, theatre record, Varanasi 1,42,065 (100%), Meerut (3 days) 54,478 (100%), Agra (3 days) 100%, Aligarh 1st day 100%, suspended for 2 weeks; Calcutta 20,28,125 (100%) from 19 cinemas; Nagpur (2 days) 92,856 (100%) from 2 cinemas, Jabalpur 1,05,372, Amravati (32 shows) 1,15,531 (100%), theatre record, Dhule 1,26,482, city record; Indore 4,99,535 from 3 cinemas (2 on F.H.), Bhopal 2,37,904 from 2 cinemas; Jaipur 4,98,377 from 2 cinemas, Jodhpur excellent. Total 1,07,49,278 from 63 cinemas.
……..
'BOMBAY' IN BOMBAY
Mani Ratnam's Bombay, which was not permitted to be released in Bombay city and suburbs (within Bombay municipal corporation limits) last week, has been released today (Saturday, April 15). The police commissioner's order for postponement was for 8 days (from April 7 to 14, both days inclusive) and was not renewed further.
Meanwhile, the agitating Muslim leaders in Bombay softened their stand mid-week. They decided to ask for deletion of some scenes from the film or for further postponement of its release, failing which they would not create law and order problems but would only call upon their members to boycott the film. The Muslim delegation has since called on the Maharashtra chief minister who has refused to grant their demand.
Security has been beefed up in the city to guard against any untoward incidents.
In the meantime, a Muslim delegation left for Delhi on 14th April to persuade I & B minister K.P. Singh Deo to delete certain scenes from the film as was done in Andhra Pradesh.
The screening of Bombay in the cities in which it was disrupted or discontinued last week is also being resumed gradually.

SNAPSHOTS
POTENTIAL POWER
Wonder why the Time-Venus people are not releasing Hum Se Hai Muqabla, the dubbed Hindi version of the Tamil super-hit Kaadhlan. The dubbing is complete and the film's first copy is also out. The 'Muqabla' song in the Hindi version too should set the screen on fire. The music has that magical quality about it which will make people dance in cinema halls and ask for an encore. But that is, if the film is released soon. As it is, there have been so many copied versions of the song. This is not to say that the plagiarised versions are a threat to the original which is a class apart. But the similarity in tunes is definitely there.
***
MANISHA AFTER 'BOMBAY'
Mani Ratnam's Bombay is the best thing to have happened to Manisha Koirala. Not only does she look beautiful in the film but she has also given a first-rate sensitive performance. If Manisha doesn't let the success of Bombay go to her head, she can hope to benefit a great deal from it. Because producers are now taking Manisha's name with more respect and seriousness.
UNINTERRUPTED CRAZE
Such is the craze for Bombay in Amravati that the management of Vasant cinema was forced to hold 5 shows daily from Tuesday. There is no interval or interruption in any show and yet, all the shows are packed, with heavy rush outside. For security reasons, the police is issuing tickets at the cinema, checking the tickets and maintaining strict vigil during the show.
***
HIDE-N-SICK
The young dancing hero had better mind it. Although he is a fantastic actor, the word is spreading far and wide that he has been playing hide-n-seek with his producers again. He reports at the Santacruz (Bombay) airport but doesn't board the aircraft or, at times, simply checks out of the hotel in Jaipur and returns to Bombay while his producer, director and unit are unaware of this and discover it only when he is sent for, for the day's shooting. The actor had better wake up to the fact that he is here to act, not to play chhuppa-chhuppi. For, if he doesn't stop this game of hide-n-seek, producers may simply decide to let him hide forever and not seek him whatsoever!
***
Zee's Telecast Illegal: Dhirubhai Shah
There is nothing as "satellite rights" under the Copyright Act, and Zee Cinema is fooling the producers by buying from them or claiming to hold the satellite rights of their films. This, in effect, was the point sought to be hammered at the press conference called by Cable Video (India) Ltd. and ATN on 10th April at Hotel Guestline Days. The conference was addressed by Dhirubhai Shah of Time Video, Harish Hemdev of Indus Video and Siddharth Srivastav of ATN.
Dhirubhai had challenged the FMC and Zee TV to attend the press conference and have an open discussion on who was right and who was wrong in the battle of cable TV rights of films. Neither Zee nor FMC attended the press meet. Zee TV, however, vide a telex message, volunteered to attend a debate, provided it was arranged by an impartial body.
Dhirubhai explained at the press conference that the cable TV rights of more than 60% of the 118 Hindi films sought to be telecast on Zee Cinema's pay channel from April 9 to May 20 vested with their consortium of Cable Video (India) Ltd. viz. Time, Gold, Bombino, Indus, Prism, VP etc. He added that Zee was infringing the provisions of the Copyright Act as also the agreements signed by the producers of the said films with the respective video companies.
It was pointed out that the Indian Copyright Act did not recognise the existence of satellite rights. According to Cable Video (India), satellite is just a vehicle for transportation of signals and, therefore, Zee's claim of holding satellite rights was baseless and, in fact, an infringement of the cable TV rights of the consortium companies.
As far as video rights are concerned, as per the standard agreement, there are two categories of rights: (i) mechanical rights to make copies of the film, and (ii) communication-by-broadcasting rights which could be either by wireless diffusion or by wire. It was reiterated that Zee was, therefore, infringing the rights of video companies.
Zee was also blamed for using the FMC to combat the competition offered by ATN.
Dhirubhai also referred to the memorandum of understanding between himself and the FMC as regards the films telecast on ATN. Although he was not bound to pay anything to the producers since he would be telecasting on ATN the films of which he held cable TV rights, he said, he had agreed to pay them because "they are our brothers". In return, the FMC had agreed to get producers to sign an undertaking that they would not give their films to any other satellite channels for a period of three years. In that case, Dhirubhai would also not show those films on cable TV for 3 years. According to Dhirubhai, producers refused to give the undertaking and, therefore, it is they who backed out of the understanding and not he, as being claimed by the FMC. "Even today, I am prepared to pay a producer according to the memorandum of understanding if he gives me the undertaking," declared Dhirubhai.
Why was Dhirubhai afraid that producers would part with satellite rights when, according to him, no such rights existed and he held the cable TV rights? "I demanded such an undertaking only for the sake of caution because nobody understands the Copyright Act and I was scared, producers would double-sell," answered Dhirubhai.
He also cautioned that Cable Video (India) would conduct raids on cable operators screening Zee Cinema's films. "We may also launch criminal proceedings against producers who sell satellite rights of those films of which we hold cable TV rights," he added. He decried the apathy of the Mulund (Bombay) police station which refused to register a case under the Copyright Act on 6th April against a cable TV operator who was "illegally screening" Andhaa Kanoon.
YOU ASKED IT
Is the success of Bombay because of the tremendous media coverage it has been getting?
– If only media coverage could make a film run, KISSA KURSEE KA would also have been a hit. But the fact is that the film had opened to dismal houses.
Has Subhash Ghai finalised the heroine for his Shikhar?
– He is still on the hunt for a new girl. There were rumours all through the week that Manisha Koirala had been finalised but Ghai has denied the news.
With the release of Bombay in Bombay city and suburbs having been postponed by eight days, what is the loss expected to be incurred by the distributor?
– The loss due to the postponement will be more than offset by the new craze that has been generated because of the postponement. In the long run, the delay will prove to be profitable.
COURT PERMITS 'GAMBLER' SHOOTING
Honourable judge Mr. Deshpande of the city civil court, Bombay, on April 13 passed an ad interim order, restraining the Film Makers Combine (FMC), Indian Motion Picture Producers Association (IMPPA) and Federation of Western India Cine Employees (FWICE) from issuing "any orders, circulars, instructions, statements, directives etc." directing any of their affiliates/associates to stop the shooting of Time Magnetics' Gambler and Krishna and all other films, pending the hearing and final disposal of the suit.
The FWICE, vide its letter dated 21st March, had, at the behest of the FMC, asked its affiliate craft associations not to render any cooperation to Time Magnetics (India) Limited for the shooting of its two under-production films, Gambler and Krishna. FMC's contention was that producer Dhirubhai Shah had not obtained permission from it to start the shootings for the above-mentioned films. The FMC also expelled Dhirubhai for this.
Gambler will now be shot in Mangalore.
Mix Masala
WEARING 'PREM'
And Boney Kapoor's obsession with Prem continues. The latest is that he has got special black T-shirts and caps made with the logo of Prem inscribed (in yellow) prominently on them. These T-shirts and caps are on sale in the market and there are prizes for lucky winners too!
SAD EXPERIENCE
South producer Ramnarayan, who has made Naag Devta in three languages — Gujarati, Marathi and Bhojpuri — was to have released the Gujarati version yesterday (14th April). But the release had to be postponed at the eleventh hour because the film was not granted 70% tax exemption due to the expiry of the government's tax exemption policy on 31st March '95. And to think of it, the producer shot the film in Gujarat to avail of the tax exemption. Incidentally, nine prints of the Gujarati version were taken out for the release and all of them are now lying unused.

ANDHRA HIGH COURT CLEARS 'BOMBAY'
WITH THREE CUTS
The Telugu version of Bombay, which was discontinued from Hyderabad and Ranga Reddy district in Andhra Pradesh after three days of its release last month, has been released again. This follows the Andhra high court's judgement.
Justice P.L.N. Sarma of the Andhra Pradesh high court on 7th April permitted the screening of the Telugu film Bombay in Hyderabad and Ranga Reddy district, subject to the deletion of three scenes in the film.
The scenes are:
(1) The scene of Narayana Murthy going to Bashir and placing an order for a lorry-load of bricks with the inscription 'Rama' on every brick;
(2) The scene of lifting of the veil of the friend of the heroine by the hero, Shankar.
(3) The scene showing symbolic demolition of the top portion of the Babri Masjid.
DO YOU KNOW?
* BOMBAY has created an all-time record by collecting 2,50,362/- in 6 days (12 shows) at Drive In, Ahmedabad.
* BOMBAY has created a city record by collecting 1,31,000/- in 1st week at Amber, Jamnagar.
* BOMBAY has created history by drawing all 28 shows full and collecting 2,04,900/- in 1st week at Sadhana, Baroda.
* BOMBAY has created a theatre record by collecting 1,18,216/- in 1st week at Mamta, Nasik. All 28 shows were full.
* BOMBAY has created new records in 10 of the 11 cinemas of Delhi in 1st week: at Shiela by collecting 4,77,709/-, Chanakya 3,00,636/-, Jubilee 1,65,233/-, Savitri 2,73,105/-, Alankar 3,61,817/-, Aakash 2,78,201/-, Natraj 3,04,535/-, Rachna 2,80,162/-, Amba 3,17,983/-, and Sonia 1,95,300/-. All the shows at all the cinemas were full, with heavy crowds outside.
* BOMBAY has created a theatre record by collecting 1,22,302/- in 1st week at Urvashi, Ghaziabad.
* BOMBAY has created a U.P. record by collecting 3,10,145/- at Heer Palace, Kanpur. All shows were full.
* BOMBAY has created records by collecting 1,59,796/- at Anand, Lucknow, and 1,42,065/- at Vijaya, Varanasi. All shows at both the cinemas were full.
* BOMBAY has created records by drawing all shows full (1,55,724/-) at Raj, Gorakhpur and Venus, Saharanpur (87,657/- for 26 shows, 2 shows cancelled due to Ram Navmi).
* BOMBAY has created a record by collecting 100% (54,478/-) in 3 days of 1st week at Apsara, Meerut. The film was discontinued on 2nd day and resumed on 6th day.
* BOMBAY drew all shows full in the first 3 days at Sanjay, Agra. It was discontinued from 4th day and resumed from 8th day to packed houses.
* BOMBAY has created a theatre record by collecting 1,15,531/- (all 32 shows full) in 1st week at Vasant, Amravati. The film had to be screened in daily 5 shows later during the week due to heavy public demand!
* BOMBAY has created a city record by collecting 1,26,482/- in 1st week at Jyoti, Dhule.
* BOMBAY has created a theatre record by collecting 1,96,650/- in 1st week at Chandragupta, Indore. It has also created threatre records by collecting 1,86,958/- at Sangeeta, Indore, and 1,15,927/- at Alka, Indore.
* BOMBAY has created records by collecting 1,37,660/- in 1st week at Filmistan, Gwalior, and 88,000/- at Manmandir, Gwalior.
* BOMBAY has created theatre records by collecting 2,59,123/- in 1st week (26 shows) at Motimahal, Jaipur, and 2,39,254/- (26 shows) at Laxmi Mandir, Jaipur.
3-E
Education-Entertainment-Enlightenment
Blessing In Disguise
When it rains, it pours. Nothing could be more apt to describe the good fortune that has befallen producer Nitin Manmohan. When he acquired the distribution rights of Bombay for C.P. Berar, he took Harish (Glamour) and Mohan Kasat of Mohan Chitra, Amravati as 50% partners. Apprehensive about the film's fate, he gave half of his 50% share (i.e. 25%) to another person. But no sooner was the Telugu version of Bombay banned in Hyderabad and Secunderabad than the 25% partner developed cold feet and asked Nitin to relieve him. As a result, Nitin again had a 50% share in the film. With Bombay going great guns, Nitin will now have a 50% share in the profits instead of the 25% he would have had, had it not been for his friend's cold feet.
The Inspired Ones
Nitin Manmohan is not the only producer who is distributing Bombay. Besides him, Raju Mavani has acquired the film for Nizam. Raju was inspired to take the plunge, thanks to Nizam distributor Pramod of Maruti Film Distributors. It was on Pramod's insistence that Raju Mavani acquired the Hindi version of Bombay for Nizam. Among the first in India to have expressed their fancy for the Hindi dubbed version were (besides Amitabh Bachchan, of course) the Pandeys of Jaipur. They acquired the film for Rajasthan, leaving the price open. "We'll pay the price in proportion to its price for other circuits," V.N. Pandey had said a couple of months back.
North Meets South
Not only has A.R. Rahman today become the hottest music director but his typical style of music has also come to be adored by music lovers (or aped by music directors). Although Rahman is scoring the music of Subhash Ghai's Shikhar, the film will have none of his typical music. Rather than tunes of the South Indian flavour, Shikhar will have the music whizkid churn out North Indian folk music. "This is because Shikhar is a subject based in Kashmir," says Ghai, adding, "I told Rahman to work hard on the music, to learn North Indian music for my film. And that boy is taking a lot of pains for it, he is a genius."
Devgans In New Territory
Veeru Devgan and Ajay Devgan will soon be seen in a different role. The Devgans have decided to open a distribution office for Bombay circuit. They've already named their concern Devgan's Entertainment. What's more, they've also acquired a handful of films for distribution in Bombay. Among the films are Raj Kanwar's Itihaas and Harry Baweja's Diljale, both starring Ajay.
Money No Bait
K. Pappu's Raghuveer is among the few Sunil Shetty starrers which were started when Sunil was not considered hot property. It was also sold at a ratio which today, considering Sunil Shetty's market, would be counted as really cheap. Understandably, therefore, K. Pappu has been receiving offers by the dozen. The new distributors for various circuits express their willingness to pay double the price for which Pappu has sold the film. While many producers would have easily fallen prey to the bait, Pappu has refused to even consider these offers.
First Time Ever
Among the prestigious international magazines like Time, Cosmopolitan and Vogue is National Geographic. The latest issue of National Geographic carries an article 'Bombay: India's Capital of Hope'. In the article, mention has been made of the Hindi film industry. And there's just one hero who has been interviewed by the mag for this part of the article. The hero is none other than Rishi Kapoor whose photograph in his beautifully done-up living room occupies a pride of place in the feature. Rishi's quotes on the film industry are also reproduced. What is creditable is that Rishi is the first ever Hindi film hero — and probably, the first Indian star — to have made it to the pages of the prestigious publication.
Ensuring Peace
"This is a film which gives us the message of communal harmony. You are requested to abstain from hooting or clapping while watching this film. Please watch this film without comment and show your appreciation at the end. Co-operate with us in ensuring peace and harmony." This announcement precedes every show of Bombay in Bhopal. The best part is that cinegoers heed the plea. This special announcement comes from the Bhopal police which has been monitoring the shows at both the cinemas of Bhopal ever since Bombay was released there on Friday last. This is because Bhopal had witnessed the worst-ever communal riots after the Ayodhya incident. About 137 people had been killed in the Bhopal riots. The city has a sizeable Muslim population. And if, in spite of this, Bombay is being screened peacefully, it is thanks to the efforts of the collector, N.L. Prajapati, superintendent of police Anand Kumar, addl. district magistrate Yogendra Sharma, home secretary Vijay Singh, and T.I. Mogham Singh. Likewise, in Indore, the film is running, thanks to the efforts of revenue commissioner A.K. Singh, collector Sudhir Ranjan Mohanty, superintendent of police Rustom Singh and addl. district magistrate Shailendra Singh.
Catchline
What
Is
'BOMBAY'?
MANI
MANI(SHA)
&
MONEY!