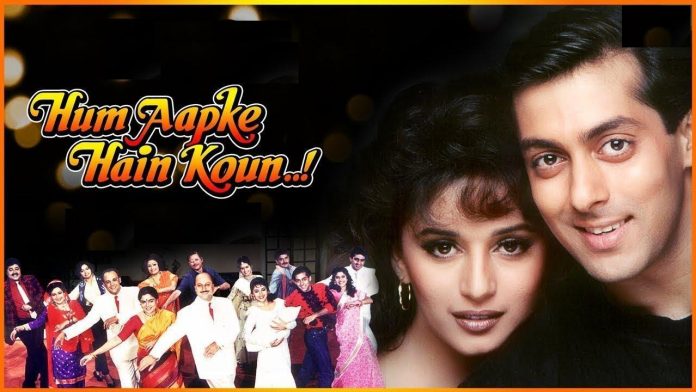 (From our issue dated 7th January, 1995)
Pirated video cassettes of HAHK..! have surfaced in the market. Reportedly, the illegal video cassette was made from print number 10 which is being screened in the USA. The pirated cassettes are said to be camera copies and have reached North and East India. They are of very poor quality, it is learnt.
The Barjatyas have geared up to take necessary action in this regard.
ZEE TAKES OVER TV ASIA
The Essel group, which controls Zee TV, has taken over the London-based satellite channel, TV Asia, which was promoted by Amitabh Bachchan in 1992. The group is said to have struck the deal for about £14 million.
Classification: 1994
(Total 119 films including 14 dubbed films)
Movie Marvel Of The Century
HUM AAPKE HAIN KOUN..!
AA (Super Hit)
JURASSIC PARK (dubbed)
DILWALE
MOHRA
KRANTIVEER
A1 (Hit)
LAADLA
RAJA BABU
A (Semi-Hit)
–
BB (Overflow)
Elaan
Yeh Dillagi ('A' in Bombay)
Suhaag
Anth
Commission To Overflow
Gopi Kishan
Vijaypath
Khuddar
Salaami
B1 (Commission Earner)
Kabhi Haan Kabhi Naa ('A' in Maharashtra)
Main Khiladi Tu Anari
Andaz Apna Apna (losing in Bengal & E. Punjab)
Zaalim
Coverage To Commission
Dulaara
Saajan Ka Ghar (hit in Bihar, 'BB' in some circuits)
Aatish
Cheetah
Dal-pati ('BB' in Bombay, losing in some circuits)
Jai-Kishen
FILM INFORMATION'S BESTS OF 1994
Film: HUM AAPKE HAIN KOUN..!
Producer: KAMAL KUMAR BARJATYA, RAJ KUMAR BARJATYA, AJIT KUMAR BARJATYA (HAHK..!)
Director: SOORAJ BARJATYA (HAHK..!)
Actor: NANA PATEKAR (KRANTIVEER)
Actress: MADHURI DIXIT (HAHK..!)
Villain: NASEERUDDIN SHAH (MOHRA)
Comedian: SHAKTI KAPOOR (RAJA BABU)
Character Actor: ANUPAM KHER (HAHK..!)
Character Actress: AROONA IRANI (RAJA BABU)
Dialogues: K.K. SINGH (KRANTIVEER)
Screenplay: SOORAJ BARJATYA (HAHK..!)
Lyricist: JAVED AKHTAR (1942 A LOVE STORY)
Music Director: RAAMLAXMAN (HAHK..!)
Playback Singer (Male): KUMAR SANU (Ek Ladki Ko Dekha; 1942 A LOVE STORY)
Playback Singer (Female): LATA MANGESHKAR (Didi Tera Devar Deewana; HAHK..!)
Cinematographer: BINOD PRADHAN (1942 A LOVE STORY)
Choreographer: CHINNI PRAKASH (Mast Mast; MOHRA)
Editor: MUKHTAR AHMED (HAHK..!)
Action Director: RAAM SHETTY (ELAAN)
Art Director: NITIN DESAI (1942 A LOVE STORY)
STAR OF THE YEAR: SOORAJ BARJATYA
FILM WEATHER 1994
MOVIE MARVEL
HUM AAPKE HAIN KOUN..!, produced by the Barjatyas and directed by Sooraj Barjatya, easily qualified for the title of 'Movie Marvel of the Century'. The film broke all past records in every single centre released. It is still doing outstanding business for which the sky seems to be the limit.
100 YEARS OF CINEMA
Cinema completes 100 years in 1995. The industry planned a celebration show to mark the centenary of cinema, and hectic preparations are on to hold a hi-tech audio-visual show at NSCI, Bombay on January 15, '95. The show is being organised by the NFDC and it will be directed by showman Subhash Ghai.
THEY MADE WAVES
The news-makers of the year were: Sooraj Barjatya for HAHK..!, Sanjay Dutt for his re-arrest under TADA, Amitabh Bachchan for his abstinence from acting, Madhuri Dixit for her performance in HAHK..!, and A.R. Rahman for his hit tunes.
NO STAR POWER
1994 proved that there's nobody who can be called a star in the true sense of the term. Stars are made and destroyed on every Friday. That is to say, a star's standing varies from film to film. There was no consistency in any star's performance at the box-office.
HITS & MISSES
Rajshri's Hum Aapke Hain Koun..! proved to be the biggest blockbuster of the century and is expected to do a business of over 100 crore, maybe even 125 crore. The other hits of the year were Jurassic Park (dubbed), Dilwale, Mohra, Krantiveer, Laadla and Raja Babu. 1994 also had some major debacles such as Chaand Kaa Tukdaa, The Gentleman, Mr. Azaad, Betaaj Badshah etc.
FEWER RELEASES
A total of 119 films were released in 1994 as against 133 in 1993. There were about two months of no releases. In May and June '94, the dispute between the FMC and the FDC resulted in FMC putting off all releases. The dispute was on the point of delay in release of video cassettes and telecast of new films on cable TV. Releases were once again upset in October-November due to the outbreak of plague in Surat, Delhi and other places in the county.
VIDEO RELEASE WITHHELD
The Barjatyas showed the way by withholding the release of video cassettes of HAHK..!. Official video cassettes of the film are not out even in the 23rd week of its run. Several other producers emulated the Barjatyas and withheld the video cassettes of their films for two to three weeks and reaped its fruits.
SATELLITE CHANNELS AS SOURCE OF INCOME
Producers found a new source of income in satellite channels. Deals for the satellite rights of thousands of films were concluded in '94. While some channels have already started, many, including pay channels, will be launched in the months to come.
ALL-TIME HIGH
Admission rates in Bombay cinemas touched an all-time high. The trend started with 1942 A Love Story, the admission rates for which at Metro, Bombay were as high as Rs. 75. Liberty, Bombay charges Rs. 100 per ticket of HAHK..!. A limit on admission rates was sought to be put by the Maharashtra government, but the provision was struck down by the Bombay high court. The court gave cinemas complete freedom to fix admission rates and, therefore, rates and capacities in Bombay cinemas change from week to week.
PRICES ZOOMED, DISTRIBUTORS DOOMED
Film prices zoomed to unimaginable heights in the year gone by. Producers demanded fancy prices, and many distributors paid them the high prices. With the flopping of high-priced films, the losses were huge. Distribution became more risky than ever. Little wonder then that established distributors who've been in this line for years together, shied away from buying films and preferred to wait and watch. Trade pundits predicted a crash in 1995.
ENGLISH FILMS IN HINDI
Jurassic Park started a trend of dubbing foreign films in Hindi. But besides Jurassic Park, no dubbed foreign film has made any mark on the Hindi screen. Aladdin, the first animated film dubbed in Hindi, bombed.
CHECK ON VULGAR SONGS
Obscenity and vulgarity in films came in for severe criticism from the public and the government alike. Censorship rules (for vulgar songs/scenes) came to be implemented more strictly.
VIDEO CASSETTES: 2-WEEK DELAY
N.N. Sippy's Teesra Kaun? was the first film to be covered by the FMC-FDC joint resolution to delay the release of a film's video cassettes by two weeks from the date of its theatrical release. This resolution applies to all films which were launched on or after 1st January, 1994. The joint agreement also envisages that the cable TV telecast will be delayed by six months. Although the official video cassettes of Teesra Kaun? were not released for two weeks, pirated cassettes made the scene after just one week. Reportedly, they were pirated in Dubai.
SERVICE CHARGE IN U.P. UP
The U.P. government allowed exhibitors in the state to levy a tax-free service charge of Re. 1 per ticket. The service charge was 25 paise before the hike.
SMALL-SCREEN MAGIC
A number of small producers found the small screen more lucrative and bid goodbye to the film industry. They are busy making software for television.
Big producers also entered the small screen scene in a big way – Subhash Ghai, Amitabh Bachchan, Jackie Shroff, Raman Maroo, Jeetendra, K.C. Bokadia, Dhirubhai Shah, Anupam Kher, the Mehras, Kiran Shantaram, J. Om Prakash, Yash Chopra, Lata Mangeshkar, Bharat Shah, Amit Khanna, Mahesh Bhatt, Hema Malini, Sagars, the Hindujas, to name some of them.
HIGH THEATRE RENTALS
Cinema admission rates in many parts of the country were hiked. Alongwith that hike came the hike in theatre rentals. Small and medium-budget films found it difficult to bear the high rentals and proved disasters.
LUCKY IN ANDHRA, UNLUCKY IN KARNATAKA
The Andhra Pradesh government sought to levy sales tax on the turnover of distributors. But the Andhra film industry protested and downed shutters. The proposal to levy the tax was withdrawn.
The Hindi film industry in Karnataka was not as lucky as the Andhra industry. The slab system of entertainment tax (compound tax) was introduced in Karnataka. The rate for Hindi films is double that for Kannada films.
NAAZ: LOST GLORY REGAINED
Naaz building which, once upon a time, used to be the nerve-centre of distribution activity, has regained its lost glory. Almost all the Bombay distributors who matter, have their offices in Naaz now. But the Naaz building continues to remain in a poor condition sans proper lighting, and with broken staircase, unhygienic toilets etc.
TAX SLASHED, TAX-FREE CHARGE HIKED
The Maharashtra government slashed entertainment tax in the state to 50% from September. It also permitted cinemas in the state to levy Re. 1 as tax-free service charge per ticket. The service charge before this was 50 paise.
STATE GOVTS. FAVOUR INDUSTRY
The governments of Andhra Pradesh, Tamil Nadu, Gujarat, Maharashtra, Karnataka and Punjab provided a lot of incentives for the development of their respective regional film industries. But the Union government gave little to the industry. It enacted the Cable TV bill which, too, has not found universal favour. The Copyright Act has been amended but the implementation of the amendments is yet to start.
FILM CITY IN MADRAS
Tamilnadu chief minister Jayalalitha built a beautiful Film City in Madras. It has a number of locations, indoor sets and floors for shooting and is equipped with the latest equipments.
AURAT AURAT AURAT
The advisory panel of the Central Board of Film Certification was reconstituted at the fag end of 1994. More than 50% of its members are now women. This step has been taken to check vulgarity, obscenity and excessive violence in films. People connected with the industry have mostly been kept out of the panel.
THEIR YEAR
The year proved the luckiest for Sunil Shetty and Akshay Kumar among the heroes, and Madhuri Dixit and Raveena Tandon among the heroines. Sunil and Akshay became hot stars and signed films speedily. Madhuri re-established herself as the topmost heroine with HAHK..!. Raveena Tandon dropped her tag of 'jinxed heroine', having starred in three hits viz. Dilwale, Mohra and Laadla.
BIG COMPETITION FROM SMALL SCREEN
1994 saw an unprecedented mushrooming of satellite channels, thanks to the Indian government's open-skies policy. Doordarshan and the various channels posed tough competition to the box-office and they threaten to adversely affect cinema collections even more, in the months and years to come. The cinegoers now have the option to see any number of films on Doordarshan and satellite channels every single day of the week. There may be 80-100 channels in a year or two.
INTERNATIONAL HONOURS
Director Mrinal Sen was made a member of the high-powered international committee set up by UNESCO to celebrate the centenary year of cinema in 1995. Sivaji Ganesan was honoured with the Chevalier in the Order of Art and Literature award of the French government for a long career in the service of cinema. Mani Ratnam was honoured at the Toronto film festival where four of his films were screened.
ON A SOUND TRACK
Cinemas realised the importance of maintenance. All cinemas screening HAHK..! undertook extensive renovation and are still reaping the benefits. A number of cinemas also spent heavily on installing hi-tech sound (Dolby/Ultra) system.
INDUSTRY BEREAVED
A number of film personalities bid adieu to the world in '94. Among those who passed away were L.V. Prasad, Manmohan Desai, R.D. Burman, Phani Majumdar, Bhalji Pendharkar, Gyandev Agnihotri, V.P. Sathe, Gopi Krishna, Vasant Joglekar, Devika Rani, Subodh Mitra, Atmaram, Kamal Bose and V. Awdhut.
BANNED QUEEN
Shekhar Kapur's The Bandit Queen was banned by the court. Phoolan Devi, on whose life the film has been made, pleaded for the ban. The matter is still in the court and until it is finally decided, the screening of the film, whether private or public, has been stayed. The film won rave reviews at the Cannes film festival and was hailed wherever screened outside India.
HAYWIRE HYDERABAD
Shootings in Hyderabad were at a standstill for more than a month following differences between cine workers of Andhra and Tamilnadu. The dispute was resolved amicably finally.
BIG PRICES FOR O'SEAS, AUDIO RIGHTS
Overseas and audio rights fetched unheard of prices for big and star-cast films. Two and three crore for Overseas rights and a crore to a crore-and-a-half for music rights were prices heard for the first time in '94.
YOU ASKED IT
When films, as it is, do not command good initials, is there any logic in releasing two Mithun starrers on the same day?
– Don't hunt for logic in everything connected with this industry, because, more often than not, you will be disappointed.
What do success and failure teach one in this industry?
– Generally speaking, success teaches him to behave as if he were the greatest. Failure teaches one to very cleverly blame it on bad luck.
What are Rajshris making next?
– Even they haven't decided as yet. After all, great films are not planned in a jiffy.
MAHESH-KISHOR PART WAYS
Music directors Mahesh and Kishor have parted ways. Both will operate individually now. Kishor, who has also been a music arranger of repute, having worked with leading music directors like Laxmikant Pyarelal, Shiv Hari, Nadeem Shravan etc., plans to continue with music direction, music arrangement and background music.
'KRANTIVEER' SILVER JUBILEE
Mehul Movies P. Ltd.'s Krantiveer, a Dinesh Gandhi presentation, produced and directed by Mehul Kumar, entered 25th week on Jan. 6 all over. Written by K.K. Singh, the film stars Nana Patekar, Dimple Kapadia, Atul Agnihotri, Mamta Kulkarni, Paresh Rawal and Danny. Music: Anand Milind. Lyrics: Sameer. Cinematography: Russi Billimoria. Editor: Yusuf Sheikh. Action: A. Mansoor.
U.A. THADANI'S SON TO WED
A reception to celebrate the wedding of Kishore, son of Bombay exhibitor and distributor U.A. Thadani, with Namrata will be held on 13th January at the Royal Western India Turf Club (second enclosure), Mahalaxmi, Bombay.
ADMISSION RATES HIKED
Admission rates at Triyug Talkies, Khandwa have been hiked. The new nett capacity per day is Rs. 9,038, while for 28 shows, it is Rs. 63,266. The admission rate for Box (40 seats) is Rs. 10, Balcony (150 seats), Rs. 8, First class (324 seats), Rs. 5, Inter class (320 seats), Rs. 3 and Ladies class (113 seats), Rs. 3.
DO YOU KNOW?
* Meenakshi Seshadari may have signed a film after years. The film in question is Rajiv Kumar's GURU CHELA, starring Mithun Chakraborty and Ajay Devgan, and being directed by T. Rama Rao.
* KRANTIVEER which will be screened at the forthcoming IFFI, is the second film of Mehul Kumar to be included in the international festival. His first was MERU MALAN (Gujarati) which was screened at the IFFI in Delhi in 1984.
* Producer-director Ramnarayan has so far directed 95 films in the last 12 years in various languages – Tamil (73), Telugu (15), Kannada (5) and one each in Bengali and Oriya – with various stars including Chiranjeevi, Vijayakanth, Arjun, Vijayashanthi, Srinath, Uttam Mohanty, Shatabdi Roy, Radha and Ambika.
3-E
Education-Entertainment-Englightenment
'Bombay' In Bombay
The much talked-about Mani Ratnam film, Bombay, has run into censor trouble. The examining committee of the Madras regional office of the CBFC, which saw the Tamil version of the film, felt, it was not safe to censor it as it dealt with the communal riots of 1993 and showing them on screen may revive public memory about the riots and lead to new violence. Although the members of the committee did not think, there was anything wrong in the film, the certificate was withheld due to the fear of inciting violence. The film was referred to Bombay by the Madras office. The revising committee of the Bombay office saw it on 6th January and its decision is awaited. The Tamil version was scheduled for release on Pongal day, 14th January. The Hindi dubbed version is due for release on 27th January.
Jubilee Jackpot
Cinegoers in Gandhinagar will be in for a pleasant surprise on 20th January. Rajshri cinema, which has been screening Hum Aapke Hain Koun..! since its inception 22 weeks back, will screen the unabridged version of the film from its silver jubilee week onwards, which will commence on 20th January. There will be two intervals in the film, the total length of which will be 5,895.13 metres (in 20 reels). Its running time will be 3 hours and 35 minutes. There will be two new songs, besides new scenes in the film. Ajay Chudasama, the owner of Rajshri, informed that new hoardings would be put up at the cinema, to mark the merited jubilee. New decoration would also be put up at the cinema. On 20th, the Chudasamas will distribute sweets among the audience in all four shows. Although HAHK..! is currently being screened in three shows daily, it will be shown in four shows in the jubilee week.
Incidentally, so floored is Ajay by the film's performance at his cinema that he has decided to screen HAHK..! every Sunday in the 11 a.m. show even after it is discontinued (its run is exhausted).
Dus Numbri
It took 20 weeks for the video cassettes of Hum Aapke Hain Koun..! to surface in the market. And when they did surface, they were pirated, illegal and of poor quality. Since the Barjatyas had marked the prints with numbers, it has been established that the video cassette has been made from print no. 10, running in the United States of America. Now, that's what you call dus numbri.
Decline In Film Production
There were a total of approximately 755 Indian films (in all languages) certified in 1994. This includes dubbed films. When compared to figures of previous years, one notices the decline in film production. In 1993, a total of 812 films were issued certificates, while in 1992, there were 838 films which were certified, and 910 in 1991. Really, quite a many producers have shifted from the big screen to the small screen.
Amitabh Bachchan Corporation:
The ABC Of Corporatisation
If the film industry is said to be the most unorganised industry, it may not be long before this title may be a thing of the past. Amitabh Bachchan is all set to make a beginning in this direction. He has floated a company, Amitabh Bachchan Corporation Ltd., which will be involved in a variety of entertainment and related activities. The company will produce and distribute films, make software for television and also involve itself in merchandising and celebrity management. To begin with, it will be a closely held company. It will go public in future, finally emerging as a large entertainment house on the lines of Hollywood companies like Walt Disney and Warner Brothers. Jaya Bachchan's Saraswati Audio Visual Co. will be merged with ABCL and so will Amitabh's distribution companies. ABCL will also orgainse and market live shows in India and Overseas. It has plans of acquiring satellite/Doordarshan rights of old films and marketing advertising time for these screenings. ABCL will sign management contracts with stars and celebrities and will handle their marketing, charging royalties for casual appearances, product/event endorsements etc. It will also merchandise products under Amitabh Bachchan signature brand.
No Money, No Dubbing
Raaj Kumar has not completed his dubbing for a forthcoming film, scheduled for an early release. Reason: the producer who was to pay him his instalment at the time of dubbing, could not do so. And when the producer failed to open his cheque book, Jaani failed to open his mouth!
Smart Repartee
A journalist asked director Pankaj Parashar before the latter left for Dalhousie for the shooting of Vinod Khanna'sHimalaya Putra: "Oh, so you too are going to Dalhousie? In Vinod Chopra's footsteps?" To which Pankaj replied, "Yes, I'm going to Dalhousie, but there's one difference. I'm going there with a script."