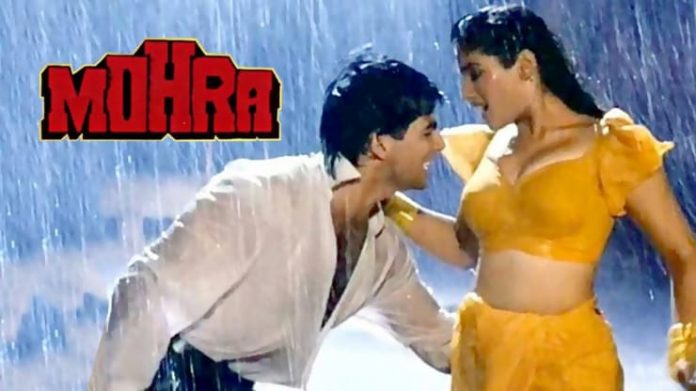 (From our issue dated 17th December, 1994)
Trimurti Films Pvt. Ltd.'s Mohra entered silver jubilee week on 16th December. Producer: Gulshan Rai. Co-producer: Ajay Shah. Director: Rajiv Rai. Cast: Naseeruddin Shah, Akshay Kumar, Sunil Shetty, Raveena Tandon, Raza Murad, Paresh Rawal, Gulshan Grover, Tej Sapru, Kunika and Sadashiv Amrapurkar. Music: Viju Shah. Lyrics: Anand Bakshi and Indivar. Dialogues: Dilip Shukla. Camera: Damodar Naidu. Action: Raam Shetty. Art: Bijon Dasgupta. Dances: Chinni Prakash. Sound: B.K. Chaturvedi. Production designer: Shabbir Boxwalla.
Mix Masala
NONE IN FIVE, FIVE IN ONE
Sanjay Kapoor whose first film has taken five years to come, will have five releases in the first year (1995). His Prem will be followed by Raja. Then there are Beqaboo, Kartavya and Rama Naidu's next, all of which will come in 1995, but not necessarily in that order.
FILM COMPLETION DAY
For director T. Rama Rao, December 13 was a film completion day. Shootings of two films, directed by him, were completed on that day in Madras. The two films: Pahlaj Nihalani's Mr. Azaad and Prasad Art Productions' Hathkadi. Mr. Azaad, it may be mentioned, was completed and censored earlier, but a new song has been added, which was shot in Madras.
SLIM SANU
Ace singer Kumar Sanu has lost a lot of weight. He has shed about 27 kilos of his fat and looks much slimmer and more handsome these days.
TOO LATE TO REPLACE
Ajit Dewani who has a penchant for making spoof films, has completed Teen Moti, inspired, obviously, by Subhash Ghai's Trimurti. Teen Moti stars look-alikes of Sanjay Dutt, Jackie Shroff and Shah Rukh Khan. With Anil Kapoor replacing Sanjay Dutt in Trimurti, Ajit Dewani is in a fix. Since Teen Moti is complete, he cannot replace the look-alike of Sanjay Dutt by the look-alike of Anil Kapoor.
HECTIC PREPARATIONS FOR
'CINEMA CINEMA 100'
Hectic arrangements are being made for Cinema Cinema 100, a show to be held on 15th January '95 at Vallabhbhai Patel stadium, NSCI, Worli, Bombay to celebrate the completion of 100 years of cinema. Subhash Ghai will direct the show which would be ticketed and the proceeds of which would go to the Cine Artistes Welfare Trust.
The National Film Development Corporation, which is presenting the high-tech audio-visual show, held a press conference on 12th December at the Taj, Bombay. It was said at the conference that the show had the full support of the artistes and technicians of the industry. It is quite a different thing that Asha Parekh who, as the president of the Cine Artistes' Association (CAA), was to have also addressed the conference, did not show up for it .
A huge stage for the show will be erected by art director Nitin Desai. A model of the stage set was shown to the press.
The script for the show is being written by Kamlesh Pandey. Ketan Mehta is the technical director, and Tinnu Verma, action director of the show.
PEOPLE
Are talking about
** The fantastic terms being offered by exhibitors to the distributors of Karan Arjun. Its music has become such a rage that the film is hot as ever in exhibition circles. It is said, the Rajasthan distributor will cover his entire MG royalty amount before release itself! As for the Bombay distributor, he will have covered over a crore on the day of release.
** How Mithun Chakraborty had never had it as good even when he was among the top, as he is having today. He is in great demand among producers, mainly because he gives bulk dates and completes films in the shortest possible time. And for that, he gets his price. Discipline then is the catchword.
PEOPLE
Are wondering about
** How Mahesh Bhatt continues to be busier than the proverbial bee, despite his line of flops. That's the magic of the man, one supposes.
** Why Hum Hain Bemisal could not even command a decent opening, not to talk of house-full collections, at many of the centres. In Bombay, some of the cinemas recorded 60% collections. Gopi Kishan, starring Sunil Shetty solo, had opened extremely well two weeks back. Last week, Zaalim, starring Akshay Kumar solo, also opened to very good houses. And Hum Hain Bemisal stars both, Akshay Kumar and Sunil Shetty. Does that mean, two positives make a negative?
PEOPLE
Are waiting for
** The animated Aladdin to be released in Hindi. Because it will decide the future of animated films in India.
3-E
Education-Entertainment-Enlightenment
Mr. Pahlaj
Pahlaj Nihalani's stamina is amazing. It was Madras by night and Bombay by day for him this week. He used to be in Bombay during the days, finalising his chain of cinemas and other release arrangements of Mr. Azaad. He used to fly to Madras every night to oversee the picturisation of an additional song for the film, returning to Bombay the following morning. And the song picturisation used to go on till 2 o'clock in the morning.
Whither Ban?
While on Pahlaj Nihalani, the guy is pretty upset with the CCCA's threat that his Mr. Azaad would not be registered for C.P.C.I. Rajasthan because he had given his Aandhiyan for telecast before the completion of five years from its theatrical release. Argues Pahlaj, "It is common knowledge that Aandhiyan was a disaster. There was no business whatsoever of the film in any circuit, for several months before it was telecast. And the 5-year embargo was broken by me by just two months. Does the CCCA think, the film would have fetched distributors returns in two months when it couldn't do so in four years and ten months? The ban on registration of the next film of the producer is supposed to deter producers so that the business of distributors is not adversely affected. In the case of Aandhiyan, there is no case of an adverse effect because there's no business to be affected, whether adversely or otherwise." Pahlaj further questions the locus standi of the CCCA to take action when his distributors (who are common for Aandhiyan and Mr. Azaad, except in C.I.) don't have any objection. "And the CCCA has pronounced its judgement without even affording me an opportunity to be heard," he laments. He adds, "While Aandhiyan was produced by me, the producer of Mr. Azaad is my son, Vishal."
Chalo Madras
Madras was much like Bollywood this week and last. A number of Hindi films were being shot there. There was R. Mohan's Kabhi Na Kabhi at Murugalaya Studios. T. Rama Rao completed the shooting of Prasad Art Productions' Hathkadi there. Pahlaj Nihalani also shot an additional song for Mr. Azaad in Madras this week. Shakti Samanta's Ahankaar and Rajkumar Santoshi's Ghatak are still progressing there. A long schedule of Time's Sabse Bada Khiladi was recently concluded in Madras.
Of I's And E's
First it was Puneet Issar, then Puneet Essar, and now it is just Punit. This is no name-game. Punit says that this jumble is no creation of his. "Everybody knows me as Punit and moreover, I don't believe in gimmicks," he clarifies. So, short may be sweet for him as far as his name goes but his career is progressing by leaps and bounds. Though he got recognition with the TV serial Mahabharat, he is doing just one more for the small screen, and that is Junoon. "That too, because my role was good and has been eventually appreciated.
Punjab Panicking
Distributors and exhibitors in East Punjab are panicking. Films are faring so badly that exhibitors are not able to cover even the amount of compound tax, what to talk of theatre rental and distributor's share. To feed their cinemas, exhibitors are forced to offer MGs and fixed hires to distributors, thereby incurring losses. A cinema like Sangeet in Ludhiana, which invariably gives good shares, could not give anything in Aao Pyar Karen. The film was in deficit in the first week itself. Zakhmi Dil ran for only one day in Jalandhar and had to be discontinued on the second day (Saturday). Why, even on the first day, the last show had to be cancelled because there was no audience!!
The Ad Man
Akshay Kumar is currently away in Mahabaleshwar. Shooting for a feature film? No. Holidaying? Not at all. He is doing what he has never done before — shooting for an ad film. And even though Akshay does not smoke, he is shooting for an advertisement of a cigarette brand, Red & White. The ad film, it is reported, has an action base (the stunts are being composed by Akbar Bakshi) and is being made on a lavish scale. So, smoking may be injurious to health. But it is beneficial enough for Akshay's pocket to prompt him to shoot — and smoke!
Free Shows For Kids
The Modis have adopted a novel way to publicise their animated film, Aladdin, due for release next week. They are organising free shows of the film in Bombay, Delhi and other cities on Sundays, and entry to these shows is by invitation. Since the film is basically targeted at children, schools are extended invitations to get their kids for the show.
Repeat Value
B.R. Chopra's mega TV serial, Mahabharat, is all set to return on Doordarshan. Grapevine has it that the Chopras have been paid a very handsome amount for the telecasting rights this time!
Sorry, No Films
The sandalwood smuggler of the South, Veerappan, is averse to any producer making a film on him. Veerappan has reportedly made it clear in a charter of demands submitted by him to the government that nobody should be permitted to make a film based on his life story. Among his other demands is one for Rs. 1,000 crore which he wants for his rehabilitation. Veerappan wants no one short of the President of India to give him an assurance that his demands would be met after he surrenders to the police.
DO YOU KNOW?
* Pahlaj Nihalani's MR. AZAAD will be released in Dolby Stereophonic sound system.
* Although cuts have been offered in only two songs of MR. AZAAD, Pahlaj Nihalani has decided to delete them completely from the film. "The media has written that the lyrics of those two songs are vulgar, and although the songs are not actually vulgar, I'd rather not include them in the film due to the anti-publicity," is Pahlaj's explanation.
* Boney Kapoor's PREM will be released on Idd (in March '95). Sanjay Kapoor's second release will be RAJA. Incidentally, Indra Kumar and Ashok Thakeria are planning to release RAJA at the same time as they had released their BETA i.e. in the first week of April.
* Vashu Bhagnani, the producer of Tips' COOLIE NO. 1, feels quite close to the beauty no. 1 in the world — Aishwarya Rai — and not without reason. Aishwarya and Vashu stay in the same building (Ram Laxmi) at Khar, Bombay. Vashu, therefore, splashed the Khar and Bandra streets with colourful banners, welcoming the beauty queen home. Aishwarya returned to India from London on 16th December.
* Mithun Chakraborty was impressed enough with the Tamil film, AMIDHIPPADAI, and the hero's role in it to allot immediate dates to Rajiv Babbar who is remaking the hit in Hindi. The Hindi version will go on the sets very soon in Madras. Satyaraj had played the hero in the Tamil version.
* Gulshan Kumar's SHABNAM, made for the big screen, will be premiered on Zee TV on 25th December.
* ZAALIM has created a theatre record by collecting 1,17,782/- in 1st week at Filmistan, Meerut.
* ZAALIM has created a theatre record by collecting 1,04,384/- in 1st week at Panchsheel, Amravati.
* GOPI KISHAN has created a theatre record by collecting 48,259/- in 2nd week at Ashok, Jalgaon.
* HAHK..! has broken all previous records by collecting 1,11,001/- in 19th week at Prabhat, Solapur.
* HAHK..! has created an unprecedented record by collecting 11,87,314/- in 50 days at Shringar, Hubli.
* HAHK..! has created a city record by collecting a total of 14,83,900/- in 14 weeks at Vandana, Jabalpur.
* HAHK..! has created a city record by collecting a total of 19,34,836/- in 19 weeks at Chitra, Amravati. Share: 12,38,474/-!
* HAHK..! has created a city record by collecting 64,132/- in 19th week at Vasant, Akola. Total for 19 weeks: 11,94,987/-.
* HAHK..! has created a city record by collecting 76,011/- in 15th week at Raj, Raipur.
* HAHK..! has created a city record by collecting 46,535/- in 11th week at Manohar, Dhule.
* HAHK..! has created a Khandesh record by collecting 90,034/- in 9th week at Natwar, Jalgaon.
* HAHK..! has created a Bhandara district record by collecting a nett of 91,776/- (93%) in 1st week (29 shows) against a capacity of 1,01,442/- at Prabhat, Gondia.
* HAHK..! has created history by collecting 1,21,308/- (nett) in 28 shows in 1st week at Aarti, Wardha.
* HAHK..! has created a city record by collecting 85,000/- in 1st week at Apsara, Yavatmal, in spite of simultaneous release at Shyam, Yavatmal.
* HAHK..! has created a city record by collecting 56,893/- in 13th week at Jayant, Chandrapur. Total: 10,06,447/-.
* HAHK..! has created a record by collecting 91,341/- in 18th week (21 shows) at Rambha, Bhopal. Total for 18 weeks: 21,15,095/-.
* HAHK..! has yielded a record share of 6,23,617/- in 10 weeks from Plaza, Ajmer. 10th week's collection: 78,379/-.
* HAHK..! has created another record by collecting 1,12,000/- in 10th week at Mayur, Kota, in spite of severe cold. Total: 13,10,522/-, record.
* HAHK..! has created history by collecting 1,28,016/- (gross) in 6th week at Ashok, Alwar. Total: 10,37,817/-.
FMC CLEARANCE OF FILMS A MUST
At a joint meeting of the Film Makers Combine and the Film Distributors' Council, held on 11th December, it was reaffirmed that no distributors' association would register any film for distribution unless the same had been cleared by the clearance committee of the FMC.
YOU ASKED IT
Who is the hottest music director in the music market today?
– A.R. Rahman.
Is it worthwhile to pay an astronomical price to a heroine when films are not sold on the name of the heroine?
– Films may not be getting sold on a heroine's name, but if a heroine's presence can increase the ratio by some lakhs, the total recovery from all-India may go up (due to her name) by more than the extra price paid to her (as compared to a lesser heroine). And that makes business sense.
Established heroes don't reduce their prices even if they have given a line of flops. How come?
– If a hero is established once, he doesn't go out of work even after a string of flops. And since heroes are always in short supply, their prices also don't come down.
NEW INSTRUCTIONS FOR FILM CENSORSHIP
In the light of the discussions held in the meeting of the Central Board of Film Certification, on the subject of stricter implementation of the guidelines, the following instructions have been issued for implementation with immediate effect.
All Examining Officers shall ensure that while examining films, they pay special attention to visuals and dialogues that are likely to offend human sensibilities on account of vulgarity and violence. Guideline 2 (vii) deals with offending human sensibilities on account of vulgarity, obscenity and depravity, 2 (iv) deals with violence, 2 (vii), 2(ix), 2(x) and 2(xi) deal with violence and vulgarity with special reference to women. To facilitate uniform interpretation of these guidelines, a list of visuals that are likely to be treated as infringement of these guidelines is drawn up for ready reference of the members of the committee examining the films in the RC (revising committee) and EC (examining committee). This list is only illustrative, and members of the committees are expected to apply their mind based on the situation and the context obtaining in the film while using the interpretation of the various guidelines referred to therein. It is expected that such visuals, as are listed, should be normally deleted from the sequence. However, the committees are free to make exceptions, taking into account the relevance of these visuals to the story line. While making these exceptions, due care should be exercised by the Examining Officers to restrict the retention of these visuals to the minimum. It will be the special responsibility of the officers to make a noting to this effect in their report.
Committees may make suitable variations in their recommendations, depending on the classification to be recommended in that particular film. However, irrespective of the class of certification, feature films should be recommended for certification free from vulgarity and needless violence.
The Board has carefully considered the need to impose restrictions on the portrayal of the police force and the responsible authorities in the government and the political executives. On careful reconsideration, it has been decided that the existing guidelines should adequately serve the purpose. Hence Examining Committees/Revising Committees shall ensure that visuals that denigrate, demoralise or bring disreputation to constitutional authorities/institutions including the judiciary in general are not presented in the film. However, there should be no objection in portraying individual characters according to the story line in the film.
While examining foreign films, the guidelines that are applicable to the Indian films are also equally applicable to them with the proviso that committee members shall keep in mind the provisions of guideline 3(ii) which provides for interpreting the guidelines in the context of the culture of the country to which the film relates.
MORE WOMEN ON CBFC, COMMITTEES
The government has amended the Cinematograph (Certification) Rules to provide 50% representation to women in the various committees of the Central Board of Film Certification. The amendments also make provision for the adequate representation of women on the CBFC and its advisory panels.
Giving this information at a meeting of the consultative committee of MPs attached to the I & B ministry, on 14th December, I & B minister K.P. Singh Deo said, this step had been taken following complaints that there was excessive sex and violence in films.
ATUL AGNIHOTRI TO WED SALMAN'S SISTER
Atul Agnihotri will get married to Alvira, daughter of writer Salim Khan, and sister of Salman Khan, today (17th December) at Centaur Hotel, Juhu, Bombay.