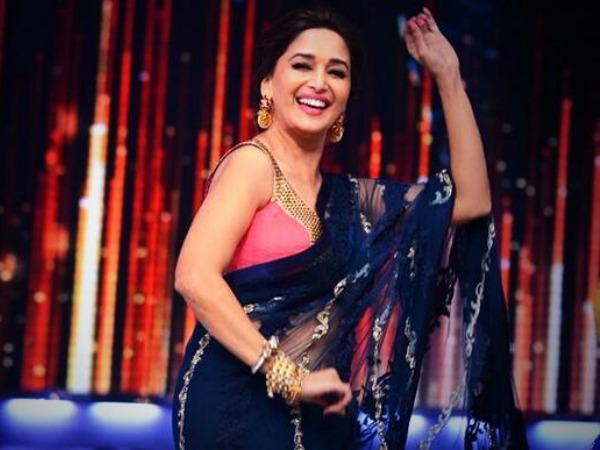 (From our issue dated 8th October, 1994)
Madhuri Dixit is rehearsing some ter­ribly difficult dancing steps on a huge, opulent set at Annapurna Studios in Hy­de­rabad. The film being shot is Yusuf Bhat and Reema Rakesh Nath's Yar­a­ana. The choreographer is the one and only Saroj Khan. Director David Dhawan is some­what relaxed because it's a song that's being picturised.
Although Yaraana is the first production venture of both, Yusuf Bhat and Ree­ma Rakesh Nath, the two are not new to the industry. Reema, of course, has the super-hit Saajan behind her. After scripting Saajan and husband Rakesh Nath's Dil Tera Aashiq, she has turned to pro­du­c­tion. Once a writer, always a writer. Right? Right! Reema is also the story, screenplay and dialogue writer of Yaraana.
Yusuf Bhat runs a business of hiring out film equipments, under the name and style of Samna Film Services. His pro­duction banner, Samna Films, is also named after his two children, Samir and Nadia. Yusuf is also a film editor from the FTII and had edited a number of films before he flew off to Dubai to do business there. But once a film man, always a film man. Right? Right! His love for films brought Yusuf Bhat back to India and Bollywood.
Yusuf found a true friend in Rakesh Nath (Rikku, to the industry). Together, the two friends made a project and called it Yaraana. Waah, kya yaraana hai!
Coming back to the shooting. The set belongs to K. Raghavendra Rao who has had it erected for his Telugu film. Rikku and Yusuf have hired it for their shooting.
The song that's being picturised is a very important part of the film because Madhuri kills Raj Babbar at the end of the song-dance. Raj Babbar may have beco­me an MP, but acting remains his first passion. Once an actor, always an actor. Right? Right! Raj and Rikku's friendship is quite old and if the two feel close to each other, it is not only because they look quite similar. As a journalist jokes, "If Raj Babbar is busy in the Parliament, Rikku can give his shot on the sets." The only problem is, Rikku is taller than Raj. "Well, the audience will conclude that some­body must've pulled Raj's legs (pun in­tended!)," comes the repartee from the journalist.
The dance steps Madhuri is trying out, are quite a 'legxercise'. Saroj's assistant, Ahmed, performs the intricate steps with such finesse that the onlookers on the set break into an instant applause. It is for this reason that Ahmed is not only mentor Saroj Khan's favourite but also the darling of all the technicians, dancers and unit-hands on the sets. On a probe, one is told, Ahmed is that child ariste of Mr. India who used to break into a break dance (in the climax fight and at other times) in the film. The little boy of Mr. India has grown up to become a young lad and an extraordinary dancer. In the months to come, Ahmed would turn an independent dance director – and a dance director to reckon with.
Rikku, the de facto producer, is always on his toes. He admits that Madhuri Dixit, whose dates he looks after, has been a great financial support to him, whether it was during the making of his maiden pro­duction venture, Dil Tera Aashiq, or for Yaraana. In the course of our conversation, Rikku reveals that Tej Sapru has rep­laced Tinnu Anand due to the latter's date problems. Rikku is honest to add that the date problems arose due to lack of plan­ning on their part, not Tinnu Anand's.
Director David Dhawan is excited as much about Yaraana as about the Hindi remaking rights of the Telugu hit, Hello Brother, which he recently acquired. "Govinda will play a double role in the re­make," he informs. Has David vowed never to have anything to do with vulgarity/obscenity in films now, after Andaz and Eena Meena Deeka? Says he with a twinkle in his eye, "A bit of naughtiness should be there. It is like salt in your food. Saltless food is tasteless…"
Yusuf Bhat is skeptical about persons in the industry who refuse to pay off their creditors. "That is why I prefer to hire out my equipments only to known names and reliable producers," he explains.
The unit of Yaraana is different from other film units in at least one way. Nobo­dy brags about the film with clichéd state­ments like, "This film is different" or "It will be a big hit" or "Yeh film kamaal kar degi" etc. etc. There is a lot of back-slap­ping and leg-pulling indulged into by David, Yusuf and Rikku. Sometimes, even blows are exchanged, of course, in good humour. On our part, we fail to understand how blows can be humorous, but anyway, the trio doesn't seem to mind, so that's fine.
– Komal Nahta
Snapshots
OVEN-HOT BECOMES PLAGUE-COLD
The heat has gone out of the Gujarat sub-territory. The plague has cast a pall of gloom over the sub-circuit. The scenario has changed in two weeks. Where sub-distributors used to fall over one another to acquire a film for Gujarat, today, there's no such excitement. Closure of cinemas in Surat and other cities has adversely affected the box-office. Yen Movies, the Gujarat distributors who started their office with Mohra, stand to lose quite heavily in their second release, Main Khiladi Tu Anari. The losses would have been minimised had it not been for the plague.
* * *
WORST MONTHS
May and October will go down in 1994 as the worst months of the year. The producers called for suspension of all new releases in May, following their dis­pute with distributors. There were no re­leases for three weeks. In October, the plague and consequent closure of cine­mas have been responsible for two weeks of no releases. Added to that is the pre-Pooja week in Bengal and the ensuing pre-Diwali week all over. There's just one release fixed for next week, and none for 28th October so far.
* * *
DIVERSIFICATION
First, a producer. Then, a distributor for Delhi-U.P. and Bombay. Then, a dir­ector. Followed by a distribution office in Rajasthan. Next, a music company. That's K.C. Bokadia's diversification in barely a decade. But that isn't all. He is all set to start a company for acquiring India video rights of films. Plans to set up a film city in Jaipur are already underway. Amazing, isn't it?
* * *
RAIN VERSUS RAIN
The unit of Dharmendra's Barsaat, which was in Ooty for a long shooting schedule, had to pack up without much shooting because of the barsaat. Frequent rains upset the schedule, so the unit came straight back to Bombay. The shooting of Boney Kapoor's untitled film, being dir­ected by David Dhawan, in Ooty was also similarly upset but the unit was quick to shift to a dry Gopichettipalayam and complete the shooting.
* * *
FILM MEN'S ENGLISH
Spellings of film titles have very often been governed by numerology. Incorrect spellings of titles are sometimes because of this and, at other times, simply because the makers didn't bother to check the cor­rect spellings. All this is somewhat understandable when the Hindi titles are mis-spelt in English. But Stuntman, which is an English word, takes the cake. The makers have now begun to spell it as Stunttman. Another numerology stuntt, one supposes!
* * *
CUTTING THE DHOTI
Dada Kondke's films invariably face censor trouble, thanks to his double-meaning dialogues and gestures. But his latest Marathi film, Sasarcha Dhotar (Dhoti of in-laws),has been given the maximum cuts and that too, by the App­ellate Tribunal. The dhoti – sorry, Sasar­cha Dhotar – has been cut short by 446 metres. In all, there are 37 cuts effected. Of course, the super-edited version has been passed for universal exhibition. As a smart Alec remarked, "The dhoti has been cut to the size of a handkerchief.
DO YOU KNOW?
* After installing Dolby Stereophonic sound system at Smruti Cinema, Nagpur and Prabhat Talkies, Amra­vati, the Rathi group has now in­stalled 20" colour TV sets in the foy­ers of both the cinemas. The patrons can watch TV while waiting in the foyer.
* Two Marathi films, SASARCHA DHOTAR and SONIYACHI MUM­BAI, were certified this week (on 4th October) and also released this week (on 7th).
* HAHK..! has created a record by col­lecting 1,41,106/- in 9th week at Re­lief, Ahmedabad. It has also created a record by collecting 1,73,777/- (gross) in 9th week (21 shows) at Rajshri, Gandhinagar.
LIMIT ON NETT ADMISSION RATES: RAJSHRI MOVING COURT
The Maharashtra government's directive that cinemas cannot hike their nett admission rates beyond the 12th August '94 level, without its permission is being challenged in the Bombay high court by Rajshri Pictures and Liberty Cinemas, Bombay. The said directive came alongwith the Maharashtra government's ordi­nance reducing entertainment tax.
Liberty Cinemas, screening Hum Aapke Hain Koun..!, has not as yet reduced its admission rates nor has it reduced the tax being collected (at 100% instead of the present 50%). The admission tickets bear a notice that the ticket-holder would be entitled to a re­fund, if due, after the court's verdict.
The case is likely to come up for hearing on Monday, October 10.
SHRINGAR FILMS OPEN BRANCH OFFICE IN AHMEDABAD
Bombay distributors Shringar Films opened a branch office in Ahmedabad on 7th October. The office is situated at 15, Divya Vasundhara, Commercial House, opposite District Court, Mirzapur Road, Ahmedabad-1. Phone: 20116. Raju Shukla, local representative, is incharge of the office. Balkrishna Shroff and Shravan Shroff of Shringar Films, Bom­bay will visit the branch office frequently.
'MOHRA' 100 DAYS
Trimurti Films Pvt. Ltd.'s Mohra has completed 100 days of its run to­day (Oct. 8). Produced by Gulshan Rai, co-produced by Ajay Shah, and directed by Rajiv Rai, it stars Naseeruddin Shah, Akshay Kumar, Sunil Shetty and Raveena Tandon. Music: Viju Shah. Lyrics: Anand Bakshi and Indeevar.
'ROJA' GOLDEN JUBILEE
Mani Ratnam's dubbed Hindi film, Roja, is celebrating golden jubilee this week at Metro (matinee), Bombay. The film's super-hit music is scored by A.R. Rahman.
Subhash Ghai's Film
Titled 'Shikhar'
Producer-director Subhash Ghai's new film, to be launched on Oct. 24 in Delhi, has been titled Shikhar (The Peak). Jackie Shroff and Shah Rukh Khan play the lead roles. A new heroi­ne is being finalised.
The film is written by Anjum Rajab Ali and Subhash Ghai. Cinema­togra­phy by Binod Pradhan, art direction by Nitin Desai, and action by Tinnu Ver­ma are the other major credits finalised so far.
The Dishum Dishum Devgan
He has literally fought his way to suc­cess and stardom. Having directed almost every hero and villain in the industry and taught them to fight, action director Veeru Devgan even today remains the polite, soft-at-heart and, of course, much sought-after action director. The line-up of troph­ies in his spacious office-cum-editing room at Juhu, serve to remind you that the man's life may be full of stunts but his success story is no publicity stunt. And if you think, Veeru only understands the langua­ge of action, you're wrong. He can also thrill you with his delicious dishes (yes, he's an expert cook) and knock you down with his philosophy.
Veeru had to struggle a lot to enter the film industry. He ran away from home (in Punjab) at the young age of 15 and came to Bombay to become a hero. He had nothing in his pocket, no roof over his head and many were the nights when he slept without eating a morsel of food and with only his dream to give him company. Later, a friend's taxi was his shelter at nights. With no chance of becoming a hero, Veeru become a carpenter's helper to earn a livelihood. Finally, after many months of struggle, he got a chance to assist action director Ravi Khanna.
From there started the action. The Pun­jab da puttar had little imagined then that although his dream of becoming a hero would never be realised, it would finally be his heroic stunts that would make him a hero one day.
It was this unfulfilled dream of Veeru Devgan which made him plan a hero's career for his son, Ajay Devgan, "even before he was born". Recalls Veeru, "When my wife was expecting Raju (Ajay's pet name), I had decided that if she would deliver a baby boy, I would make him a hero when he grew up. And I strived to do only that."
Veeru is frank when he admits, "I was never as bothered about Raju's studies in school or college as I was about his exer­cises, action lessons etc. I had one am­bition in life – to make Raju a hero." When Ajay grew up, papa Devgan im­mediately put him under Cheetah Yag­neesh's training for stunts. "M.M. Baig began teaching him Urdu and used to make Raju improve his pronunciations and diction by making him talk with stones in his mouth," reveals Veeru. "There were occasions when Raju inadvertently swall­owed a tiny stone or two."
Action comes naturally to Veeru Dev­gan. "It is nature's gift," he says humbly. No, he wasn't a fighter-cock as a child, he adds. But a workaholic he definitely be­came when he came to Bombay. "I used to often work 20 to 22 hours a day," he recalls. "I've instilled a keen sense of dis­cipline in Raju too," informs Veeru.
The 52-year-old action director flashes one of his warm smiles when you ask him, in how many films he has composed the action scenes. "Must be, over 300", he makes a guess. At least, 150 of them have been hits or major successes.
To ask an action director which film is dearest to him is like asking a father, who, among his children, is his favourite. Nevertheless, Veeru enlists Agent Vinod, Kranti and Roti Kapada Aur Makaan among his favourite works, but adds, "There are many more."
He recalls the action of Khoon Pasina which was being made when I & B min­ister V.C. Shukla had put a restriction on the length of fights in films. "I kept the fights in the film to the stipulated level," he explains, "but there was so much of violence besides that. There were sounds of fisticuffs and blows and matching ex­pressions on the faces of characters, but the action was not shown. Obviously, the censors couldn't object to it." Veeru is confident that, even now, with censors coming down heavily on action, a via media will be found out. Necessity, after all, is the mother of invention.
Veeru denies the charge that he and his son come as a package deal. "Currently, Raju and I are doing only three films to­gether – Jaan, Shaktishaali and Haqee­qat," he substantiates.
If there is one more dream Veeru sees today, it is to one day direct Amitabh Bachchan and Ajay together. He will soon be taking the plunge into direction. "I had wanted to make my first film without a single action scene," he says, "but my people have told me not to do so. Maybe, my second film will be without action."
If Veeru has politely turned down offers to direct films for others, it is be­cause the man doesn't want to hurt any­body. "If I direct someone's film, there'll be many others who would expect me to do their films first. And I don't want to strain my relations with anybody," he concludes.
So the day is not far when Veeru Dev­gan will don the robe of a producer and also drop the 'action' from his title of 'action director' to be called the director who'll shout "Action" on the sets.
And then, after many years, the work-machine may call it a day and, as he has promised his wife, "have a honeymoon with her, in our old age."
– Gautam & Komal
3-E
Education-Entertainment-Enlightenment
What A Variety!
It is really creditable, the way Sanjay Kapoor's career is being planned. Without a single release so far, Sanjay has eight films besides his launching pad, Prem, and several of them with big banners and top directors. This in itself must be a record. He is working with almost all the heroines in the reckoning – Madhuri Dixit (Raja), Juhi Chawla (Kartavya), Tabu (Prem), Mamta Kulkarni and Manisha Koirala (Chhupa Rustam), Mamta Kulkarni (Beqabu), Shilpa Shetty (Weston's Zameer), heroine to be finalised (Compact Disc India's film), Pooja Bhatt and Raveena Tandon (Hum Tum Aur Woh) and Kajol (G.P. Sippy's film). The music of Sanjay Kapoor starrers is being scored by Laxmikant Pyarelal, Anu Malik, Nadeem Shravan, Anand Milind, Dilip Sen Sameer Sen, A.R. Rahman and Viju Shah.
The '42 Connection
What do Rajesh Khanna, Amitabh Bachchan, Jeetendra, South actor Krishna and action master Veeru Devgan have in common? Their year of birth. All the five were born in 1942. And all of them have had very successful and frutiful careers. Can we call it '1942 A Success Story'?
Marriage Bureau!
Act in Satluj Dheer's film and chances are that you will be married while it is being made. That is, if you are an actress. Rati Agnihotri got married while Satluj's Mera Suhaag, in which she played the heroine, was being made. Shantipriya and Sushmita Mukherjee tied the knots during the making of Satluj's Ikke Pe Ikka.
Johny Fever
Who is the most sought-after actor for TV serials? Seems to be Johny Lever. Not only is he a favourite of film producers, he is also being approached by TV serial producers. Reportedly, he has been asked to act in over 40 serials. But he has given the nod to just two makers, Jr. Mehmood and Pankaj Parashar.