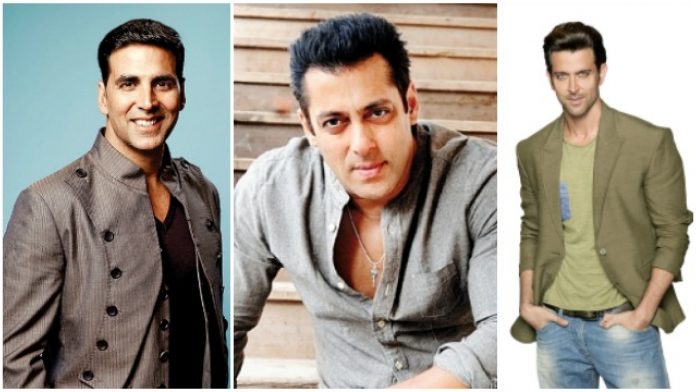 By Surendra Bhatia
There have been many years when close to the end of the year, Bollywood has squirmed and whined — like it has been cursed by misfortune — about the lack of major hits in the first 10-11 months, usually pinning its hopes on the Christmas week for a major blockbuster.
Fortunately, 2019 has not been one of those years. In fact, it has been a munificent year with bona fide money spinners bringing in hundreds of crores of rupees into the industry. This is unusual, more so as Hrithik Roshan, going through not a fabulous phase, is among the top three actors this year, if their contribution to the box-office revenues is considered. Films like Mohenjo Daro and Guzaarish have plagued Hrithik Roshan's career all too often but this year, he simply cast all his bad luck and failings aside to come up with booming hits.
Hrithik Roshan started off 2019 with a low-key Super 30, where he had a story-centric film in which he struggled with the accent and the commonness of the character he was playing but he came through eventually shining like a beacon in the dead of the night, and registered a solid hit, pulling in Rs. 142-143 crore at the box-office, which is a lot for the small story-centric film, though, of course, not the one starring Hrithik. He followed it up with an action film more his kind, War, where audiences also got an eyeful of his chiselled body and dancing skills. The movie was an instant hit, the biggest of the year so far, raking in Rs. 318 crore in super quick time! This is probably the first year when Hrithik has brought Bollywood a Rs. 450-crore-plus bounty in his nearly 20-year-old career as a leading man. Well done.
Salman Khan has had many such years in the industry where he has been one of Bollywood's biggest money spinners; 2019 should prove to be another such year. His Bharat may not have performed impeccably at the box-office, falling short of the double-century mark, but it did manage to collect Rs. 195 crore. Now, with Dabangg 3 waiting to release on December 20, Salman Khan will unsurprisingly be among the biggest money spinners of 2019, when (and not if) Dabangg 3 lives up to its reputation and zooms to Rs. 250-300 crore. It would take Salman starrers' total revenues to Rs. 400-crore-plus in 2019.
Finally (not in any particular order) is the one who rakes in box-office moolah with both hands and a leg or two, too: Akshay Kumar, Bollywood's go-to man for producers who can't get dates of the three Khans. Akshay by himself is awesome but multiplied four times, he is bigger than the biggest in Bollywood, year on year.
In 2019, he has already had three releases: Kesari, Mission Mangal and Housefull 4. And Good Newwz will release in December-end, making it four in all. Kesari was a hit, unexpectedly, despite Akshay's wild get-up, and it pulled in Rs. 150 crore at the box-office, which is huge for the subject it was. His next, Mission Mangal, was an even more unexpected and much bigger hit, effortlessly reaching the Rs. 200-crore mark for the first time for an Akshay Kumar film. And finally, Housefull 4 again going the distance to Rs. 203 crore, making it a grand total of Bollywood riches of Rs. 553 crore from Akshay! And to think that the much-awaited Good Newwz is still to release. Will Akshay take his tally to Rs. 700-crore-plus? Let's wait and watch. It is for stars like these that festivals were inserted in Bollywood's calendar. When stars like Hrithik, Salman and Akshay (also some others) get going, they flood Bollywood with revenue, making it seem like the dream world it actually isn't. Films like War and Mission Mangal do keep film dreams alive and if Bollywood could just have more A-listers releasing films more often during the year, we would start calculating box-office figures in dollars, not rupees, thanks to these money spinners.