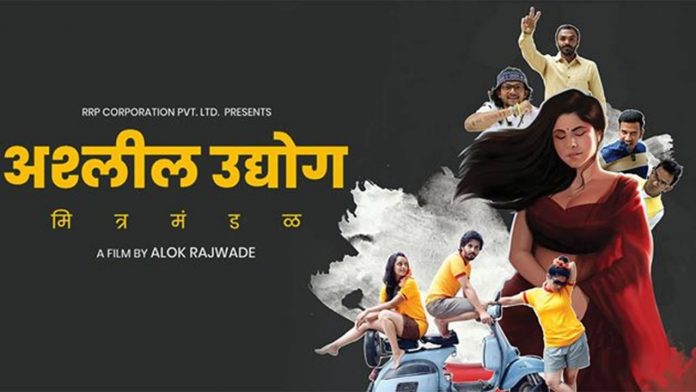 RRP Corporation Pvt. Ltd.'s Ashleel Udyog Mitra Mandal (Marathi; UA; meaning 'Group of friends indulging in obscene matters') is the story of five friends.
Aatish (Abhay Mahajan), Sana (Parna Pethe), Purna (Sayalee Phatak), Flexi (Akshay Tanksale), Chal (Ruturaj Shinde), Shriram (Ketan Visal) and PV (Virat Madake) study in the same college. One day, Aatish enters the ladies washroom to get intimate with Sana. Both of them are rusticated from college.
The sex-starved Aatish starts dreaming of an imaginary porn star — Savita bhabhi (Sai Tamhankar) — with whom he talks dirty. Why, he even tells his friends that he would bring Savita bhabhi in their Gokulashtami and Dahi handi function. The friends wonder how Aatish would bring a non-existent person.
Before Gokulashtami, Aatish visits a brothel to satiate his carnal desires. He is arrested by the police who even beat him up. The police set Aatish free after four days. Sana and Purna leave with Aatish on a scooter.
Dharmakriti Sumant's story and screenplay are silly and hardly make sense. The drama bores intermittently and consequently makes little sense in totality. Even the dialogues, penned by Dharmakriti Sumant, are dull.
Abhay Mahajan does not look like a hero. His performance is alright. Parna Pethe does fairly well as Sana. Sayalee Phatak lends reasonable support in the role of Purna. Akshay Tanksale (as Flexi), Ruturaj Shinde (as Chal), Ketan Visal (as Shriram) and Virat Madake (as PV) lend routine support. Sai Tamhankar provides entertaining moments as Savita bhabhi. Others are okay.
Alok Rajwade's direction is dull. Saket Kanetkar's music and background score hardly deserve mention. Lyrics (Saket Kanetkar and Omkar Kulkarni) are functional. Satyajeet Shobha Shriram's camerawork is quite good. Art direction (by Amit Waghchaure and Hrishikesh Nagaonkar) is alright. Makarand Dambhare's editing is loose.
On the whole, Ashleel Udyog Mitra Mandal is a poor show all the way.
Released on 6-3-'20 at Glamour (daily 1 show) and other cinemas of Bombay thru Sunshine Studios. Publicity & opening: weak.