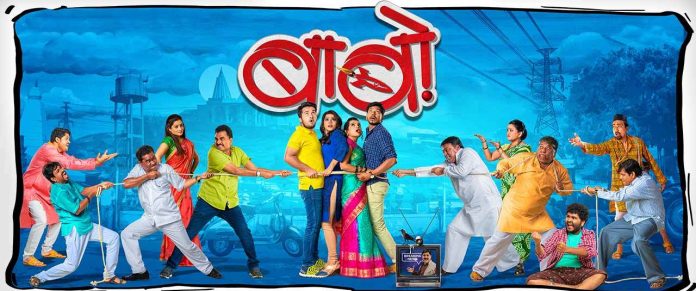 Malhar Films Creation's Babo (Marathi; UA; meaning 'Expression of surprise or shock') is the story of two warring groups in a village.
Bhaskar (Sayaji Shinde) and Madan (Kishor Kadam) can't see eye to eye as they have differences based on caste issues.
Bhaskar's daughter, Munni (Pratik­sha Mungekar) and Madan's son, Bablu (Amol Kagne) fall in love with each other. Soon, the entire village gets to know about their love affair. Even as the politicians are wondering how they can capitalise on the love affair between Bablu and Munni, news comes that all would die within 24 hours. What happens thereafter?
Arvind Jagtap's story and screenplay are too fantastical to be believable. Even otherwise, the drama is so silly that it neither entertains nor en­gages the viewers. His dialogues are okay.
Sayaji Shinde acts well as Bhas­kar. Kishor Kadam is good in the role of Madan. Amol Kagne performs ably as Bablu. Pratiksha Mungekar does a fair job as Munni. Nisha Parulekar (as Bhaskar's wife), Smita Dongre (as Madan's wife), Bharat Ganeshpure (as Dodke), Kishore Chaugule (as Madhu), Vaishali Dabhade (as Madhu's wife), Vijay Nikam (as Guruji), Ram­esh Chaudhary (as Pintyaa), Jaywant Wadkar (as Pintyaa's father) and Pushpa Chaudhary (as Pintyaa's mother) lend the necessary support. Vinod Shinde, Manjiri Yashwant, Priya Ubale, Arun Shinde, Prakash Bhagwat, Akash Gharat, Ganesh Kokate, Maheshdada Devkate, Jyoti Patil, Pramod Pandit, Mayur Konde, Shreya Pasalkar and Adesh Bansode are okay.
Ramesh Sahebrao Chaudhari's direction is average. Music (Trinity Brothers, Rohit Nagbhide and Atul Lohar) is routine. Lyrics (Mangesh Kangane) are okay. Chetan Maha­jan's choreography is fair. Amev Nare's background music is commonplace. Veerdhaval Patil's camerawork is passable. Sandeep Pandit's art direction is hardly worth a separate men­tion. Siddhesh More's editing leaves something to be desired.
On the whole, Babo is a dull fare.
Released on 31-5-'19 at Bharat­mata (daily 2 shows) and other cine­mas of Bombay thru Sunshine Studi­os.