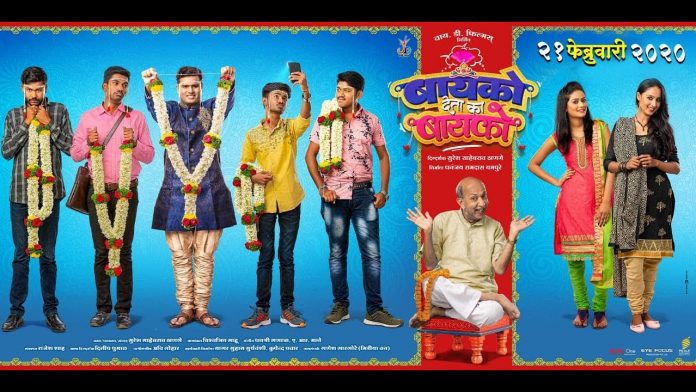 YD Films' Bayko Deta Ka Bayko (Marathi; UA; meaning 'Will anyone give me a wife?') is a famiily-drama-cum-love-story.
Sandesh and his family are in search of a good husband for his younger sister but are unable to find one. Sandesh loves a girl and wants to marry her but her family wants a groom who is earning well.
Sandesh's father ultimately decides to get Sandesh and his sister married at the same time. Even while the family finds a match for the sister, her marriage is called off on the day of the engagement itself because her father gets to know that she has a boyfriend. The father grants her permission to marry her boyfriend. He also allows Sandesh to marry the girl he loves.
Suresh Sahebrao Thange's story is silly. His screenplay fails to engage the viewers because it is very childish. Nothing really makes much sense and hence the audience watches helplessly as the drama unfolds. His dialogues are dull.
Performances are hardly better than the script. Suresh Sahebrao Thange is weak. Shweta Kulkarni doesn't impress. Aarti Tambe barely passes muster. Amol Pathade is dull. Hanumant Gange lends average support. Pritam Salunke just about fits the bill. Pratik Padwal, Pramila Jagtap, Sunil Godbole, Abhilasha Patil, Siddheshwar Zadbuke and Kishor Dhamale provide routine support.
Suresh Sahebrao Thange's direction is terribly weak. Music (by Dhanashree Ganatra and A.R. Mane) is below the mark. Lyrics (A.R. Mane, Arun Pawar and Dhanashree Ganatra) are dull. Song picturisations (Rajesh Rane, Nandukumar and Amita Nitin Kadam) are below-average. Avi Lohar's background music is dull. Vishwajeet Sahoo's camerawork hardly deserves special mention. Dilip Dhumal's sets are ordinary. Rajesh Shah's editing leaves plenty to be desired.
On the whole, Bayko Deta Ka Bayko is a disaster of a film.
Released on 21-2-'20 at Gold Digital Dadar (daily 1 show) and other cinemas of Bombay thru Sunshine Studios. Publicity & opening: disastrous.