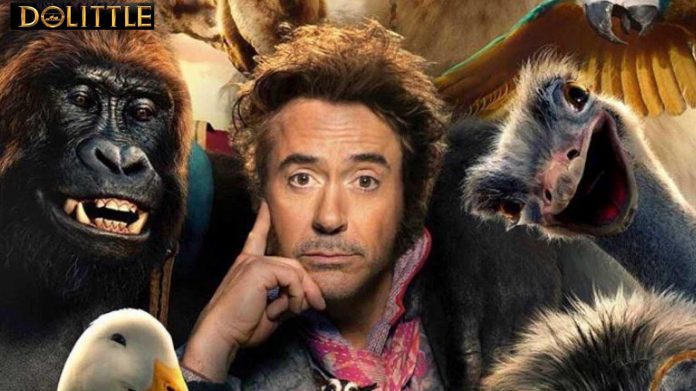 Media Rights Capital, Team Downey and Roth Films' Dolittle (dubbed from the Hollywood film of the same name) is a fantasy adventure which is a reboot of the Dr. Dolittle films.
Seven years after his wife's demise, famous doctor and veterinarian John Dolittle (Robert Downey Jr.) becomes a hermit in Victorian England. The eccentric Dolittle hides himself behind the high walls of Dolittle Manor. He only has his animals for company. John Dolittle is forced to come out of hiding when Queen Victoria (Jessie Buckley) falls gravely ill. He sets sail on an epic adventure to a mythical island, in search of a cure for the Queen. While on the trip, he regains both, his wit and courage.
Thomas Shepherd's story is not very interesting and offers very little by way of an entertaining drama. The screenplay, written by Stephen Gaghan, Dan Gregor and Doug Mand, is not as engaging as it ought to have been. The drama also bores the audiences at a number of places and it gets repetitive too, at places.
Robert Downey Jr. does a fine job in the title role. Antonio Banderas is good as Rassouli, the king of pirates. Harry Collett is okay as Tommy Stubbins, the self-appointed apprentice of Dolittle. Michael Sheen is effective as Dr. Blair Müdfly. Jim Broadbent makes his presence felt in the role of Lord Thomas Badgley. Jessie Buckley makes a mark as Queen Victoria. The voice acting by artistes who've dubbed for the animals, is quite impactful.
Stephen Gaghan's direction is ordinary. His style of narration is not very exciting. Danny Elfman's music is so-so. Guillermo Navarro's cinematography is good. Dominic Watkins' production designing is appropriate. Editing (Craig Alpert and Nick Moore) is alright but it could've been sharper. Dubbing is of a fine standard.
On the whole, Dolittle is too ordinary to really make a mark at the Hindi box-office.
Released on 17-1-'20 at Maratha Mandir (daily 1 show) and other cinemas of Bombay thru NBC Universal Media Distribution Services Pvt. Ltd. Publicity: ordinary. Opening: poor. …….Also released all over. Opening was not at all good anywhere. …….The original English version has opened simultaneously. Its opening is also weak.