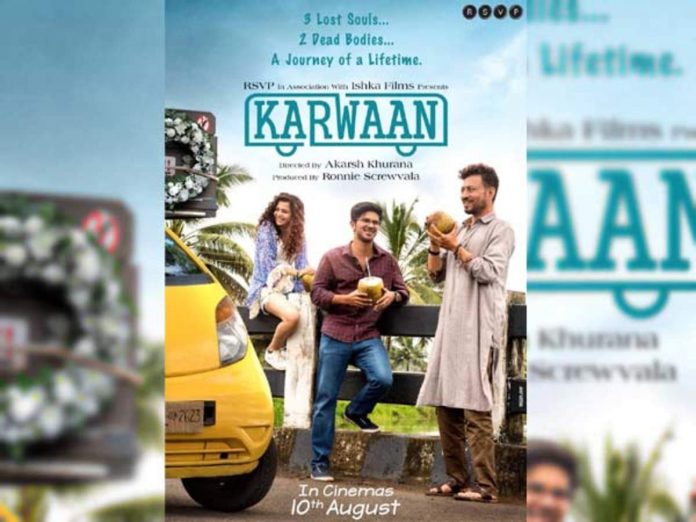 RSVP and Ishka Films' Karwaan (UA) is the story of three characters who bond over a dead body.
Avinash (Dulquer Salmaan), who has not been on very good terms with his father (Akash Khurana), suddenly gets the news of his father's demise in a bus accident. But instead of his father's corpse, the coffin he receives has the dead body of a lady (Beena) who had been killed in the same accident. He gets to know that in a mix-up, his father's dead body has reached Tahira (Amala), the daughter of the dead lady. He contacts Tahira and then sets out with her mom's corpse to deliver the same to her in Cochin and get his dad's dead body from her. Accompanying Avinash is friend Shaukat (Irrfan Khan) in whose van they set out. Along the way, they pick up Tahira's daughter, Tanya (Mithila Palkar), who studies in a different city and lives in a hostel. The three bond well during the journey, teaching each other some lessons of life. En route, their van gets stolen and traced back; Shaukat lands up in hospital where he falls in love with one Tasneem (Donna Munshi); and Avinash meets his college friend, Rumana (Kriti Kharbanda), just by chance.
Bejoy Nambiar has written a heartwarming story that's not just about a road trip but also about life and the lessons it teaches. It is infused with good fun moments and a couple of emotional ones too. The screenplay, penned by Akarsh Khurana and Adhir Bhatt, moves at a leisurely pace but it is laced with so much humour that it keeps the audience in splits or at least smiling throughout. No doubt, the single-track story as well as the humour are class-appealing and will not find favour with the masses or single-screen cinema audience, but it will appeal to a section of the gentry and audiences who frequent premium multiplexes in the big cities. The humour, especially, is lovely. Hussain Dalal's dialogues are excellent and evoke laughter at many places. The way the writers have written the drama, it gives the impression that they are all keen watchers of human behaviour. Note, for instance, how the transport company official informs Avinash about his father's demise in the road accident, or how a potential customer speaks with Avinash who works in an IT company, or how Tanya and Avinash react so differently to the same situations because of the age difference and the different value systems of the two, or how Shaukat views life because of his traumatic childhood.
Irrfan Khan once again delivers a performance that is beyond brilliant. He makes Shaukat's character supremely endearing with his easy acting. His comic sense of timing and dialogue delivery are to die for. Dulquer Salmaan redefines effortless acting. His performance in his debut Bollywood film can best be described as outstanding. Although he does not have the traditional good looks of a hero, he is so endearing that he becomes the darling of the audience in no time. Mithila Palkar plays Tanya and epitomises today's rebellious girl with an I-care-a-damn-for-the-world attitude. Her acting is very easy-going and she looks cute. Akash Khurana lends able support as Avinash's father. Amala, as Tanya's mom, Tahira, lends grace and dignity to her character. Her speech about mothers is tears-inducing. Kriti Kharbanda makes her presence felt in a special appearance as Rumana. Sameer Saxena is natural as Rumana's husband, Raghu. Adhaar Khurana is pretty impressive in the role of Avinash's boss. Nipun Dharmadhikari has his cute moments as Avinash's colleague, Amey. Habib Azmi (as the shehnai player) leaves a mark. Donna Munshi (as Tasneem), Beena and Sarang Sathaye (as Avinash's friend, Sanjay) are adequate.
Akarsh Khurana's direction is lovely. He has made a cute film for the class audience. Music (Prateek Kuh­ad, Anurag Saikia, Slowcheeta, Shwetang Shankar and Imaad Shah) is in synch with the film's mood. Lyrics (Prateek Kuhad, Akarsh Khurana, Slowcheeta and Imaad Shah) are appropriate. Anurag Saikia's background music is very appealing. Avinash Arun's camerawork is good. Tiya Tejpal's production designing is of a fine standard. Sunil Rodrigues' action and stunts are okay. Editing (by Ajay Sharma) is sharp.
On the whole, Karwaan is an entertaining fare but only for the classes and city audiences. Its collections will pick up in the premium multiplexes of the cities due to positive word of mouth but the dull start will tell on the ultimate business because films like these do not have the power to sustain in the cinemas for too long.