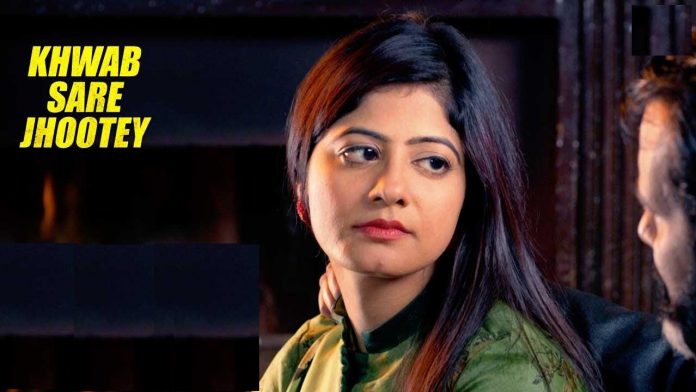 Glitters Film Academy and AG Entertainment's Khwab Sare Jhootey is a story about a love affair gone wrong.
Aayush (Harsh Kumar) is a rich boy who lives in Assam. He loves Ruby (Tullika Singh) who hails from a middle-class family. Ruby dreams of a luxurious lifestyle and asks Aayush to settle down in Bombay with her. When Aayush refuses, Ruby comes to Bombay where she meets Kailash (Madhu Narayan) who is into illegal businesses. Aayush's friend, Rehan (Himayat Khan), spills the beans on Ruby. Hearing about Ruby being hand-in-glove with a person wanted by law, Aayush comes to Bombay to take Ruby back. Does Ruby return with Aayush?
Deepak Baldev Thakur's story is idiotic, and his screenplay is no better. So irritating is the drama that it leaves the audience wondering why the film was made in the first place. The climax is ridiculous. Actually, the entire film is ridiculous. Raman Goel's dialogues are barely passable.
Harsh Kumar does an average job as Aayush. Tullika Singh hardly looks like a heroine. Her performance is ordinary. Madhu Narayan lends fair support. Himayat Khan is so-so as Rehan. Sushma Singh (as Ruby's mother) lends average support. Vineeta Menon is ordinary in a special appearance as a model.
Deepak Baldev Thakur's direction is dull. Music and lyrics (both by Sanjeev Kumar and Anil G. Reddy) are weak. Jawahar Reddy's camerawork is routine. Raghu Kulkarni's art direction is below standard. Editing (by Nagi Reddy and Vikas Pawar) is loose.
On the whole, Khwab Sare Jhootey is a flop show right from the word 'go'.
Released on 21-2-'20 at Glamour (daily 1 show) of Bombay thru Anamika Studiozz. Publicity & opening: very weak. …….Also released in Bihar-Jharkhand and Nizam.