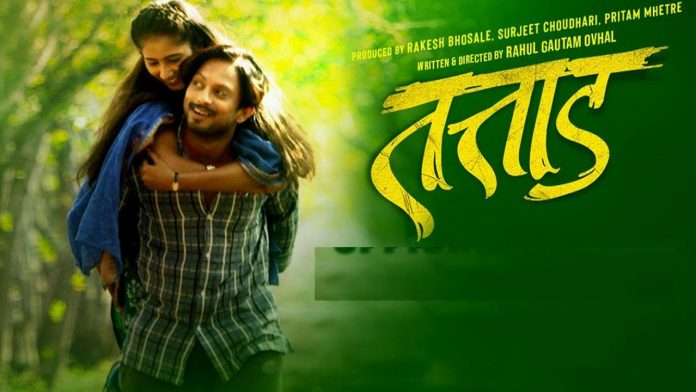 Chandrabhaga Productions and DK Films Entertainment's Tattaad (Marathi; UA; meaning 'The sound of the clarinet') is the love story of a clarinet player and a girl.
Santya (Chetan D.K.) plays the clarinet. Of all the girls seen by his grandmother as prospective brides for him, Santya chooses Babi (Manasi Pathak). However, Babi's parents are against Babi marrying Santya because he's a mere clarinet player. Santya decides to form his own music band and then seek Babi's hand in marriage. In the meantime, Babi's marriage is fixed elsewhere. What happens thereafter?
Rahul Gautam Ovhal's story is poor and quite senseless. His screenplay is no better and it fails to involve the viewers. The dialogues, also penned by him, are bad.
Chetan D.K. does not impress in the role of Santya. Manasi Pathak is ordinary as Babi. Jyoti Subhash is fair as Parrakka. Prafullkumar Kamble lends routine support as Babi's father. Anil Nagarkar (as Babi's uncle) delivers an ordinary performance. Rahul Belapurkar (as Dhirubhai), Rajesh More (as the owner of Brass Band), Kakasaheb Shirole (as Tundya), Swapnil Dhondge (as Amlya), Sagar Pawar (as Ravya), Dipti Joshi (as the aunt), Sharad Dikule (as STD Dipya), Akshata Katkar (as Rani), Sudarshan Kale (as Papya), Rohit Jadhav (as Samba) and the others lend dull support.
Rahul Gautam Ovhal's directon is as weak as his script. Music (Rohit Nagbhide, Aishwarya Malgave and Suhit Abhyankar) and lyrics (Sanjay Navagire, Rahul Belapurkar, Rahul Ovhal and Vivek Sanap) are below the mark. Camerawork (by Prashant Sonavane and Nishant Bhagawat) is dull. Sandip Inamake's sets pass muster. Akshata Pardeshi-Ovhal's editing leaves plenty to be desired.
On the whole, Tattaad is a poor fare.
Released on 21-2-'20 at Movie Time Goregaon (daily 1 show) and other cinemas of Bombay thru Prime Flix Pvt. Ltd. Publicity & opening: poor.