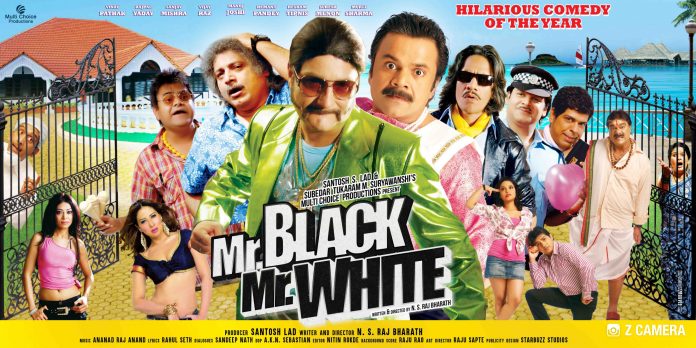 Multi Choice Productions' Mr. Black Mr. White (UA) is a comedy.
Romeo (Vinay Pathak) and his assistant, Dharam (Sanjay Mishra), are RAW agents in Mauritius. One day, they run away with a CD which they snatch from Buddha (Manoj Joshi). Dr. Bandopadhyay (Rajpal Yadav) sees the two running and telephones police inspector Vijay (Vijay Raaz). Romeo, Dharam and Buddha are all not traceable when Vijay reaches there.
A few days later, Romeo goes with his son, Abhishek's marriage proposal to Dr. Bandopadhyay's house for his daughter, Charu. Dr. Bandopadhyay recognises Romeo and alerts inspector Vijay again. But Vijay does not arrest Romeo. Why?
J.T. (Murali Sharma) frames Dr. Bandopadhyay in a murder case when he gets to know that his daughter will be marrying Romeo's son. He strikes a deal with Dr. Bandopadhyay. If he can get the CD from Romeo and give it to him (J.T.), he promises to get him free from law. Dr. Bandopadhyay agrees.
Meanwhile, international underworld don Mashgul (Razzak Khan) wants the CD as it contains a documentary about India. He, therefore, kidnaps the families of Romeo and Dr. Bandopadhyay. He asks Romeo to hand over the CD to him. But the police nabs Mashgul before the CD can exchange hands.
Raj Bharath N.S. has penned a senseless story with the sole aim of including comedy scenes. His screenplay is irritating because there is no meaning in the drama. Yes, some comic scenes are funny but a cohesive plot and drama are missing. Sandeep Nath's dialogues are ordinary.
Vinay Pathak is okay as Romeo. In the role of Dr. Bandopadhyay, Rajpal Yadav's comedy is quite entertaining. Sanjay Mishra does a fair job as Dharam. Vijay Raaz does quite well as police inspector Vijay. Manoj Joshi (as Buddha), Resham Tipnis (as Sharda, wife of Dr. Bandopadhyay), Murali Sharma (as J.T.), Razzak Khan (as Mashgul), Hemant Pandey and Suresh Menon lend routine support.
Raj Bharath N.S.'s direction is dull. Anand Raaj Anand's music is hardly hummable except for one song which is just about alright. Lyrics (Rahul Seth and Jayraj Selwan) are commonplace. Raju Rao's background music is dull. Sebastian AKN's camerawork is okay. Prem Sharma's action and stunts are just about passable. Raju Sapte's art direction hardly deserves mention. Nitin Rokde's editing leaves something to be desired.
On the whole, Mr. Black Mr. White is a poor show all the way and it will flop at the turnstiles.
Released on 8-11-'19 at Glamour (daily 1 show) and other cinemas of Bombay thru Dilsa Distributors. Publicity & opening: poor. …….Also released all over.