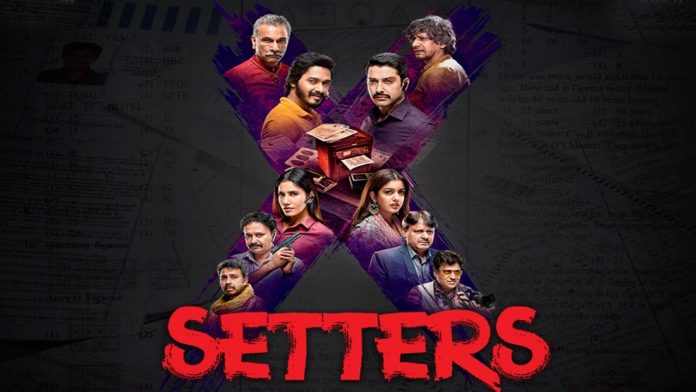 Lovely Films Production and NH Studioz's Setters (UA) is the story of examination paper leaks.
Bhaiyaji (Pavan Raj Malhotra) runs the business of leaking the question papers of all-India examinations like railway recruitment, medical entrance etc. It's a flourishing business. Work­ing for him is Apoorva (Shreyas Tal­pade). Kesariya (Pankaj Jha) is the trusted lieutenant of Bhaiyaji.
Police inspector Aditya (Aftab Shiv­dasani) is deputed by the DIG to investigate the paper leak scam. His deputies are Isha (Sonali Seygal), Ansari (Jameel Khan) and Dibankar (Anil Charanjeet). Since the business of leaking the question papers is big, Apoorva has in his team Nizam (Vijay Raaz), Bhanu (Neeraj Sood), Balam (Manu Rishi Chadha) and others. Ap­oorva is in love with Bhaiyaji's daughter, Prerna (Ishita Dutta).
Despite their best efforts, the police are unable to nab the culprits. Al­though they catch some of the team members red-handed, they are un­successful in nabbing Bhaiyaji and Apoorva. There comes a stage when Bhaiyaji and Apoorva have a fallout. Now, Kesariya tries to carry on the business with the blessings of Bhai­yaji. On the other hand, Apoorva ope­rates independently for leaking the same question papers.
What happens thereafter? Does Aditya prove smart enough to arrest Bhaiyaji and Apoorva? Or do the law breakers prove to be one-up?
Ashwini Chaudhary and Vikash Mani have written a story which is very similar to the one in the recently-released Why Cheat India. The duo has gone too much in detail in trying to present how the setters work. This detailing gets on the nerves of the viewers because a lot of time is wast­ed in this. Siraj Ahmed's screenplay is not very interesting or engaging. After a point of time, the drama looks unnecessarily stretched and tends to bore the audience. The post-interval portion, especially, becomes tedious. There are several points which are simply not explained. For instance, why does Apoorva always calculate the income by multiplying a figure by 49 instead of 50 (as fifty students are always the target clients of the set­ters)? Is it because he has decided not to charge one needy student? The police is often shown just tracking the criminals by walking around in a manner which would suggest, they are all-important, and talking on their cell-phones using ear pieces. As a result of this, the viewers get the feeling that the police officers are rather dull. The climax is not half as satisfying as it should've been. The ending is rather abrupt. Siraj Ahmed's dialog­ues are good but only at places. At some other places, the dialogues look contrived and overtly profound, app­earing to have been written to simply impress the audience.
Aftab Shivdasani is alright as poli­ce inspector Aditya. He doesn't get much scope to act. Shreyas Talpade does a decent job as Apoorva. Pavan Raj Malhotra is impressive in the role of Bhaiyaji. Vijay Raaz gets limited scope as Nizam. Ishita Dutta is alright in a brief role as Prerna. Sonali Sey­gal is okay as Isha. Again, both the girls don't have too much to do. Jam­eel Khan is earnest as Ansari. Neeraj Sood makes his presence felt as Bhanu. Manu Rishi Chadha is fair as Balam. Pankaj Jha has his moments in the role of Kesariya. Anil Charan­jeet is sincere as Dibankar. Zeishan Quadri, Paritosh Sand, Badrul Islam, Venus Singh, Siddharth Bhardwaj and Atul Tiwari provide fair support. Naresh Kumar (as the paanwala), Atin Shanker (as the boss of the printing press), Niharika Kundu (as Riya), Uttam Kumar (as the owner of Vinod Classes), Bhupesh Kumar Pandya (as Murli), Rajveer Singh (as the owner of the workshop in which Nizam works), Jyoti Kalash (as the judge), Umesh Bhatia (as the bank manager), Dev Chauhan (as the agency man), Devika Vatsa (as Varsha Aj­gaonkar), Poonam Chaubey, Deepak Pareek and Ajit Mishra (all three as professors) are routine.
Ashwini Chaudhary's direction is fair. While he has been able to narrate the script in a reasonably good man­ner, he has failed to make the drama consistently engaging. Salim-Sulai­man's music is ordinary. Lyrics (by Dr. Sagar and Raftaar) are routine. John Stewart Eduri's background music is alright. Santosh Thundiyil's cinemato­graphy is excellent. Wasiq Khan's pro­duction designing is okay. Editing (by Manik Dawar) ought to have been tighter.
On the whole, Setters is a dull fare and will meet with a disastrous fate at the ticket windows.
Released on 3-5-'19 at Inox (daily 1 show) and other cinemas of Bom­bay by NH Studioz. Publicity: so-so. Opening: very poor. …….Also releas­ed all over. Opening was weak everywhere.