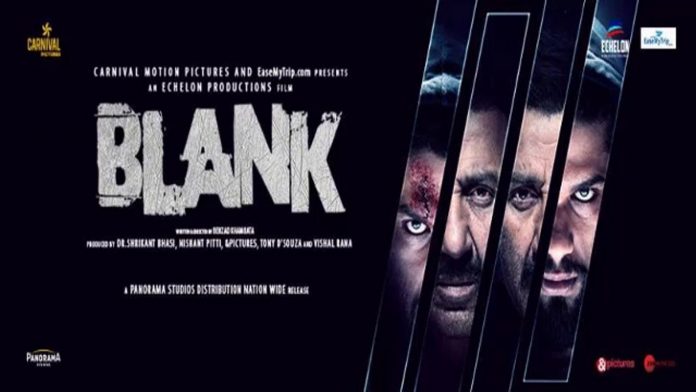 Carnival Motion Pictures, EaseMy­ Trip.com and Echelon Productions' Blank (UA) is the story of an alleged suicide bomber who has had a loss of memory.
Hanif (Karan Kapadia) meets with a serious accident and when he is rushed to hospital, the doctor is shocked to see a time bomb on his body. Hanif can't recall anything or so he tells the doctor. Hanif escapes from the hospital.
ATS chief Deewan (Sunny Deol) and his team are hot on the trail of terrorists in Bombay city. While they round up a couple of people connected with terrorist activities, they are un­able to nab Hanif and his mentor, Maqsood (Jameel Khan).
All along, Hanif gets flashes from his past. It is revealed later that when Hanif was a child, his father had been murdered by some Muslim terrorists. It is also revealed that ATS officer Deewan had not answered Hanif's frantic calls for help, made from a local telephone booth. Hanif now wants to teach Deewan a lesson to avenge his father's death.
Aiding Deewan in his mission to catch the terrorists are officers Husna (Ishita Dutta) and Rohit (Karanvir Sharma). Does Deewan succeed in his mission? Is Maqsood nabbed/killed? Is Hanif caught or killed? Or does Deewan fail in his mission?
There are two twists in the tale towards the end.
Pranav Adarsh and Behzad Kham­bata have written a story which lacks novelty except that the alleged human bomb has a memory loss. The first twist in the tale (when Husna meets Hanif in the train) comes as a shock to the audience but the second (reveal­ed by Hanif to Deewan in a telephone conversation) makes one wonder why the entire drama was written in the first place – because it negates a lot of what Hanif seems to have done before that. In other words, the revelation is held back only so that the audi­ence could be misled. In the process, Hanif misleading ATS chief Deewan was completely unwarranted. The screenplay, penned by the duo, is fast-paced and has several twists and turns. Besides, it affords a lot of opportunity for including action, making the drama somewhat appealing for the masses. Nevertheless, the predictability of the drama is the dampener. Dialogues (by Pranav Adarsh and Radhika Anand) are so-so.
Sunny Deol does a fair job in action scenes but he looks tired. Performan­ce-wise, he is average. Karan Kapa­dia makes an ordinary debut in the role of Hanif. He looks so-so, is ave­rage in acting but good in action and stunts. Ishita Dutta is okay as Husna. She gets limited scope. Karanvir Sharma is earnest in the role of Rohit. Jameel Khan makes his presence felt as Maqsood. Rashika Pradhan is okay as Zainab. Akshay Kumar adds star value in a dance sequence. Komal Chhabria (as DGP Aruna Gupta), Boloram Das (as Farooq Ali Khan), Jatin Jaiswal (as Rafique), Pratyaksh Rajbhatt (as Raunak), Shafique Ah­med Ansari (as Harish), Kishori Vij (as Renu), Shaji Chaudhary (as Bash­eer), Milind Joshi (as the chief minister) and the rest lend the necessary support.
Behzad Khambata's direction is fair. However, he has not been able to plug the loopholes in the script – nei­ther as director nor as co-writer. Music (Arko, Raghav Sachar and Sonal Pradhan) is average. While the 'Ali Ali' song (composed by Arko) is alright, the other numbers are barely ordina­ry. Lyrics (Arko, Adeip Singh, Enbee (Rap & Rap), Kumaar and Sonal Pradhan) are functional. Ranju Var­ghese's choreography is commonplace. Background music (by Rooshin Dalal and Kaizad Gherda) is effective. R. Dee's camerawork is alright. Vik­ram Dahiya's action and stunt scenes will appeal to the masses and front-benchers. Production designing (Raj­inder Sharma and Vijay Ghodke) is fairly nice. Editing (by Sanjay Sharma and Sumeet Kotian) is reasonably sharp.
On the whole, Blank is an ordinary fare for single-screen cinemas and smaller centres mainly. But its performance in multiplexes of the big cities and towns will be dull. It will, therefore, prove to be a loss-making proposal.
Released on 3-5-'19 at Inox (daily 2 shows) and other cinemas of Bom­bay thru Panorama Studios. Publicity: so-so. Opening: poor. …….Also releas­ed all over. Opening was weak in multiplexes and very ordinary in single-screen cinemas.