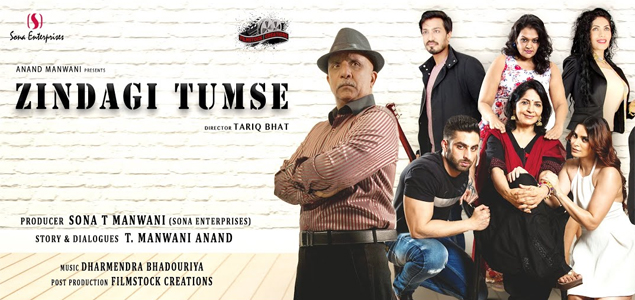 Released last week in Bombay and East Punjab (in Ludhiana), Sona Enterprises' Zindagi Tumse is a family drama.
Mamta (Sadhna Singh) lives with her two sons, Shravan (Jitu Vizrani) and Sanjay (Karan Kullur). Shravan's wife, Natasha (Natasha), does not approve of the mother-in-law staying with them and hence Shravan leaves his mother in the ashram. However, Mamta runs away from the ashram and returns home as she misses her grandson a great deal.
Just so that they can get rid of her, Shravan and Simran get Mamta married off to her friend, Makhija (Rajesh Puri), who is a widower. Ten years later, Makhija is struck with cancer. He bequeaths all his property to Mamta before passing away. But when Mamta sees that Makhija's daughter is in dire financial straits, she transfers all of Makhija's properties in the name of the daughter.
By now, Mamta's grandson, Vansh (Rehan Tariq), has grown up to be a smart young man. He decides to teach his parents a lesson for their ill-treatment of his grandmother. He announces that he would get married and stay with the wife in her home. That's when Shravan and Simran realise their mistake. They go to meet Mamta in hospital. Mamta meets them and breathes her last.
T. Manwani Anand has written a story that's pretty old. Nothing is new or fresh in the story. Even his screenplay is devoid of any novelty whatsoever. Therefore, the drama leaves the viewers unaffected. No doubt, some of the emotions touch the heart but since one has felt these emotions in many earlier films, there is no freshness involved. T. Manwani Anand's dialogues are average.
Sadhna Singh has acted very well as Mamta. She tugs at the heart-strings with her sterling performance. Jitu Vizrani is okay as Shravan. Natasha is average in the role of Shravan's wife, Natasha. Rajesh Puri makes a fine mark in the role of Makhija. Karan Kullur does an ordinary job as Sanjay. Simran Ahuja does a fair job as Sanjay's girl friend, Simran. Rehan Tariq has his moments as Vansh. Guddi Maruti (as police inspector Durga), Marina Kuwar, Mayur Verma, Pushpendra Tiwari, Yogini Santosh Choudhary and the rest pass muster.
Tariq Bhai's direction is not upto the mark. Dharmendra Bhadoudiya's music and Dharmendra Ehsaas' lyrics are commonplace. Pankaj Rajpoot's background music is functional. Cinematography (by P. Monty and Satish Sista) is so-so. Editing (Shankar Regar and Navneet Arjun) is loose.
On the whole, Zindagi Tumse is a well-intentioned film but it is too oft-repeated a subject to make any impact on the paying public. As such, it will go largely unnoticed.