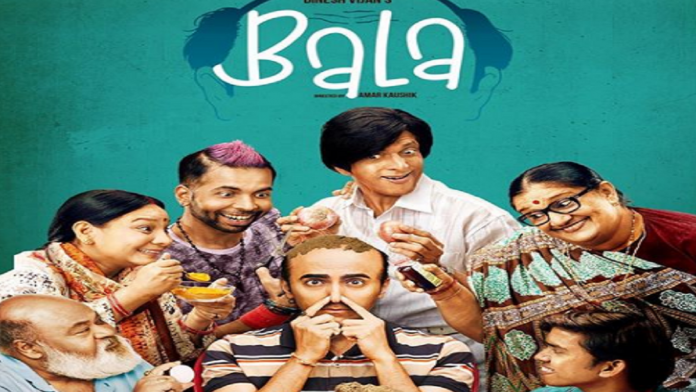 Jio Studios and Maddock Films' Bala (UA) is the story of the travails of a young and eligible bachelor who, because of premature balding, has a bald pate.
Bala (Ayushmann Khurrana) lives in Kanpur and is very self-conscious because he is bald. He works as a salesman in a company manufacturing beauty products like fairness creams. He is also a mimicry artiste and a stand-up comedian. Due to his balding problem, he finds it very difficult to find a girl willing to marry him. In fact, his girlfriend ditches him and another, who comes to meet him as a prospective bride, leaves in disgust when she learns that he is wearing a patch on his head. Before the patch, Bala had tried numerous other remedies to rejuvenate his hair and also to hide his bald pate.
In the course of his job, he meets a Tik Tok sensation, Pari (Yami Gautam), who is also a model for the beauty product of the company for which he works. The two fall in love with each other. Bala wants to confide in her about his bald pate but doesn't get an opportunity. Bala has a childhood friend, Latika (Bhumi Pednekar), who is now a lawyer. Her dark skin is a matter of great concern for her aunt (Seema Pahwa) with whom Latika stays. The aunt feels, Latika may not get a good husband because of the colour of her skin.
What happens to Bala's balding problem? What about his marriage? What about Latika's marriage? Does Bala marry Pari? Or does he wed Latika?
The film is based on a story idea by Pavel Bhattacharjee. The story, screenplay and dialogues are written by Niren Bhatt, with additional screenplay by Ravi Muppa. The story idea and the story itself are interesting as they offer a lot of scope for comedy and humour. The first half is a fun ride as the story of Bala and his frustrations unfolds. It is also fresh as people have not seen a story of this kind. The second half becomes a bit serious and also philosophical and it wouldn't be wrong to say that the audience misses the humour of the pre-interval portion at places. However, having said that, it must be added that there is a fair amount of comedy after interval too but not as much as in the first half. The seriousness and the philosophy make an impact in the second half.
Among the scenes that stand out in the screenplay are the scenes in which Bala's brother gives a piece of his mind to Bala, the scene in which the hair transplant specialist informs Bala about the places in Bala's body from where the hair can be plucked and transplanted on his head, the scenes between Bala and Pari, the courtroom scene in which Bala speaks up, the scene outside the courtroom etc.
Niren Bhatt deserves extraordinary marks for his dialogues. They are so wonderful that there would be rounds of applause at several places because of the witty and funny dialogues. Bhatt also needs to be lauded for capturing the flavour of Kanpur in his dialogues.
Ayushmann Khurrana is outstanding in the title role. Whether it is light scenes or emotional ones or even dramatic ones or the ones in which he mimics film stars, Ayushmann is astoundingly natural. He lives the character of Bala so beautifully that it is difficult to imagine the film without him playing the title role. Bhumi Pednekar deserves the highest praise for firstly accepting the role of Latika and secondly for doing the fullest justice to it. She is as realistic as realistic can be. Yami Gautam springs a pleasant surprise in the role of Pari. She looks pretty and is extremely entertaining. Her use of English words in the typical small-town vernacular-medium fashion is outstanding. Saurabh Shukla lives the role of Bala's father. As Bala's mother, Sunita Rajwar makes her presence amply felt. Seema Pahwa lends excellent support as Latika's aunt. Dheerendra Gautam is simply remarkable as Bala's brother, Vihan. Jaaved Jaffrey makes his mark as Bachchan bhaiyya. Abhishek Banerjee stands his own as the barber-friend of Bala. Varun Shashi Rao looks good and acts with effortless ease in the role of Rohan. Dipika Topiwala leaves a mark as Pari's mother. As Pari's father, Ziya Ahmed makes his presence felt in a brief role. Mushtaq Khan is alright as lawyer Raina. Umesh Shukla has his moments as Bala's grandfather. Sumit Arora (as Bala's boss) is lovely. Master Sachin Chaudhary (as young Bala), baby Saniya Touqeer (as young Latika) and baby Sunheri Shah (as young Shruti) are confident. Ranjan Raj (as Sumit), Aparshakti Khurana (as Shruti's boyfriend), Charu Agarwal (as older Shruti), Anand Mishra (as Bala's friend), Yash Chaturvedi (as Bala's colleague, Varun), Shashi Verma (as the hair transplant specialist), Aatmaja Pandey (as Latika's client), Sadguru Suryavanshi (as Bala's friend), and Vandana Chopra (as the judge) lend decent support. Vijay Raaz shines in the film's commentary which is also excellently scripted.
Amar Kaushik's direction is lovely. He has made a fine entertainer and has extracted good work from out of his principal actors. He deserves praise for mixing a good message with so much entertainment. But he should've kept the comedy quotient as potent in the post-interval portion too. Sachin-Jigar's music may not comprise hit songs but the numbers are entertaining and melodious. The background song throughout the film is enjoyable. The last song is appealing. Lyrics (Badshah, Priya Saraiya, Mellow D and Bhargav Purohit) are weighty. Vijay Ganguly's choreography in the last song is very nice. Sachin-Jigar's background music is extraordinary as it heightens the impact of the scenes. Anuj Rakesh Dhawan's cinematography is very good. Production designing (by Mayur Sharma) and art direction (Dayanidhi Patturajan and Amrish Patange) are both of a good standard. Hemanti Sarkar's editing is sharp.
On the whole, Bala is a sureshot hit. It has abundant entertainment value and a lovely message — and that's a fine combination.
Released on 8-11-'19 at Regal (daily 4 shows) and other cinemas of Bombay thru AA Films. Publicity & opening: excellent (opening shows were fair but collections picked up as the day progressed).