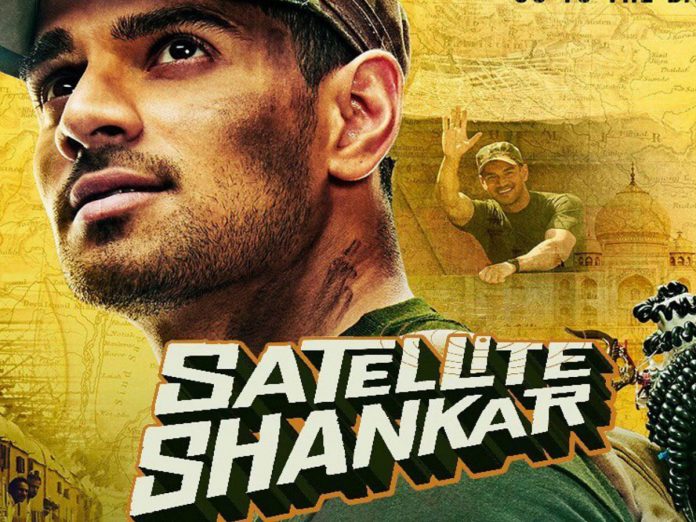 Super Cassettes Industries Pvt. Ltd. and Cine1 Studios' Satellite Shankar is the story of an armyman who has a heart of gold.
Shankar (Sooraj Pancholi) is an army jawan who has a heart of gold. Whether it is his army friends or unknown people, he never steps back from helping them even at the cost of his own time and work. He attributes all his noble deeds to his satellite connection with God as he always has an idol of Lord Shankar with himself. That's how he is known as Satellite Shankar.
Satellite Shankar gets an eight-day leave from his duty in North India. He sets out for South India to meet his mother and other family members but while helping an aged couple change trains, he misses his own train barely a few hours after boarding it. Besides, he also has to keep promises he has made to some colleagues to meet their family members. On the way, he meets a news blogger, Meera Bakshi (Palomi Ghosh), whom also he helps. The same news blogger gets to know that shortly after their meeting, he had saved a number of lives including her own. It is now her mission to present the noble Satellite Shankar to the world through her blog.
Along the way, Shankar also meets Pramila (Megha Akash) whom he falls in love with and who is his mother's choice also. Almost his entire leave gets consumed even before Shankar can reach home because he has only helped his colleagues and other strangers along the way. Shankar realises that he has just a few hours to meet his family as he has to report for duty on the appointed day. Because he is a man of his word, he even contemplates aborting the trip midway. But he decides to go to his own home even for a few hours. How ordinary citizens of India then make his return to his base camp on time possible is what the latter part of the drama is all about.
Vishal Vijay Kumar and Irfan Kamal have written a heartfelt story and an engaging screenplay about a do-gooder armyman. No doubt, it makes the armyman almost appear like a superman but still, the drama has its heart in the right place. The screenplay has moments which can moisten the eyes of the audience several times. But the same screenplay has a couple of drawbacks, besides the fact that it makes the implausible seem so easy. The reason for Satellite Shankar to reach his base camp is just his promise; it should have been something more than his attempt to keep his word. Since he is an armyman, it should've been a much larger reason with ramifications for the country or, at least, in that league. No doubt, keeping one's promise is a good thing and a laudable move but surely, a bigger motive would've made the attempt of the countrymen to help Shankar seem so much more worthwhile. Since the country unites to help Shankar via the Internet, the whole exercise will be appreciated by the classes mainly, making the drama too elitist. The scenes which are truly emotional are the ones showing Shankar with the Muslim family of Shankar's army friend, with the Punjabi family of another army friend, and with the mother of a deceased army friend (at the police station). The scenes of Satellite Shankar and Pramila are both, cute and entertaining. Vishal Vijay Kumar and Irfan Kamal's dialogues are very good at places.
Sooraj Pancholi is cute and endearing. He acts well and shows a lot of earnestness. The role demanded a big star with an image but Sooraj, nevertheless, acts pretty well. Palomi Ghosh is natural to the core and does an impressive job as journalist Meera Bakshi. Megha Akash looks pretty and delivers a lovely performance as Pramila. Upendra Limaye is fantastic in the role of police inspector Shinde. Chhaya Kadam makes her presence felt as the deceased Mahadik's mother. Pradeep Singh Batra (as Jeetu Singh), Anurag Mishra (as Anwar), Prakash Vishwakarma (as Joy Babu), Agnelo Chang (as the commander), Sugandha Dalvi (as Jeetu Singh's mother), Kittu Sidhu (as Jeetu's wife), Kulvir Singh (as Jeetu's brother), Harshdeep Singh (as Jeetu's younger brother, Kartar), Neha Gupta (as Jeetu's sister-in-law), Shivani Joshi (as Jeetu's younger sister), Sanjay Gurbaxani (as Colonel Cheema), Ajit Joseph (as Johnny), Abhishek Pandey (as the senior officer), Kalyan Sen (as the Bengali uncle), Shipra Das (as the Bengali aunty), Sohaila Kapur (as Shankar's mother), Neeraja Rajendran (as Shankar's grandmother), Deeptesh Das (as the TC on the Jammu train), Asif Basra (as the cab driver), Anil Reji (as Sridhar), Subrat Dutta (as Tripathy), Yashwant Wasnik (as the railway line man), master Kabir Ali (as the bus accident kid), Daljeet Singh (as Mushy), Ila Bhate (as Anwar's mother), Anubha Arora (as Anwar's wife, Hina), Sameer Deshpande (as Anwar's brother, Nasir), Abhishek Trivedi (as Anwar's brother, Tahir), Anuja Lokre (as Nasir's wife), Ajita Kulkarni (as Tahir's wife), master Aditya Sen (as Anwar's son), Abhijeet Deshmane (as Bablu), Kailash Waghmare (as the vigilante), Milind Shinde (as Saheb), Sneha Sawant (as Mahadik's wife), master Siddhesh Ganorkar (as Mahadik's son), Sunil More (as police inspector Shinde's driver), Shivani Soopuri (as the Kashmiri lady) and the rest lend nice support.
Irfan Kamal's direction is fairly nice. He has especially handled the emotional scenes well. Music (Mithoon, Rochak Kohli and Tanishk Bagchi) is melodious but none of the songs is popular. Lyrics (Mithoon and Kumaar) are weighty. Ahmed Khan and Ganesh Acharya's choreography is functional. Sandeep Shirodkar's background music is effective. Jitan Harmeet Singh's camerawork is nice. Action scenes and stunts (by Abbas Ali Moghul) are well-composed. Tariq Umar Khan's production designing is okay. Chandan Arora's editing is sharp.
On the whole, Satellite Shankar is a film with its heart in the right place. But complete lack of promotion and its implausibility will do the film in. Consequently, it will go largely unnoticed despite having good moments.
Released on 8-11-'19 at Inox (daily 1 show) and other cinemas of Bombay thru PEN Marudhar Cine Entertainment. Publicity: dull. Opening: poor. …….Also released all over. Opening was terribly weak everywhere.