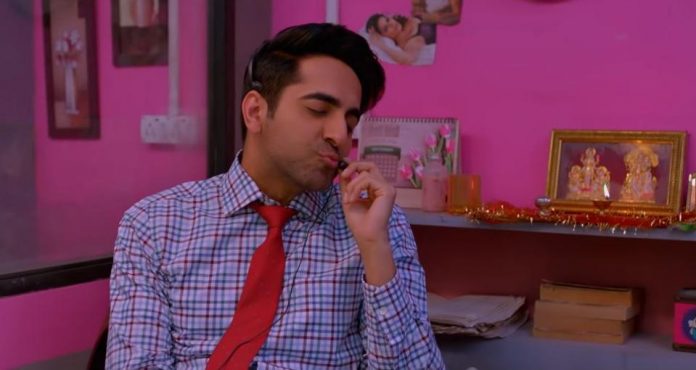 Balaji Telefilms' Dream Girl (UA) is the story of a young man who can talk in a feminine voice with immense ease.
Karam (Ayushmann Khurrana) is jobless and lives with his father (Annu Kapoor) in Mathura. The only talent he has is that he can talk in a feminine voice with unbelievable precision. He takes up a job in a call centre run by W (Rajesh Sharma). The call centre is a telephone service where girls and women talk to lonely men and help them get over their frustrations, sexual, emotional and others. In this way, Karam becomes Pooja because she replaces Pooja who is on leave.
In no time, Pooja becomes the darling of many callers. Besides men, there's also a female caller, Roma (Nidhi Bisht), who has had bad experiences with three men and, therefore, considers all men to be bad. She finds solace in Pooja's telephonic conversations. The men who flip for Pooja are several including two young and eligible bachelors, one widower and one already married police sub-inspector who is not at all happy with his wife.
All hell breaks loose when Pooja's 'lovers' stake claim on her and want to even marry her. But Karam has his own girlfriend, Mahi (Nushrat Bharucha).
How does Pooja get 'her' suitors off 'her' back? Does Karam tell Mahi about his job? If yes, how does Mahi react to it? Does Karam's father get to know about Karam's job?
Nirmaan D. Singh and Raaj Shaandilyaa have written a story which is both, interesting and entertaining. Since it is an out-and-out comedy, it rests on the assumption of suspension of disbelief. Therefore, it may not find favour with the section of audience, which looks for too much logic in everything. However, the general masses and family audiences as also a section of the class audiences will go with the flow of the story. The duo's screenplay is good in the first half but excellent post-interval. The film starts on a fun note and keeps the viewers engaged till interval but it does get repetitive at places and, therefore, loses grip at some points. However, the second half is so funny and fast-moving and so full of twists and turns that it keeps the audience in splits. The entire sequence in which Karam and bosom pal Smiley (Manjot Singh) try their level best to get Pooja's suitors and/or their family members leave or hate Pooja is hilarious and will bring the house down with laughter. The sequence where misunderstandings keep multiplying — beginning with Pooja's 'boyfriend' meeting Roma — is another outstanding track of the screenplay and will entertain the audience no end. The track of Karam's father in the second half is also par excellence and will lead to peals of laughter.
Raaj Shaandilyaa's dialogues are mind-blowingly funny. He packs the dialogues with so much punch that they add tremendously to the comedy quotient.
Ayushmann Khurrana is outstanding as Karam/Pooja. He is superb, whatever the scene — comedy, dramatic, melodramatic, emotional or romantic. It's a delight to see him perform and it wouldn't be wrong to say that his acting elevates the drama to the next level. Nushrat Bharucha gets limited scope but she has performed ably as Mahi. She looks pretty too. Annu Kapoor is extraordinary as Karam's father, especially in the post-interval portion. His comedy is simply hilarious. Manjot Singh's sense of comic timing is masterly. His acting is, therefore, terrific. Abhishek Banerjee lends tremendous support as Mahendra. Vijay Raaz deserves kudos for evoking laughter with a supremely natural performance in the role of police sub-inspector Rajpal. Raj Bhansali leaves a fine mark as Toto. Nidhi Bisht makes her presence amply felt in the role of Roma. Rajesh Sharma is lovely as Karam's boss and the call centre owner, W. Neela Anil Mulherkar deserves special mention for her performance as Dadi. She evokes a lot of laughter. Neha Saraf stands out in a brief role as Rajpal's frustrated wife. Habib Azmi deserves special mention because he shines in a tiny role as the kazi. Vinod Suryavanshi (as Bablu of the call centre), Siddharth Bharadwaj (as constable Jawahar), Jitender Gaur (as Toto's father), Aasha Vyas (as Toto's mother), Deevakar Solanki (as the bank loan recovery agent), Rohit Tiwari (as the senior cop), Vedika Bhandari (as the original Pooja), master Pranay (as young Karam), master Harjeet Kaur Chadha (as young Smiley) and the rest provide superb support.
Raaj Shaandilyaa's direction is very good. Although the film marks his debut as a director, his narration belies this fact. He has taken care to make the drama entertaining for all age groups and all strata of society. Meet Bros.' music is very good. The 'Radhe Radhe' and other songs are appealing. Lyrics (by Kumaar and Shabbir Ahmed) go perfectly with the mood of the film. Song picturisations (by Ahmed Khan and Ganesh Acharya) are eye-filling. However, the picturisation of the promotional super-hit song — the remixed version of 'Dhagala laagli kala' which is not part of the film — is not at all upto the mark and seems to have been completed in a tearing hurry because some steps are not even in synch! Abhishek Arora's background music is lovely. Aseem Mishra's cinematography is very nice. Production designing (by Rajat Poddar) is of a fine standard. Hemal Kothari's editing is razor-sharp.
On the whole, Dream Girl is a straight hit because it has tremendous entertainment value.
Released on 13-9-'19 at Regal (daily 3 shows) and other cinemas of Bombay thru PEN Marudhar Cine Entertainment. Publicity & opening: excellent. …….Also released all over. Opening was superb everywhere.