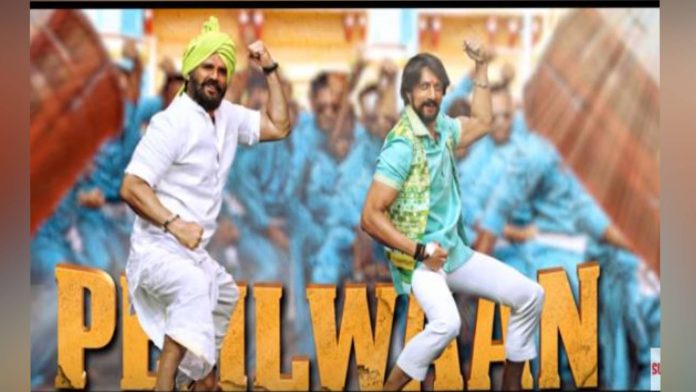 RRR Motion Pictures' Baadshah Pehlwaan (UA) is the story of wrestler Krishna Kichcha (Kichcha Sudeepa).
Sarkar (Sunil Shetty) is a superb wrestler and now trains young boys. He is a bachelor. It is his ardent desire that at least one of his students should be a national champion. He picks up an orphan, Krishna (master Suraj), even while he is a kid, adopts him as a son and trains him to be a wrestler because he sees a spark in him. Krishna (Kichcha Sudeepa) grows up to be an extraordinary wrestler and keeps living up to Sarkar's expectations.
However, all hell breaks loose when, unknown to Sarkar, Krishna marries his beloved, Rukmini (Aakanksha Singh), against the wishes of her father. The father had taken a word from Sarkar that Krishna would not marry Rukmini. Sarkar had given his word in the belief that Krishna would never go against his command — and Sarkar's desire was that Krishna should be celibate and, therefore, unmarried as marriage could come in the way of his national championship.
Sarkar is so angry with Krishna that he asks him and Rukmini to leave his home as soon as they reach home to seek his blessings for a happy married life. He also takes a vow from Krishna. What is the vow? Does Krishna fulfill his promise to Sarkar?
Meanwhile, Rana (Sushant Singh), the king of a neighbouring village, is bent upon seeking revenge on Krishna as he had defeated him in a wrestling bout and thereby broken his chain of winning the bout every year. There's another track of boxer Tony (Kabeer Duhan Singh) and his coach (Sharat Lohitashva). The coach has vowed to train another man to defeat the arrogant Tony who is unscrupulous to the core.
What happens thereafter? Does Sarkar forgive Krishna and bury the hatchet with him? Does Krishna ever meet Sarkar after leaving his home? Does the coach find a protégé who can defeat Tony? Do Krishna and Rukmini live happily ever after?
Krishna's story is routine but it has been given such a huge scale that it appears big and somewhat new. The screenplay, written by Krishna, Madhoo and D.S. Kannan, is engaging but it does get boring at several places. Also, the drama is over-stretched. The comedy track is very South Indian in flavour and will, therefore, not find much favour with the Hindi film-going audience. But the blending of the action drama with the family drama is nicely done. The romance, however, is just about okay. It should've been more heartwarming. Climax is impactful. Dialogues (by Shiv Gopal, Mayank Saksena and Sanjay Upadhyaya) are effective.
Kichcha Sudeepa lives the role of Krishna. The film seems to have been made to exploit his superstardom in the South — and it does that beautifully. Kichcha Sudeepa's physique is excellent, and his acting is superb. His fans will greet his entry in several scenes as also his action and stunts with rounds of thunderous applause. Sunil Shetty plays Sarkar with a lot of conviction. His unexpected entry in a scene in the post-interval portion will be met with claps. Aakanksha Singh looks pretty and delivers a fine performance as Rukmini. Sushant Singh lends fair support as Rana. Kabeer Duhan Singh is menacing as bad man Tony. Sharat Lohitashva lends decent support as Tony's coach. Appanna's comedy will appeal to viewers in South India but the audience in the Hindi-speaking belt will not like it much. Master Suraj (as young Krishna) and baby Sharvari (as Jaanu) are natural. Avinash (as Gajanan Deshpande), Krishna Adiga (as accountant Murthy), Vamshi (as Susheela), Yathin (as Chinna), and the rest are adequate.
Krishna's direction is very good. Music (Arjun Janya) is quite nice but may not appeal to the Hindi film-going audience — and not just because it is not very popular. Song picturisations (by Ganesh Acharya, Raju Sundaram and Harsha A.) are alright; they are rich, colourful and eye-filling. Arjun Janya's background music is outstanding and it greatly heightens the impact of the action and dramatic scenes. Cinematography (by Karunakar A.) is superb. The cameraman has given the film a huge canvas. Action and stunts (by Ram-Laxman and Dr. K. Ravi Verma and team; wrestling scenes by A. Vijay; boxing scenes by Larnell Stovall) are thrilling, exciting and breathtaking; they will appeal greatly to the masses and to Kichcha Sudeepa's fans in South India. Shiva Kumar's art direction is exceptional. Ruben's editing is quite sharp. Dubbing is very good.
On the whole, Baadshah Pehlwaan will prove to be very ordinary because of its routine script for the Hindi film-going viewers and also due to lack of promotion. However, it will rock the box-office in Kannada especially; the Kannada version can prove a super-hit because of Kichcha Sudeepa's superstardom.
Released on 13-9-'19 at Maratha Mandir (daily 1 show) and other cinemas of Bombay thru Zee Studios. Publicity: poor. Opening: dull. …….Also released all over. Opening was weak everywhere.