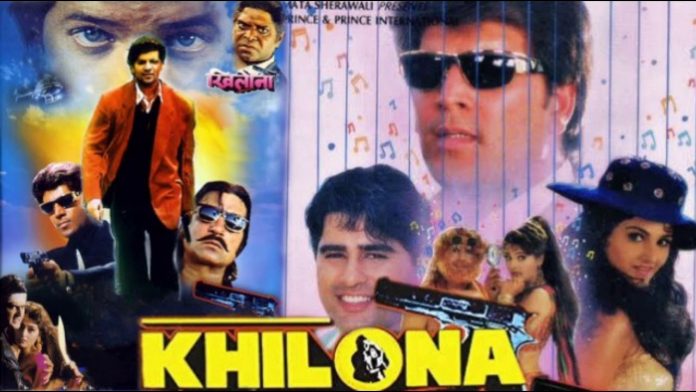 KHILONA
Prince & Prince International's Khilona (A) is the story of a criminal who treats girls like playthings and who thinks, money can buy everything including love. He falls in love with a girl whom he wants to marry but the girl does not give her consent. Rather than get married to her forcibly, he keeps her confined in his house. A young man one day saves the criminal's life and gets friendly to him. He soon realises that the criminal has kept the girl forcibly, and tries to explain to him that it is wrong to do so. When the criminal refuses to see reason, the young man rescues the girl and the two run away from there. The criminal nabs them and sends the girl to a brothel-house. Finally, of course, the good guy and the girl unite, and the criminal commits suicide.
The story is a combination of various stories seen in films on umpteen earlier occasions. Screenplay is one of convenience, and reasons for important turns and twists are just not explained. Dialogues are fairly good.
Aditya Pancholi does a superb job as the criminal. Ayub Khan is fair. Monica Bedi is average. Mohan Joshi acts well. Shakti Kapoor is okay. Deepak Shirke gets very little scope. Dinesh Anand, Jack Gaud, K.K. Raj, Girija Shankar, Ghanshyam and the rest pass muster.
Direction is as ordinary as the script. Of the songs, 'Panditji Panditji' is a hit. 'Kya yaad karoge' is also well-tuned. A couple of other songs are fair. Song picturisations are quite lavish. Action scenes are well composed. Photography and other technical aspects are alright.
On the whole, Khilona is too routine a fare to be noticed. Below average.
Released on 13-12-'96 at Dreamland and 18 other cinemas of Bombay thru Sadaf Enterprises. Publicity: good. Opening: dull. …….Also released all over.
LATEST POSITION
Cold winter nights are adversely affecting box-office collections in evening and night shows. But RAJA HINDUSTANI continues its victorious march and is 'hot' as ever in every circuit, the cold climate notwithstanding.
Tere Mere Sapne has done well in cities. It is poor in U.P., East Punjab, Bengal and C.P. Berar. 1st week Bombay 19,84,405 (87.98%) from 8 cinemas; Ahmedabad 3,12,095 from 2 cinemas, Baroda 1,14,515; Pune 3,55,456 from 2 cinemas (1 in mat.), Kolhapur 1,51,358, Nasik 91,048; Delhi 19,73,295 from 9 cinemas (1 on F.H.); Kanpur 1,15,468 from 2 cinemas, Lucknow 1,60,093, Allahabad 43,500, Bareilly 34,304 (27.19%), Dehradun 71,000, Gorakhpur 54,000; Nagpur 3,91,050 from 3 cinemas, Dhule 44,704, Bhilai 72,811; Indore 2,26,229; Jaipur 3,05,833 from 3 cinemas; Hyderabad 15,18,088 from 8 cinemas, share including fixed hire 6,00,000; Vijayawada 1,09,140.
…………
Raja Hindustani is expected to cross the business of DDLJ in several circuits. It continues to do record-breaking business in every circuit. It shouldn't be a surprise if it touches HAHK..! in at least one territory. 4th week Bombay 36,74,395 (98.08%) from 10 cinemas (9 on F.H.); Ahmedabad 6,15,574 from 4 cinemas (1 unrecd.), 2nd week Bharuch (gross) 3,06,265, 4th week Vapi 3,24,538, total 14,45,574, 5th week Jamnagar 1,45,326 from 2 cinemas (1 in mat.); Pune 9,42,352 from 4 cinemas (1 in mat.), Kolhapur 1,88,868, full, 3rd week Barsi (gross) 74,579, total 2,24,924, 4th week Nasik 2,78,846, record; Delhi 32,74,138 from 10 cinemas; Kanpur 3,61,818 from 2 cinemas, Lucknow 2,12,313, 5th week Allahabad (4 days) 66,000, Meerut 1,60,447, theatre record, 4th week Bareilly 1,34,728 (72.37%), Dehradun 1,16,850, record, Gorakhpur 1,22,000, theatre record; 2nd week Rohtak 48,775; 4th week Calcutta 22,13,934 from 23 cinemas; Nagpur 5,66,699 from 4 cinemas, Akola 1,41,790, full, 5th week 3 days 58,517, record, 4th week Raipur 1,43,085, city record, Bhilai (6 days) 1,22,824, Wardha 87,803, total 3,79,418, city record, Chandrapur (27 shows) 1,59,413, full, city record, Yavatmal 90,707, full, 5th week 3 days 38,875, full; 4th week Indore 2,31,531, record; Jaipur 4,85,033 from 2 cinemas, Jodhpur 2,45,065, record; Hyderabad 6,46,929 from 3 cinemas.
Ghatak 5th week Bombay 11,10,099 (65.63%) from 5 cinemas; Ahmedabad 74,043 from 2 cinemas (1 unrecd.), 1st week Padra 1,20,302; 5th week Pune 3,76,162 from 3 cinemas, Kolhapur 1,18,000, Nasik (26 shows) 1,06,696; Delhi 5,65,939 from 4 cinemas (2 on F.H.); Lucknow 1,01,677, Allahabad 36,000, Dehradun 32,000, Gorakhpur 40,100; Calcutta 1,07,457; Nagpur 1,48,353 from 2 cinemas, Akola 43,923, total 5,05,995, Raipur 53,362, Chandrapur 42,157, total 5,30,113, Yavatmal 26,777; Jaipur 1,52,982; Hyderabad 3,15,286 from 3 cinemas.
……….
RICHA SHARMA DEAD
Actress Richa Sharma passed away on the night of 10th December in New York. She had been suffering from brain tumour since last several years. She was 32 and is survived by her estranged husband, Sanjay Dutt, and a daughter. Among the films Richa had acted in are Hum Naujawan, Anubhav, Aag Hi Aag, Sadak Chhap and Insaf Ki Awaaz.
DHARMESH TIWARI BEREAVED
Child artiste Jalaj Tiwari (Babloo), son of actor-director Dharmesh Tiwari, expired on 30th November in Bombay due to heart failure. He was only 15 years old. Jalaj was acting in TV serials Ajnabee and Shiv Maha Puran. He also used to do ad films.
Jalaj was the only son of Dharmesh Tiwari, his other two children being daughters.
MIX MASALA
GENES OR JEANS?
The big-budget Tamil film which was launched in Madras last Sunday is titled Genes. Or is it Jeans? One doesn't really know because producers Ashok Amritraj and Dr. Murali Manohar or director Shankar are not ready to divulge any more information than the one-liner that it is a love story. To the question about what the title signifies, one is told that he would have to wait for the film to release to understand its significance. The invitation card of the film's muhurt mentions both the titles, Jeans and Genes. The multi-layered card came in a bag made of jeans and one page of the card shows all the artistes of the film clad in costumes made out of jeans. Incidentally, although the film was launched in Madras, there were posters put up in Bombay to mark the launching! Wonder, what will be put up when the film is released.
IN & OUT OF BOMBAY
CCCA president Santosh Singh Jain is in Jaipur and will return on 17th December.
Mr. J.P. Chowksey of Prachi Films, Indore, is at Hotel Linkway (649-6008).
Mr. Joharilal Jhanjharia of Alka and Premsukh cinemas, Indore, is in town (362-8919/492-2379) till 19th December.
Mr. K.L. Chitkara of Chitkara Films, Jalandhar, is in town (822-5248).
Mr. Tolu Bajaj of Metro Films, Bombay, is in Delhi and will return on 15th December.
Mr. Sultan Ahmed is back from Los Angeles where he finalised locations for his RAAMA which will be shot there in March-April '97.

CENSOR NEWS
Nadiadwala Grandson's Judwaa, seen on 5th, has been issued C.C. No. CIL/2/39/96 (UA) dt. 13-12-'96; length 4069.79 metres in 16 reels (cuts: 87.38 metres).
Shree Krishna International's Ajay (length 4289.76 metres in 17 reels), applied on 12th, was seen on 13th.
YOU ASKED IT
Which will be Sanjay Dutt's next release? Is his Safari complete?
– MAHAANTA, which is likely to be released on Idd, will be Sanjay's next release. Jyotin Goel's SAFARI is nearing the completion mark.
Is it only stars who have hiked their remunerations phenomenally in the last two years or have technicians done the same?
– Some technicians like music directors, cameramen and sound recordists have increased their prices by more than ten times!
Why is there such a scramble to release films on Idd next year?
– For one, the winters will be receding in February. Secondly, Ramzan period is usually dull, and the post-Ramzan period is considered very bountiful for the box-office. Thirdly, March and April will be months of examinations when collections are affected adversely.
Entertainment Tax Issue
Maharashtra Distributors, Exhibitors Announce Closure From New Year
The Maharashtra film industry will down shutters from 1st January, 1997, to protest against the government's unwillingness to renew the benefit of 50% entertainment tax beyond 31st December, 1996. This decision was taken at a joint meeting of Bombay distributors and exhibitors on 13th December.
The state government seems to be in no mood to extend the advantage of reduced entertainment tax which was introduced in September '94. It had been renewed for a year in September '95 and then for three-and-a-half months till the year-end in September '96. Further extensions not forthcoming, the industry pleaded its case before the government but to no avail. After an initial meeting or two, the industry leaders have not been successful in even talking to the ministers concerned. It would appear that the Maharashtra government is decided about increasing the rate of tax in the state. The exact details of the new tax structure have not been divulged as yet. One is not even sure whether the government itself is decided about the new rate of taxation.
In the meantime, rumours were circulating in the industry that the government was contemplating introducing varying rates of entertainment tax which would go up progressively as the net admission rates increased. Of course, these rumours are baseless as there has been no official announcement to this effect or even unofficial talks of anything close or similar to this.
It is also not clear whether the production sector would join in the closure. Although no decision has so far been taken by the production sector, it is learnt from reliable sources that it is not in favour of closing down its activities as producers feel that the issue of entertainment tax does not concern them directly. If the production sector does not down shutters, it would mean that shootings, recordings and all post-production activities will go on uninterrupted. U.A. Thadani, on behalf of the exhibition and distribution sectors, will hold talks with producers today (14th December) and try to get them also to suspend production activities in support of the other two sectors.
With the closure of cinemas and distribution activities in the state being almost a certainty with effect from 1st January, '97, all releases of forthcoming films have been postponed indefinitely. Judwaa was due on 20th December but the release has now been indefinitely postponed. Ram Aur Shyam, however, will come on 20th December, as originally scheduled. Its Overseas delivery has reportedly been already effected. Ajay is scheduled for release on 27th December and although its producer, Suneel Darshan, said that he would go ahead with its release even if the Maharashtra industry would down shutters, it seems very unlikely that Ajay will come on 27th.
Amravati Trade's SOS Message
Deliveries At 25% Discounted Prices
Even as the entertainment tax in Maharashtra is sought to be increased with effect from the new year, the distributors of C.P. Berar have woken up to the fact that the fancy prices, which they have paid for acquiring the distribution rights of films, may not be able to bear the burden of the enhanced tax. Fearing that the state government may increase tax from the present 50% to 100%, they feel that this would reduce the cinema capacities by 33% on the one hand but there would be no reduction in cinema rentals, on the other. This, it is feared, would result in reducing overall collections of films and creating a panic situation in the distribution sector.
To ease the panic, the Amravati film trade has resolved that if the entertainment duty in Maharashtra is hiked from 50% to 100%, the distributors of Amravati (C.P. Berar) shall make payment of the agreed prices of films less by 25% to the producers, at the time of taking delivery of the films.
This, it is felt by the Amravati trade, would help the distribution sector to minimise their losses. The Amravati distributors have sent an SOS to the president of the CCCA, Santosh Singh Jain, asking him to take up this matter with the production sector at the Association level. The appeal is signed by all leading distributors of C.P. Berar.
3-E
Education-Entertainment-Enlightenment
Isn't This Original?
The runaway success of Raja Hindustani has surprised many in the film industry. The surprise is born out of their feeling that the film's story lacks originality and, therefore, the film did not deserve to be such a major blockbuster. Actually, if people stop to think, they shouldn't be one bit surprised at the record-breaking collections of the film week after week. For, even though its first half reminds of Jab Jab Phool Khile and the second half is inspired from Pyar Jhukta Nahin, there is a very important difference in Raja Hindustani. And that is when both, Aamir Khan and Karisma Kapoor, refuse to sign the divorce papers even though they are separated. The two scenes (of refusal to give a divorce) uphold the sanctity of the institution of marriage so wonderfully that the ladies audience in particular are simply bowled over by them. This Indian sentiment is what is the most original part of Raja Hindustani and it is this sentiment which has made the film a super-duper hit. Neither Jab Jab Phool Khile had this angle nor did Pyar Jhukta Nahin have it. Why, no film on marital discord had this point (of refusal to go in for a divorce) brought across so beautifully as in Raja Hindustani. That's the triumph of Raja Hindustani. Nobody should now say that it did not deserve the success it is getting.
To The Point
Venus' Mela has been grabbed by some distributors. It is the combination of director Dharmesh Darshan and hero Aamir Khan, that has done the trick. There's Aamir's brother, Faisal, too, in the film.
* * *
Sharukh Mirza threatened to sue Himani Shivpuri for damages to the tune of Rs. 1 crore if she didn't report for his shooting. The lady's secretary created confusion by alloting the same dates to Vashu Bhagnani and Sharukh Mirza. The latter threatened to take her to court. Himani preferred to reach Bombay (from Ooty where she was shooting for Vashu's Hero No. 1) rather than the court. So, all's well now.
– Komal Nahta