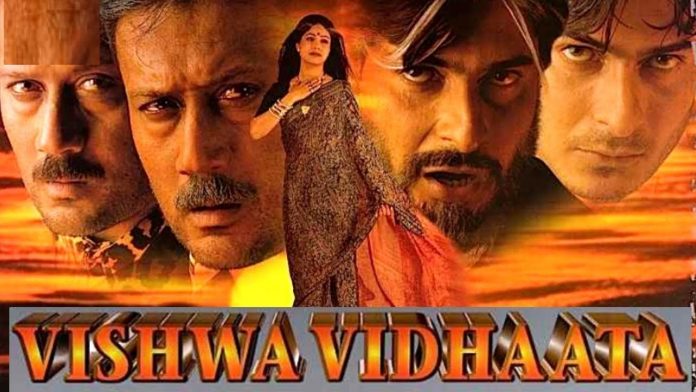 VISHWA VIDHAATA
Shazeen Films International's Vishwa Vidhaata (A) is an unusual story presented in a pathetic manner. An honest youth gets involved with traitors but refuses to join hands with them and, instead, revolts against them. The leader of the traitors orders his killing and to escape the inevitable death, the youth goes in for a face change by plastic surgery. He gets married to his old love but does not reveal his true identity to anybody (even though he has done no wrong). The couple gets a baby boy who grows up to become a police officer and who is a replica of his father before the face change operation. Very conveniently, while the police force as well as the villains smell a rat and set out to solve the mystery (of how the young police officer resembles the honest youth of yesteryears, who was dubbed a traitor), the officer's mother is oblivious to the similarity in looks between her son and her beloved before marriage! Misunderstandings follow — the son first suspects his mother and later, on learning of his father's face-change operation, suspects that he was a traitor. Finally, all misunderstandings are cleared but the police officer loses both, his father and mother.
The plot is of the kind which would confuse the viewer more than entertaining him. The concept of plastic surgery is not yet too well-known in India. Further, the pace of the film is so slow that the viewer loses all interest soon after it starts. Cinematic liberties have been taken liberally. For instance, the police records are shown to have video clippings of the actual bomb explosion operation of the traitors. If the police could videograph the operation, why did they not arrest the traitors? The writer and director seem to have been bitten by the bug to be different and, therefore, come up with strange and unpalatable twists and turns in the story. Many of the misunderstandings in the drama could have been avoided simply if the honest youth had confided in his wife, about his surgery. No explicable reason for his not doing so has been provided. Confrontation scenes between father and son and between hero and villain are dull. Emotions fail to touch the heart. The traitors seem to be only interested in exploding bombs all over the place without rhyme or reason.
Jackie Shroff is fair. Ayesha Julka does quite well but does not look like Sharad Kapoor's mother. Sharad Kapoor gives a sorry account of himself. He needs to improve a lot on his dialogue delivery, voice modulation as well as acting. Pooja Batra is not one bit impressive in the brief role she has. Being so lean and tall, she needs to take great care of her costumes, some of which are rather bad in the film. Ashish Vidyarthi is okay. Vishwajeet Pradhan, Arjun, Rakesh Bedi, Shehzad Khan, Mushtaq Khan, Avtar Gill, Jatin Kanakia, Vikas Anand and the rest lend adequate support.
Direction is dull. Muisic is very slow and although two songs — 'Kal nahin tha' and 'Kaliyon si palkein hain' — are melodious, they are so slow and their picturisations, so routine that they will not appeal to the viewer. Action scenes are good. Photography is so-so. Editing leaves a lot to be desired. Production values are appropriate.
On the whole, Vishwa Vidhaata is a lesson in how not to make a film. It will prove to be a total loss at the box-office.
Released on 14-11-'97 at Alankar and 18 other cinemas of Bombay thru Dilsa Distributors Combine. Publicity: very good. Opening: average. …….Also released all over.
LATEST POSITION
DIL TO PAGAL HAI is continuing its victory march and has recorded extraordinary collections in 2nd week everywhere. Is 'AA' in Bombay.
Dil To Pagal Hai 2nd week Bombay 39,73,792 (99.64%) from 8 cinemas (6 on F.H.), Chandan, Juhu, Bombay 7,72,516; Ahmedabad 13,49,403 from 4 cinemas, Baroda 2,46,001, Padra (gross) 2,56,831, Rajkot 2,10,833, Jamnagar 1,52,507 from 2 cinemas (1 in matinee); Pune 8,27,648 from 3 cinemas (1 in matinee), Kolhapur 1,92,332 (100%), Solapur 1,91,850 (100%), Satara 2,01,073 (98.64%) from 2 cinemas (1 in matinee), Sangli 1,82,035 (100%); Hubli 2,75,199 from 2 cinemas (1 in noon), Belgaum 1,55,344 (100%); Delhi (6 days) 40,29,144 from 11 cinemas (1 unrecd., 1 on F.H.); Kanpur 4,48,696 from 2 cinemas, Lucknow 3,50,635, Agra 2,31,677, Allahabad 1,60,100, Meerut (6 days) 1,70,214, Bareilly (6 days) 1,40,146, Dehradun 1,65,000 (1st 1,99,901), Gorakhpur 1,29,000, Hardwar 60,000; Calcutta 19,70,138 from 13 cinemas (1 unrecd.); Nagpur 7,63,239 from 4 cinemas, Jabalpur 2,02,142, total 4,15,214, Amravati 2,23,073, total 4,76,996, Akola (27 shows) 1,75,685 (100%), Raipur (6 days) 1,79,123, Bhilai (6 days) 1,42,169, Jalgaon 1,67,160; Indore 3,18,000, Bhopal 4,59,240 from 3 cinemas; Jaipur 7,94,777 from 2 cinemas, Jodhpur 2,55,000, Ajmer 1,34,766, 1st week Bikaner 1,65,000, Bharatpur (3 days) 54,000, 2nd week Udaipur 2,95,972; Hyderabad 13,74,862 from 5 cinemas (2 in noon).
Ghulam-E-Musthafa 2nd week Bombay (6 days) 20,06,737 (63.37%) from 12 cinemas (5 on F.H.), now tax-free in Bombay and other parts of Maharashtra; Ahmedabad 4,06,207 from 5 cinemas (2 unrecd.), Jamnagar (matinee) 12,545 (1 in regular unrecd.); Pune 6,38,908 from 4 cinemas, Kolhapur 1,08,276, Solapur (matinee) 44,527 (1 in regular unrecd.); Belgaum 100%; Delhi (6 days) 12,92,361 from 8 cinemas (1 on F.H.); Kanpur 1,75,913 from 2 cinemas, Lucknow 1,70,726, Agra 1,35,629, Allahabad 99,500, Varanasi 1,39,590, Bareilly (6 days) 53,224, Dehradun 65,000 (1st 1,25,000), Gorakhpur 92,000, Hardwar 32,718; Calcutta 7,86,935 from 7 cinemas; Nagpur 3,55,078 from 4 cinemas, Jabalpur (6 days) 1,05,855, Amravati (6 days) 1,11,177, Akola 95,309, Raipur (6 days) 69,660, Bhilai (6 days) 69,360, Wardha 62,416, 1st week Yavatmal 1,05,675; 2nd Indore 82,134, Bhopal 2,06,162 from 3 cinemas; Jaipur 1,94,792, Jodhpur 1,00,000, Bikaner 37,972; Hyderabad 6,04,948 from 4 cinemas.
Bhai dropped at many places. 2nd week Bombay 28,39,632 (69.75%) from 13 cinemas (6 on F.H.); Ahmedabad 7,37,106 from 6 cinemas (1 unrecd.), Rajkot 1,16,413 from 2 cinemas (1 in matinee), Jamnagar 86,000; Pune 3,15,590 from 3 cinemas (1 in matinee), Solapur 1,41,179 from 2 cinemas (1 in matinee), 1st week Satara 1,53,142; 2nd week Delhi (6 days) 14,23,548 from 8 cinemas (2 on F.H.); Kanpur 2,05,551 from 2 cinemas, Lucknow 1,69,912, Allahabad 76,500, Varanasi 1,40,500, Meerut (6 days) 1,25,868, Bareilly (6 days) 66,227, Gorakhpur 1,15,000, 1st week Hardwar about 80,000; Calcutta 20,18,044 from 19 cinemas (6 on F.H.); Jabalpur (6 days) 70,358, 2nd Amravati (6 days) 1,24,393, Akola 69,032, Raipur (6 days) 1,01,705, Bhilai (6 days) 53,732, Jalgaon 1,34,070, Yavatmal 77,148 (1st 1,68,410); Indore 49,441, Bhopal 1,10,345 from 2 cinemas; Jaipur 2,40,741 from 2 cinemas, 1st week Ajmer (29 shows, gross) 2,20,117, Bharatpur (gross) 1,59,550; 1st week Hyderabad 16,76,975 from 9 cinemas (5 on F.H., 1 in noon), share, including fixed fire cinemas, 11,00,000.
……….
BABY BOYS
Ajay Chudasama, partner in Rajshri cinema, Gandhinagar and Rajshri cinema, Bhavnagar, was blessed with a baby boy on 14th November at Gandhinagar. His brother, Dharmendra (Dharam) Chudasama, was also blessed with a baby boy on 8th.
Earlier, on 7th, a son was born to Manish Yagnik of Rajshri, Gandhinagar. These are the first issues of all the three.
'VIRASAT' SILVER JUBILEE
Mushir-Riaz's Virasat is celebrating silver jubilee this week all over. Directed by Priyadarshan, the film stars Anil Kapoor, Tabu, Pooja Batra, Milind Gunaji, Govind Namdeo, Tiku Talsania, Neeraj Vora, Satyen Kappu, Dilip Dhawan, Sulbha Deshpande, Anjana, Reena, Ajay Ratnam, Ajit Kumar, Dev Sharma and Amrish Puri. Dialogues: Vinay Shukla. Music: Anu Malik. Lyrics: Javed Akhtar. Art: Sabu Cyril. Dances: Farah Khan. Action: Tyagarajan. Editor: N. Gopalakrishnan. Cinematographer. Ravi K. Chandran. Associate producers: Tanvir & Tauqir.
ADVANCED DOLBY SOUND AT JYOTI, JALANDHAR
The latest Dobly digital sound system has been installed at Jyoti cinema, Jalandhar. It has the unique advantage of giving Dolby results even in mono prints, which is not available anywhere in India as yet.
GETTING BACK LOST GLORY
Asha Talkies, Miraj, which once upon a time used to be sought-after for Marathi films but had later come to be known as a cinema for sexy English films, is trying to get back its lost glory. Its booking was taken over by S.A. Bagwan of Kolhapur recently and since then, the cinema is seriously being given a change of image. Besides, its maintenance has improved too. This has also resulted in collections going up because people have started frequenting the cinema. The Marathi film, Durga Aali Ghara, is running in its third week there and despite low admission rates, it has yielded a share of Rs. 26,000 in 2 weeks.
'LAL DARJA' NOT NOMINATED FOR OSCAR AWARDS
Bappi Lahiri's Bengali film, Lal Darja, has not been nominated for the Oscar awards, as claimed by the producer and reported in our issue last week. Error is regretted.
'PARDES' CELEBRATES 100 DAYS AT 49 CENTRES
Subhash Ghai's Pardes is celebrating 100 days of its run today (15th November) at 49 centres in India and abroad. It stars Shah Rukh Khan, Mahima Chaudhry, Apoorva Agnihotri and Amrish Puri. Music: Nadeem Shravan. Lyrics: Anand Bakshi. Camerawork: Kabir Lal.
BABY BOY FOR SHAH RUKH KHAN
Shah Rukh Khan's wife, Gauri, gave birth to a baby boy on 12th November at Breach Candy Hospital in Bombay. This is the couple's first child and he has been named Aryan.
GULSHAN KUMAR'S FAMILY SEEKS TO BECOME PARTY IN NADEEM CASE
Family members of slain music baron Gulshan Kumar have sought to be arraigned in the extradition proceedings of the main suspect, music director Nadeem, which was to have come up for hearing in the London court of the Bow Street magistrate on 3rd November but has been postponed by three weeks, to November 24. The postponement had been necessitated because the Bombay police did not record the evidences of the various key witnesses in front of a magistrate. Evidence not recorded before a magistrate is not admissible in the London court. The Bombay police has since recorded them in order.
Gulshan Kumar's family has written to the British crown prosecution office, which is handling the extradition of Nadeem on behalf of the Indian authorities, seeking to hire an eminent British lawyer to represent them in the extradition case, as a third party.
In the meantime, the British crown prosecution office has given its written opinion to the Indian authorities that they had found a prima facie case for extradition in the evidence placed before them by the Maharashtra government.
Meanwhile, the police have appealed to the Supreme Court against the bail order of Tips owner Ramesh Taurani.
INDORE DISTRIBUTORS DECIDE ON FRIDAY RELEASE
There will henceforth be no new releases on Thursday in C.I. All films will now be released on Fridays, as in most of the other circuits. This decision has been taken by the Indore Distributors Forum.
In keeping with the Forum's decision as also because Pahlaj Nihalani so desired, his Bhai Bhai was released on Friday this week in C.I. So, films will now be released on Thursdays in C.P. and U.P. only.
YASHWANT DUTT DEAD
Noted theatre and film actor Yashwant Dutt died of a heart attack at his residence at Malad, Bombay on the morning of 11th November. He was 52 and is survived by his wife and son.
He had returned home around 4 a.m. that day after reshooting the ending for the recently released Marathi film, Sarkarnama. His sister found him dead in his flat at 10.30 a.m.
Top Marathi film personalities, including Nana Patekar and cameraman Debu Deodhar, reached his residence on hearing the news of his death.
MAHARANA, BHILWARA GOLDEN JUBILEE
Maharana Talkies, Bhilwara (Rajasthan) entered its 50th year on 9th March this year. To mark the golden jubilee, celebrations were held on Diwali. Huge display advertisements of the cinema were issued in all newspapers of Rajasthan and Bhilwara district, where glowing tributes were paid to all those who were responsible for the birth of the cinema. Tributes were also paid to 18 employees who are no more but whose services to the cinema and its patrons are memorable.
Sweets were distributed among cinema-goers in the evening show of Diwali day. A lottery was also held for the audience. Silver coins were awarded to the entire staff.
The cinema building was beautifully lit up on Diwali. Incidentally, the cinema won the first prize in three lighting competitions of Bhilwara during Diwali.
CCCA Puts Ceiling On Film Prices
C.P.C.I. Rajasthan Price Limit Is 72 Lakh
The new executive committee of the Central Circuit Cine Association has taken an important decision on film prices and put an upper ceiling of Rs. 72 lakh for the circuit — 20 lakh for C.I., 20 lakh for Rajasthan, and 32 lakh for C.P. Berar. This resolution of price ceiling will apply to films which are launched after 1st January, 1998. This information was given by CCCA president Santosh Singh Jain at a press conference on 12th November in Indore.
Jain observed that stars were not only ruling the film industry and devouring all the income of producers, distributors and exhibitors (which they weren't investing again in the industry) but also ruining the industry. Producers and stars, he said, quoted examples of successful films like Dilwale Dulhania Le Jayenge, Hum Aapke Hain Koun..! and Border to fix the prices of their films and themselves in crores although 90% of the films which are made, flop, putting distributors in trouble. This was also adversely affecting the lot of producers, he added. Santosh Singh Jain lamented that stars diverted their monies earned from films, in real estate and other properties instead of investing at least a part in the industry.
Jain said that the film industry was in deep crisis and this ceiling was, therefore, a necessary weapon, like the CCCA's earlier ceiling on stars' assignments. This ceiling, he explained, would help in reducing film prices and star prices. Films would then be made within reasonable and affordable budgets, and it would also result in increase in number of productions.
Jain informed that the new Film Bhawan (extension) being constructed in Indore at a cost of Rs. 50 lakh would fetch an income of Rs. 20 lakh every year, which would be utilised in the services of distributors and exhibitors.
H.S.P. Rao, CCCA hon. secretary S.K. Surana, and hon. treasurer Ramesh Sureka were also present at the press conference.
Sound Tracks In India
Following is the content of the letter written by Mr. Tony Spath of Dolby Laboratories Inc., England, to Subhash Ghai. Although it deals with Ghai's Pardes, it also talks of sound in Indian films. It is being reproduced hereunder so that our technicians, directors and laboratories may take tips from it.
Mr. Ghai,
Following our phone conversation, and my seeing Pardes, here are some of my personal comments on soundtrack.
In general, sound in India is getting more recognition as filmmakers like yourself go to new lengths in order to use and make use of sound quality in the soundtrack.
Dialogues are loud by Western standards but this is how people like to hear films in India. They are at least cleaner dialogues than were typically, say, two years back, but even so, little use is made of audio perspective on dialogues: by which I mean, treating the voice so that it sounds as if it comes from the distance/ambience that is shown on the screen. I must say that Pardes does make some use of some varying levels to suit different scenes.
Music recording has also improved. However, there is a tendency for there to be distortion at high levels, particularly on voices. Recordists need to be aware that once a voice is recorded in a distorted way, firstly, it won't get any louder in the process, and secondly, it is distorted forever after. The music in Pardes I liked — ethnic with a hard edge and clean drums and percussion.
One of the biggest differences between a Western soundtrack and a Hindi one is in the amount and use of atmospheres. A good stereo atmosphere sets the scene and really adds to the "feeling" the image is conveying. If there was one thing I would suggest to you for the future, it is to make sure, your recordist makes stereo atmosphere recordings on each location, and to use these as the main atmosphere ingredient in each scene. Where it doesn't work, use someone else's (there are plenty available from CD).
Soundtrack printing and negative processing is still some way behind what we would call ideal. Some labs try to do a good job and monitor their quality but others just do not because they see no financial benefit in doing so — typically, their customers are long-standing producers who have always printed at their lab and won't go elsewhere, so there is not the usual market-led incentive that if they don't do a good job, they will not get the next film. This is our biggest problem at present — finding any way to make these particular labs take an interest in quality. The result — of their lack of quality control — is that analogue prints sound different reel to reel, occasionally very sibilant and "spitty" on the dialogues, sometimes dull by comparison. Dolby Digital prints with no proper quality control will be fine — until the reader cannot cope with the number of errors on the track, at which point, it reverts to analogue. We have equipment we supply, which will make it easy for labs to monitor their Dolby Digital sound track printing: we will supply these at a good price to labs. Do you have any ideas on how we can get them to understand the need to adopt quality control?
Well, these are my thoughts. I hope, they are useful. As always, it was a pleasure to talk to you when I was over there two weeks back. I have passed the plans of your studio on to one of our UK film sound consultants, who will be in touch with you to comment.
– Tony Spath
YOU ASKED IT
To what do you attribute the non-success of Ghulam-E-Musthafa outside Maharashtra?
– There are several reasons, the main being Nana Patekar's character which was very different from his image of mouthing fiery dialogues and swear words. Too Muslim a title also kept a large chunk of the non-Muslim audience away.
When is Yash Johar's Duplicate due for release?
– Rather than rush with the post-production work, Yash Johar has decided to go slow on it and get the film in April-end or early May.
Who is the most in-demand music director today?
– Anu Malik.
DO YOU KNOW?
* Sunny Deol made a touching gesture when, despite his busy schedule, he agreed to make a special appearance in a song-dance for Raju Mavani's ISKI TOPI USKE SARR. He enthusiastically participated in the song picturisation in a 6-day spell in Hyderabad last week.
* Producer Salim was scheduled to shoot his MEHNDI in Jaipur but he did not get permission to shoot there in the nights due to a tourist festival. So he put off his Jaipur trip and instead had Jaipur recreated at Madh Island in Bombay where he is currently shooting for the film. A huge set of a haveli and a village has been created.
3-E
Education-Entertainment-Enlightenment
Mithun 'Hottest' And Shah Rukh 'Coolest' Star
Mithun Chakraborty is the hottest star today. Shah Rukh Khan is the least hot! Sorry, sorry! Mithun is the hottest donkey and Shah Rukh is the lowest priced donkey!! Surprised? Shocked? There's no need for that. There's the biggest ever Donkey Fair which began in Ujjain on Kartik Poornima day (14th November). Donkeys from all corners of India are brought to this fair by their owners. They (donkeys — not their owners) are, for the fun of it, nicknamed after famous Bollywood stars. So we have donkeys nicknamed Mithun, Shah Rukh, Sunny, Madhuri, Juhi, Akshay, Sunil, Anil etc. At this year's fair, the donkey named Mithun fetched the highest bid — of over Rs. 5,000! The price range of other donkeys named Govinda, Sunny, Dharmendra and Akshay was between one and two thousand. The lowest offer was for the donkey called Shah Rukh.
'Jeans' Junction
Director Shankar (of Tamil films) should be feeling thrilled with himself. For, no less people than Bharat Shah, Subhash Ghai, Tolu Bajaj, Indra Kumar and Ashok Thakeria have, under the umbrella of Metro Films, Bombay, acquired the all-India rights of the Hindi dubbed version of his under-production film, Jeans. Yes, the office of Metro Films is the new Jeans junction! Shankar is making this Prabhu Deva and Aishwarya Rai starrer in Tamil, and dubbing the same in Hindi and Telugu. The three versions are being planned to be released simultaneously and if that happens, it will be the first time that a dubbed Hindi film will be released at the same time as its original version.