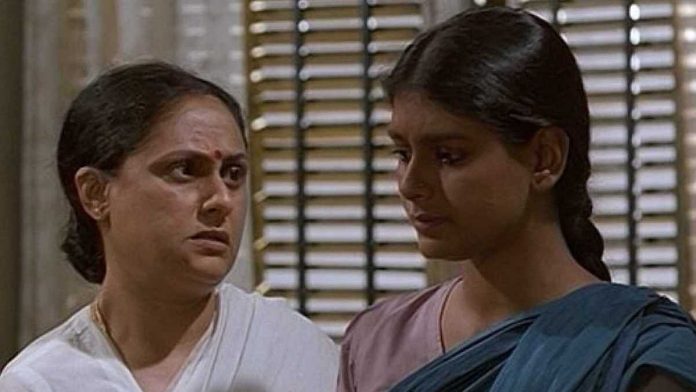 HAZAAR CHAURASI KI MAA
Udbhav's Hazaar Chaurasi Ki Maa (A) is the story of the mother of a revolutionary boy who is part of the Naxalite movement in Calcutta. The mother is unaware of her son's activities till after he is killed. To find out more about him and his work, she goes to meet the mother of a friend of his (who was also killed alongwith her son) and her son's girlfriend. Both of them throw light on her son's activities and she understands him better after his death. Ultimately, the mother also becomes a human rights activist. But before that, she emerges as a bold lady who is quite different from the traditional, submissive, unprotesting, tolerant upper-middle class wife and mother working in a bank.
The film, based on Mahasweta Devi's Bengali novel, is aimed at the elite audience and connoiseurs of art cinema. The story itself has little entertainment value and is depressing, besides being thought-provoking. The pace is extremely slow and it moves on a single track. There are no songs, no comedy, no romance.
The narration has some scenes which move the viewer, a couple of them even stun him. For instance, the climax, in which the mother catches the leg of the killer tight and does not let him escape, the scene in which she identifies the corpse of her son, the scene in which the mother of her son's friend recounts her agonising tale, the brutal murder of the four friends in front of the parents of one of them etc. Dialogues are natural to the core.
Jaya Bachchan excels in the role of the sensitive mother. She guards against going overboard and performs wonderfully. Seema Biswas is also superb as the mother of the friend of Jaya's son. Nandita Das, as the son's beloved, is excellent and very natural. Joy Sengupta is very good as the son. Anupam Kher does a fine job. Milind Gunaji and the others lend good support.
Director Govind Nihalani's narration of the subject is such as would appeal to the class audience only. Background score is effective. Camerawork is very nice. Technical aspects are of a good order.
On the whole, Hazaar Chaurasi Ki Maa is a slow fare for select cinemas in very select cities only. Its commercial prospects are as grim as the subject it tackles.
Released on 19-3-'98 at Metro and on 20-3-'98 at 1 more cinema of Bombay thru Shringar Films. Publicity: quite good. Opening: poor.
NOW IN BOMBAY
BADA DIN
Gramco Films' Bada Din is about an aspiring singer who couldn't care less about anybody else in the world. He suddenly finds himself protecting a young eye-witness to a murder because the police fails to give him protection. When confronted by the murderers, he even musters courage to give them a tough fight and declares that he has become a fearless man now.
The film has a Christian backdrop as two principal characters are Christian. That itself limits the film's prospects to a large extent. Further, the drama moves on almost a single track, the other tracks being there just for namesake. The treatment of the offbeat subject is of the kind which would be appreciated by very select audience. The film's pace is slow and at the end of it, one gets the feeling of it being much ado about (almost) nothing. Dialogues are alright but several dialogues are spoken in English, and that limits their appeal.
Shabana Azmi plays the Christian lady with aplomb. She is as natural as natural can be. Mark Robinson acts with confidence in his first film but dances quite awkwardly. He doesn't look the traditional hero. Tara Deshpande has a small role and is okay. Abhay Chopra plays the villain ably. Sanjay Pathak is effective. Alok Nath is superb as the main villain, Irfan Khan, Pramod Singh and the rest of the cast provide good support.
Anjan Dutt's shot takings are good but his handling of the dark subject is aimed at 'entertaining' the class audience only. Music (Jatin Lalit) is very good. 'Meri aankhon mein tum ho', 'Suno zara' and 'Na koi tera' are very well-tuned songs. Camerawork is good. Production values are so-so. Technically, appropriate.
On the whole, Bada Din has nothing big about it except its title. Returns, too, will be very small.
Released on 20-3-'98 at Minerva thru Gramco Films. Publicity: average. Opening: poor.
RAJASTHANI CINEMA'S FIRST LYRICIST, DIALOGUE WRITER DEAD
The first dialogue writer and lyricist of Rajasthani films, P.N. Sharma, expired on 16th March in Jaipur due to old age. He was 95.
Better known as Dr. Prabhu Narayan Sharma 'Sahriday Natyacharya', he wrote the songs and dialogues of the first Rajasthani film, Nazrana, made in 1942. He was also an author and dramatist. Thirty books written by him, have been published. Sharma also wrote, directed and acted in several Sanskrit and Hindi stage-plays. It was for his contribution to Sanskrit and Hindi stage that he was conferred the title of Natyacharya in 1934.
NEW CINEMA IN AURANGABAD
A new cinema, Nupur Cinetorium, will open on Gudi Padwa day (28th March) in Aurangabad near CIDCO fire brigade in the Radhika shopping arcade. Owned by Rajesh Patel, it has a seating capacity of 1,002 and is equipped with Ultra Stereophonic and DTS sound systems and a modern projector which been installed by Monee & Co. The cinema will be thrown open to the public from 3rd April. It is air-cooled and is the 14th cinema in Aurangabad.
LARGE ATTENDANCE AT SIPPY'S DAUGHTER'S WEDDING RECEPTION
Priya, daughter of Bombay distributor Ramesh Sippy, got married to Rajeev on 17th March. The reception at NSCI, Bombay, was very well-attended by industry people.
For The First Time, Perhaps….
….Dada Kondke's Name Brought Tears To The Eyes
Dada Kondke, the comedy king of Marathi films, died of a heart attack in the early morning hours of 14th March. He suffered the attack at his residence and was rushed to a hospital in Dadar, where he was pronounced dead before admission. Dada was 66 and single. He was cremated the same day.
Born in 1932, Dada's real name was Krishna as the day of his birth happened to be Gokul Ashtami. Actor-producer-director-writer Dada Kondke was well-known for his brand of comedy films and double-meaning dialogues. He played the role of a village bumpkin to perfection, his innocent face and his trademark half-pant attire, complete with a string hanging down, adding to his character. For connoiseurs of Dada's films, the very mention of his name brought a smile to their lips.
Dada Kondke had made 15 Marathi films, besides four in Hindi and two in Gujarati. His Marathi films were Songadya (which had the all-time hit song, Kay ga Saku, bola Dajiba). Ekta Jeev Sadashiv, Andhala Marto Dola, Pandu Hawaldar, Tumcha Amcha Jamla, Ram Ram Gangaram, Bot Lavin Tithe Gudgulya, Hyoch Navra Pahije, Aali Angavar, Muka Ghya Muka, Mala Gheoon Chala, Sasarcha Dhotar, Wajvoo Ka?, Yevoo Ka Gharat and Palva Palvi. His Hindi films were Tere Mere Beech Mein, Andheri Raat Mein Diya Tere Haath Mein, Aage Ki Soch and Khol De Meri Jubaan. His nine consecutive Marathi films had celebrated silver jubilee (some of them were even golden jubilee hits), a feat that found a mention in the Guinness Book of World Records.
Dada is survived by his sister and nephew, Vijay Kondke, also a producer-director. He had just recently decided to dub his Marathi films in Hindi and was, in fact, dubbing Aali Angavar at the time of his death.
Like his films, Dada used to make people laugh with his stock of jokes and wit and humour. He used to tell of his attempt to sign a leading Hindi film actress years ago. The actress in question quoted him an abnormally high price which Dada agreed to pay. But when she was told by Dada that he would be her co-star, she refused and asked to be cast opposite a better hero. Upon which, Dada is said to have demanded back the signing amount he had paid her, telling her that he had agreed to pay her more than her market price, only because she would have to star with a person with an ugly face. Dada's favourite co-star in Marathi films was Usha Chavan with whom he acted in 10 films. She was also his co-star in his first two Hindi films.
Dada owned two studios, one at Ingavli and the other at Khadakvasala near Pune. He also had distribution offices in Bombay and Amravati.
AKBAR BAKSHI NO MORE
Well-known action director Akbar Bakshi passed away on 19th March in Bombay at his residence following a heart attack. He was 48 and is survived by his wife, a son and a daughter. He was cremated the same day.
Akbar had composed the action for almost 75 films. He was the favourite action director of Akshay Kumar and had composed the stunts for almost all his films including the daredevil ones in Sabse Bada Khiladi, Khiladiyon Ka Khiladi and Mr. & Mrs. Khiladi. Among the other films he had directed the stunts for were Paanch Paapi, Aakhri Ghulam, Kala Dhanda Goray Log, Nagina, Khiladi, Dilwale Dulhania Le Jayenge, Insaaf, Tarazu, Baazigar, Yes Boss, Main Khiladi Tu Anari, Gambler, Karmyoddha and 2001. He used to assist Mohammed Ali before he turned independent with Pahlaj Nihalani's Paap Ki Duniya, directed by Shibu Mitra.
Umesh Mehra described Akbar Bakshi as a hardworking and technically sound action director who used to plan things properly. Akbar had also composed the fights in two English films, The Far Pavilions and Queenie, and a Bengali film of actor Prasenjit. Among his forthcoming complete and incomplete films are Keemat, Duplicate, Angaaray, Barood, Soldier, Shivam, Baadshah and Meri Biwi Ka Jawab Nahin.
PREM SETHI DEAD
Producer Prem Sethi expired on 14th March at Nanavati Hospital in Bombay where he had been operated upon for a spinal ailment. Although the operation was successful, Sethi passed away on the morning of 14th following some complications. He was 70 and is survived by a wife, two sons and a daughter. He was cremated the same day.
Prem Sethi had produced films like Mastana (with Motilal as hero), Pocketmaar, Sharabi (both starring Dev Anand) and Gumrah (starring Subhash Ghai).
C.S. OZA DEAD
C.S. Oza of Jalaram Films, Indore expired on 19th March in Indore. He had been suffering from cancer.
YOU ASKED IT
The government denied permission for shooting Seven Years In Tibet in India for political reasons but now, the film has been passed by the CBFC for screening in India? How is it?
– The permission not granted was for shooting. The CBFC may have considered it fit for exhibition, so it cleared the film.
It is said that production has declined in the past 2-3 years, yet the number of releases every year is almost the same. How is that possible?
– In the past two to three years, the number of dubbed films hitting the screens has increased. Besides South films, we also have Hollywood films being dubbed in Hindi now. Therefore, even though film production has decreased, the number of releases hasn't.
Who is the number 1 music director today?
– There's none who can claim to be the numero uno among music directors. Nobody has the consistency to entitle him to claim the no. 1 title.
FILM INDUSTRY MINISTRY
Prime minister: Santosh Singh Jain
Home minister: Sreedevi
Information & Broadcasting minister: Harish Sughand
(Cultural) Affairs minister (read that: Love Affairs): Pooja Bhatt
Deputy (Cultural) Affairs minister: Manisha Koirala
(External) Affairs minister: Chunkey Panday
Finance minister: Bharatbhai Shah
Defence minister: Amitabh Bachchan (he has to always defend himself and ABCL)
Deputy Defence minister: J.P. Dutta
Education minister: Govinda
Law & Justice minister: Sanjay Dutt
Deputy Law & Justice minister: Aditya Pancholi (for always taking law in his hands)
Human Resource Development minister: Asha Chandra
Food minister: Guddi Maruti
Health minister: David Dhawan
Commerce minister: Boney Kapoor
Industry minister: R. Mohan
Textile minister: Mamta Kulkarni (you know why!)
Tourism minister: Yash Chopra
Deputy Tourism minister: Mithun Chakraborty
Railway minister: Manoj Kumar (he never travels by aeroplane)
Ministers for Science & Technology: Ram Gopal Varma & Shankar
Power minister: G.P. Sippy (for, he is most power-hungry)
Forest minister (read that: Jungle minister): Dinesh Patel
Telecommunications minister: Anupam Kher (for his love for the phone)
Speaker: Nana Patekar (forget Khamoshi!)
DO YOU KNOW?
* Financier Dinesh Gandhi can swear by Mehul Kumar's honesty. That is why his finance arrangements with Mehul Kumar used to be all oral with nothing being signed or sealed. For one of his films (financed by Dinesh Gandhi), Mehul Kumar had sold off two prints (taken out for Saurashtra; the film was being distributed in Saurashtra by Mehul Kumar) to the Orissa distributor of the film, and he showed the receipt of money from the Orissa distributor, in the account submitted to Gandhi. Dinesh Gandhi was thrilled beyond words by Mehul Kumar's honesty, and complimented him for it, saying that had the transaction not found a mention in the statement, he (Dinesh Gandhi) would never even have known that it had taken place. In other words, Mehul Kumar could have pocketed the money, but preferred not to do it. Honesty is still the best policy for some!
* India's new home minister, Lal Krishna Advani, had in 1977, performed the muhurt ceremony of J.G. Mohla's (father of producer Madan Mohla) film, YOGESHWAR KRISHNA. Although the film never got completed, it starred top names like Dharmendra, Vinod Khanna and Shashi Kapoor, and was to have been directed by Ramanand Sagar. It was launched at Natraj Studios. At that time, L.K. Advani was the I & B minister, and Morarji Desai, the prime minister. Incidentally, Morarji Desai had worked on the script of YOGESHWAR KRISHNA with J.G. Mohla.
* Rajesh Roshan's music score in Dinesh Gandhi's Jackie-Akshaye Khanna-Manisha starrer, LAAWARIS, is very good. Of the five songs recorded, two should become very popular once the music is released. One more song may be added. Incidentally, no song has been picturised on Jackie and his co-star, Dimple Kapadia.
3-E
Education-Entertainment-Enlightenment
Flexibility, Tutu Style
Producer Tutu Sharma has decided not to be rigid about the release date of his film, Gharwali Baharwali. He would rather come in a week in which there aren't any other big films scheduled for release than clash with one or more biggies. Say he, "I'll be ready for release by mid-May but I'll wait for a clear week. I have no ego problems and I don't mind postponing my film by one, two or more weeks if another or other films are announced for the week in which I've planned my release. I'll not indulge in the usual 'Why should I postpone my films?' or 'If the other guy is scared, let him postpone his release, I'm not scared of anyone' type of comments. It's so silly, we indulge in such ego talks and, in the process, get big films to release simultaneously, thereby cutting into each other's collections. What is the sense? Let us also think about our distributors because it is they who would suffer more due to ego hassles between producers." Right, Tutu, right. There indeed is no sense in such clash of releases. If more producers thought like Tutu, it would be really nice.
Two Together
Producers Indra Kumar and Ashok Thakeria are planning to start not one but two films, both to be directed by Indra Kumar. While the first will star Aamir Khan and a heroine (to be finalised), the other — Rishta — will have Anil Kapoor paired with two girls. And before you think, these two films will take four years to complete, let it be said that it won't be so. The Aamir starrer will be launched in June with a 45-day shooting schedule, and Rishta will go on the sets in August. Both will be completed fast which, for Indra Kumar, should be a record. Yes, Indra is out to prove that he doesn't need years to complete a film. And yeah, for the Aamir starrer, the duo has signed a new duo to score music. It is music director Shravan's sons, Sanjeev and Darshan, who will be providing music in the film. "They are damn good," is how Ashok Thakeria describes the talented team of Sanjeev-Darshan.
Confidence, Bokadia Style
Barely has K.C. Bokadia completed Hitler and is on the verge of completing Lal Baadshah (directed by himself) than he is already planning two or three more projects. One film that he will direct will star Sunny Deol (in a special role) and Arshad Warsi. It is being produced by film agent and producer B.R. Sahni's nephew. Bokadia has a couple of other projects in mind, which may or may not be directed by him. In the meantime, with a few days' shooting remaining to complete Lal Baadshah, he is already on to its post-production work and is dead sure that he will manage a May release for the film. About no other film has Bokadia been so sure as he is about Lal Baadshah. Unlike many producers who are secretive about their film before release, Bokadia doesn't mind showing friends scenes and songs from the film. That's confidence, baadshah style!
Public Or Private Choice?
The Zee Cine awards which were presented last week profess to have been decided by the public. Can the public be so foolish as to not vote for Tabu either in the best actress or best supporting actress category for her performance in Virasat? Compare her non-inclusion in any category with the inclusion of Sapna Bedi and Shrabani Mukerji (both for Border) in the supporting actress category. Sapna Bedi's role was completely chopped off a few days after the release of Border, and Shrabani hardly had a role to perform. Then how did the public vote for the two girls? Likewise, while Anil Kapoor was not nominated for the best actor award for his performance in Virasat, an inconsequential actor like Rajeev Goswami in an insignificant role in Border was nominated in the best supporting actor category. Did you ask, who Rajeev Goswami was in the film? Well, many people have been asking the same question. And Zee's reply, obviously, is that it is the people's choice. So much for the so-called democratic way of selecting the award-winners! No, people are not so stupid . Then who is? Let the people decide now.
Boney Oopar Neeche
Producer Boney Kapoor these days oopar neeche ho raha hai. Literally! No, not because a very long shooting schedule of his Pukaar is in progress but because the shooting of his Sanjay Kapoor starrer will also begin next week. But why ooper neeche? Well, because the Sanjay starrer will be shot ooper — in Delhi, that is — and Pukaar is being shot neeche — in Hyderabad.