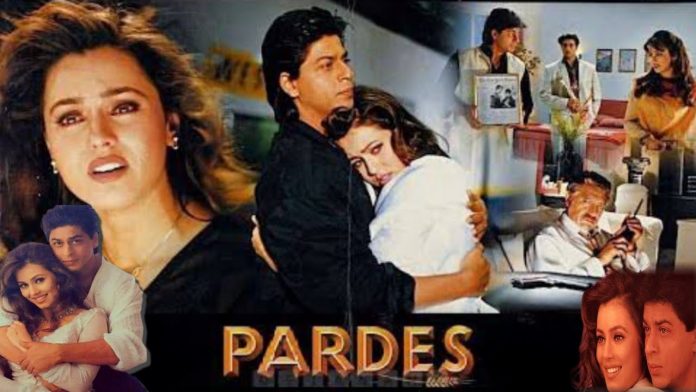 HI-TECH HUNDRED DAYS' CELEBRATION OF 'PARDES' IN DELHI
The 100 days of Pardes in Delhi was celebrated at The Hotel Surya. Writer-producer-director Subhash Ghai inaugurated Mirage, the most sophisticated discotheque in India, amidst a 500-strong crowd comprising the Who's Who of New Delhi, all applauding him.
The 3-D holographic effects and the specially flown DJ from London served to make the event more memorable. Mahima Chaudhary and Apoorva Agnihotri were also present and were mobbed by the young and old alike. Amrish Puri was the guest of honour.
A live rendition by singers Sonu Nigam and Hema Sardesai swept the crowd off their feet.
Nine cinemas in Delhi are screening Pardes in its 16th week. Odeon cinema had a special show (which the unit of Pardes attended) in aid of The Heart Care Foundation.
CINEMA OWNER DEAD
Pentta Reddy, partner of Venkatadri 70mm cinema, Hyderabad, passed away suddenly this week in Hyderabad.
'RAJA HINDUSTANI' GOLDEN JUBILEE
Cineyug's Raja Hindustani is celebrating combined golden jubilee at Super, Bombay this week. It celebrated golden jubilee all over four weeks back. The film, presented by Tips Films Pvt. Ltd. and written and directed by Dharmesh Darshan, stars Aamir Khan, Karisma Kapoor, Suresh Oberoi, Johny Lever, Navneet Nishan, Veeru Krishan, Kunal Kemmu, Farida Jalal, Tiku Talsania, Archna Pooran Singh, Pramod Moutho and Mohnish Bahl. Producers: Karim Morani, Bunty Soorma and Aly Morani. Music: Nadeem Shravan.
ILLEGAL PRINT OF 'MR. & MRS. KHILADI' SEIZED AT NIPHAD
An illegal print of Mr. & Mrs. Khiladi was seized in a raid at Laxmi Touring Talkies, Niphad, district Nasik on 11th November. The raid was conducted by Dr. Sunil Patil, proprietor of Shriram Talkies, Akluj and V.N. Films, Miraj-Shrirampur, the sub-distributor of Mr. & Mrs. Khiladi, with the help of the police. The police took the owner of the cinema, Balasaheb Keshavseth Sonawane, and his operator into custody along with the print, for further investigations.
According to Dr. Sunil Patil, the business of illegal prints is going on in full swing in Shrirampur-Malegaon-Nasik areas, due to which sub-distributors of the area are adversely affected.
Earlier, in April 1997, an illegal print of Judwaa was seized at Satyam Talkies, Taharabad in Nasik district.
SEMINAR ON HUNDRED YEARS OF CINEMA — GAINS & LOSSES
The Indian Organisation of Mass Communication (IOMC) has organised a seminar, 'Hundred Years Of Cinema — Gains & Losses', on 26th November at 4 p.m. in the lecture hall of Nehru Planetarium, Nehru Centre, Worli, Bombay. The panel of speakers includes author and journalist Firoze Rangoonwalla, J. Om Prakash and K.D. Shorey. IMPPA president Sultan Ahmed will be the chief guest while Dr. Sushila Rani Patel, famous classical singer, will preside over the seminar. The guests of honour at the seminar will be WIFPA president G.P. Shirke, AMPTPP president Pahlaj Nihalani and Chandru Punjabi of Prakash Builders. Dinkar Chowdhary is the chairman of the IOMC.
CINEMA LICENCE SUSPENDED
The licence of Babulal Talkies, Raipur, was suspended from 19th November by the district authorities due to irregularities.
As Indra Kumar, ABCL Part Ways
INDRA KUMAR TO START FILM FOR MARUTI
Indra Kumar will not be directing ABCL's film, starring Amitabh Bachchan, Madhuri Dixit and Aamir Khan. It is learnt that ABCL and Indra Kumar have amicably parted ways.
It may me recalled that ABCL had launched Indra Kumar's film at a grand party two years back at The Leela Hotel. This film, as yet untitled, was to have been Amitabh Bachchan's comback film. But Amitabh thereafter signed other films and got busy in their shootings as Indra Kumar continued to be busy with his Ishq.
News now comes in that the project has been called off. It is believed that Indra Kumar will now direct a film for Maruti International, the joint banner of himself and Ashok Thakeria.
Mohan Babu Hurt, Master Tarun & TV Crew Killed In Bomb Explosion
At least 24 persons including Telugu film child artiste Master Tarun were killed and 29 others including Telugu film hero and MP Mohan Babu and MLA and ex-minister Paritala Ravi were injured in a powerful bomb explosion near D. Rama Naidu Studios in Hyderabad on the noon of 19th November.
The blast occurred when Mohan Babu and Ravi were returning from the studio after attending the muhurt of Ravi's first film.
Mohan Babu was admitted to Apollo Hospital with minor injuries on the chin and right leg. A television team crew of Eenadu TV, comprising six members, was also killed on the spot. The blast is believed to have been caused by high-intensity gelatine sticks and detonators kept in a Fiat car and triggered by a remote-controlled device. The real culprits are not yet known.
Master Tarun sustained severe injuries in the bomb explosion and died in a private hospital later that day. He was the son of noted film actress Roja Ramani and Hari Bhagvan of Asian Films, Secunderabad. Master Tarun had acted in several Telugu films including Aditya 369. He was also anchoring a television programme for school children, Master Minds, on Eenadu Television.
The Hyderabad Sate Film Chamber of Commerce on 20th deplored the wanton acts of barbarism indulged in by anti-social elements. The Chamber conveyed its condolences to the bereaved and its heartfelt sympathies to the injured. All film offices remained closed on 20th.
'ISHQ'
Price Fix Hua, Kaise Hua?
Achha Hua, Jaise Hua!
The distributors of producer Gordhan Tanwani's Ishq are singing his praises even though his film has gone grossly over-budget. For, Tanwani has done what very, very few producers would dare to do.
Rather than put the entire burden of the increased cost (which could be anything between Rs. 50 and Rs. 75 lakh per major territory!) on his all India distributors (who, in any case, were willing to hike the ratio from the earlier ratio of Rs. 1.5 crore), Gordhan Tanwani has asked them to pay the increased amount only later!
While taking an additional 15 to 20 lakh per major territory from his distributors towards the price for delaying the video release of the film, Tanwani has not altered his MG royalty at all. Instead, he has asked his distributors to pay the additional price after recovery of their MG royalty, print cost, publicity cost and commission. That is to say, distributors will have to shell out the enhanced part of the revised MG royalty only if and when the film goes into overflow calculated at the current MG royalty.
This speaks volumes for Gordhan Tanwani's caring attitude towards his distributors, besides his utmost faith in his film. For, he has put his Rs. 1.5 to 2 crore at stake this way. Littler wonder then that his distributors like Tolu Bajaj (Delhi-U.P.) and Ravi Machhar (Nizam) are all praise for him.
YOU ASKED IT
Are Rajkumar Santoshi and Rahul Rawail being considered to direct Dus?
– No. DUS will be completed by Nitin Manmohan.
Have you seen Ishq? What are its reports?
– ISHQ is carrying extraordinary reports. We are yet to see the film but those who've seen it, feel, it can do great business.
What is Rakesh Roshan's next? When will it start?
– Rakesh Roshan might launch his son, Hrithik Roshan, as hero in his next. Nothing has been finalised so far.
Which film in the near future can be expected to take a bumper opening?
– ISHQ should take a fantastic opening next week. Rajkumar Kohli's QAHAR also seems to be a mass-oriented film which can take a good initial.
PRODUCTION NEWS
'Mother' 90% Complete
The unit of Saawan Kumar Productions' Mother returned from Mauritius on Nov. 18 after picturising many scenes and six songs. The film is now 90% complete. Being written, produced and directed by Saawan Kumar, it stars Rekha, Jeetendra, Randhir Kapoor, Rakesh Roshan, Prabha Sinha, Navni Parihar, Nishigandha, Asrani, Shubha Khote, Mushtaq Khan, Shashikala, Rahat Khan and Sanober Kabir. Screenplay: Ravi Kapoor. Dialogues: Anwar Khan. Choreographer: Chinni Prakash. Lyrics: Sameer. Music: Dilip Sen Sameer Sen.
'Bade Miyan Chote Miyan' 15-Day Spell Complete
Director David Dhawan completed a 15-day shooting schedule of Epic Enterprises' Bade Miyan Chote Miyan last week in Hyderabad. Songs, action and other scenes were picturised at Ramoji Rao Studios and Annapurna Studios as well as on locations. All the artistes participated. The film, being produced by Sheetal Jain and Vashu Bhagnani, stars Amitabh Bachchan, Govinda, Raveena Tandon, Ramya, Paresh Rawal, Satish Kaushik, Sharat Saxena and Anupam Kher. Writer: Rumi Jafri. Music: Viju Shah. Cinematographer: K.S. Prakash Rao.
MUSIC INFORMATION
Super's Tribute To Raj Kapoor, Indian Independence
Super Cassettes has released 'A Tribute To Raj Kapoor' in two volumes. It has also brought out a 5-cassette pack, 'Golden 50 Musical Years'.
IN & OUT OF BOMBAY
Writer-producer-director Subhash Ghai is in Delhi and will return to Bombay on 26th November.
Mr. Vijay Khajanchi of Khajanchi Film Exchange, Amravati, is in town (493-0645) and will return to Amravati on 26th November.
Mr. Manojkumar Seksaria of Milgrey Optical Centre and Ramnord Lab left for New York on 18th November to attend the 139th SMPTE Technical Conference and Exhibit, being held from Nov. 21 to 24. He will also visit the UK before returning to India.
Mr. Vinod Malhotra of Jyoti Pictures, Indore, is expected in town on 24th November and will stay at Hotel Linkway (649-6008).
Mr. J.P. Chowksey of Prachi Films, Indore, is expected in town on 24th November.
DO YOU KNOW?
* There are 42 cinemas in Andhra Pradesh alone, which have installed Dolby DTS sound, according to the commercial manager of Real Image Pvt. Ltd., Madras.
3-E
Education-Entertainment-Enlightenment
'Ishq' Set to Create New Records
Overseas distributor Mohan Chhabria is all set to create a new record in the U.K. He plans to release Ishq with 30 prints. The record so far is held by Yash Chopra's Dil To Pagal Hai which opened with 19 prints.
Nearer home, Nizam distributor Ravi Machhar will be releasing Ishq in 17 or 18 cinemas of the twin cities of Hyderabad and Secunderabad, which also is a record. Machhar is publicising the film extensively in the circuit and will put up standies of the four lead artistes at important cinemas of Hyderabad-Secunderabad.
Sorry, No Songs
Rajkumar Santoshi's China Gate will be a songless film. Revealing this, Santoshi explained the other day how his financier Bharat Shah had, without a hitch, left it to him to decide whether there should or shouldn't be any songs in the film. Three or four songs have been recorded but Santoshi feels, songs aren't necessary in the film. Rajkumar Santoshi said, he was touched by Bharatbhai's gesture and his (Shah's) confidence in his conviction. Incidentally, Santoshi will start his Aamir Khan and Shah Rukh Khan starrer on Aamir's birthday, that is, on March 14. No, he has not promised to release it on Shah Rukh's birthday which falls in November!
Little Wonderful Show
One has heard a lot about Kalyanji Anandji's 'Little Wonders' programme but one has to see it to believe it. A two-and-a-half-hour variety entertainment show, it has performances by only kids — the youngest kid being 3½ years old, and the oldest, about 12½! Even the compere of the show is young and energetic Mini Tabassum who goes by the name of Baby Suhani for this show. Whether it is film songs or mimicry, instrumental recital or dance, the performances are all brilliant. Kalyanji Anandji's Kalavir Academy deserves kudos for giving a platform to whizkids to expose their talents. Little wonder then that 'Little Wonders' has completed 250 shows in various cities of India and also abroad. And it is poised to complete many, many more shows.
Mohan Babu Left In Lurch
Mohan Babu, Dasari Narayana Rao and actress Vijayashanthi were to tour parts of Andhra Pradesh earlier this week to gather people's support for Mohan Babu's new party which he is planning to form after withdrawing support to Andhra chief minister Chandrababu Naidu. But before the tour could start, Vijayashanthi left for Delhi to meet BJP chief L.K. Advani. She is likely to support the BJP. Dasari reportedly was in no mood to accompany star-MP Mohan Babu as his (Dasari's) latest release has met with a cold audience response. All this prompted Mohan Babu to call off his tour.
No Smoking Zone
Cigarette and bidi lovers will have to sacrifice puffing at the smokey thing if they want to watch a film at Shaan cinema at Vile Parle, a Bombay suburb. Well, at least for the three hours they are in the cinema premises. For, Shaan, which has been centrally air-conditioned, will henceforth not permit smoking in its premises. Not just inside the auditorium, people will not be allowed to smoke even in the cinema foyer. Shaan has been completely renovated. Already equipped with Dolby DTS sound, it will screen Ishq from 28th November.